Southern Alberta finding Something Wonderful with Indigenous artist
Posted on 16 March 2022 by adminis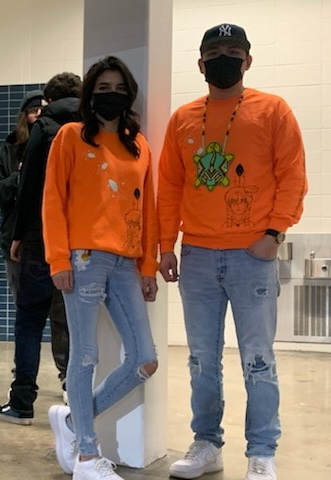 Pictures of Ina Fairbanks (Old Shoes) and her partner, Mekethia Fairbanks, in Old Shoes' currently available "They Found Us" sweater.

Local Journalism Initiative Reporter
At only 24 years old, indigenous artist Ina Fairbanks (Old Shoes) has combined advocacy and apparel into Something Wonderful.
While the studio is fairly recent, Old Shoes said that she has been an artist from a very young age.
"I have always been drawing, and I've always been creating art. And it was just a way of expression for myself as a child," said Old Shoes. "And through the background that I've come from, that was a way to kind of express myself without saying anything. I would show all these emotions, these feelings, these passions, through my pictures, and I wouldn't show anybody else out of embarrassment, but I always loved it."
Old Shoes grew up on the Blood Reserve, where she noted much of her childhood was surrounded by drug and alcohol use. She looked up to family members who had broken that cycle, though their influence was not wholly positive.
"Growing up in the Blood Reserve, located in Standoff, I kind of grew up surrounded by drugs and alcohol throughout my life. But I had some family that didn't partake in those substances," said Old Shoes. "I looked up to them as role models and a way of getting out of the life that I did have. I knew that if they could get out, then I could too, but through their influence, they also encouraged me to not go into art and pick a real job."
With this influence, Old Shoes chose to take her passion to become an advanced care paramedic, a career she looked to pursue through Medicine Hat College.
It was while working as a firefighter, however, that Old Shoes found a new lease on her art.
"I had an extended relative come to me and tell me, 'your art is really good. I see how you draw, I see what you do, I've seen your paintings. Can you draw me a jingle dress painting?' And I've been told in the past, like, if you draw me something, I'll pay you. If you draw this, I'll pay you. But nobody ever took me up on that offer until he did," said Old Shoes.
After this painting, more of her community and relatives started recognizing her talents, said Old Shoes, and she was eventually recommended to an entrepreneurial program on the reserve. 
After taking a seven-month course, Old Shoes received a grant in 2021, which was used to make her company, Something Wonderful Studios. https://somethingwonderfulstudios.com
Old Shoes currently produces the artwork, largely hand-drawn, and is currently using another organization to turn the designs into apparel, though this is a stop-gap until she can do this herself. Her work is largely centred around various movements in the Indigenous community, blending fashion with social justice.
"I thought to myself, what if I were to put my designs on clothing that people can purchase, but have it more inspired for these movements that are getting indigenous people to today, such as the Every Child Matters and missing murdered indigenous women, my original creation can be a symbol of and represent them, not just for the one day, but for every day," said Old Shoes. "It's graphically designed for both men and women to advocate and not only be a piece of lifestyle, but also a statement."
"I want you to represent as you walk, everywhere you turn, I want it to be a walking statement. And when people stare or appreciate or look at whatever that person's wearing, because that's kind of how it feels to be native at times being indigenous," said Old Shoes. "We're being constantly looked at and stared at, you wonder, well, why are they staring at me? Well, you know, because you would have this sweater on, what you stand for. Even when people don't say why they're staring or looking? You already know the answer."
Recent work has been devoted to meeting requirements for Lethbridge Vendors, to allow Old Shoes to sell her artwork to a wider audience. She expected this to take much longer than it did, however, due to the kindness of a fellow businesswoman, Stella Sehn, owner of Sweet Pure Honey.
"We met at the Family Leisure centre here in Medicine Hat while I was recording a video for a school project, and she happened to be walking by asking if I was going to post online. And then I approached her and I apologized, I said, "I'm sorry, I know this is a public facility and you want to enjoy the resources here too," said Old Shoes. "As we began talking, I explained to her where I was attending and what I was doing here, as well as a small business that I also run alongside with my husband. She explained to me that she was so moved by my story that she said, "I really want to give you some donations from my small business just to help you and your small business grow as you're just starting up."
With the help of her donation, Old Shoes was able to purchase not only a banner, which was required for Lethbridge Vendors, but business cards as well, bringing her much closer to her goals.
"I can see myself at Lethbridge Vendors as early as May," said Old Shoes. "It feels really good to be able to be that much closer that much faster. And just helped me be able to dream up more dreams. Because now that I'm that much closer to Lethbridge, What's stopping me from attending Calgary or Vancouver, all these different other places?"
Old Shoes hopes to, in the next few years, sell her work at OtaFest in Calgary, which she hopes to be able to attend next year, as well as a much further off goal to eventually produce animation.
"I would like to produce my own movie or animated series. Inspired by Hayao Miyazaki co-founder of Studio Ghibli, the artwork within their movies was hand drawn. I hold this movie close to my heart for so many reasons but I don't think words could convey exactly how it actually feels. I would like to create that same feeling for others," said Old Shoes. "Until then, I am continuing my art skills by attending vendors and getting better at my art as I work towards graduating as an advanced care paramedic. I am glad I can represent indigenous people through my art and create something beautiful to wear."