Astorga's Food Power TV and Sweet Pure Honey energize each other mixing culinary and agriculture expertise
Posted on 16 March 2022 by Ryan Dahlman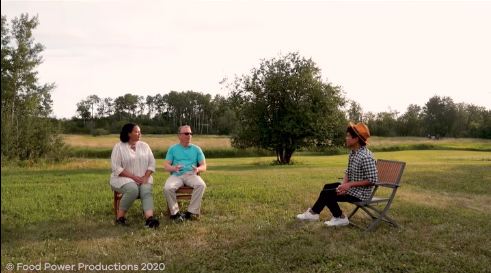 A still from Food Power TV including Stella Sehn, Sheldon Hill and Matthew Astorga.
If you have ever watched the entertaining and informative Food Power TV or even the Food Network, you will know all about the gifted Matthew Astorga.
He is known for his work on Masterchef Canada Season 3 with his work as a competing Masterchef and finishing third.
Nicknamed Matt in The Hat, Astorga continues to do philanthropic work, freelance writing, and is a sought after media personality.
One of his projects is Food Power and in the augural episode entitled Food Power Episode One – Let's save a bee farm!
https://www.instagram.com/tv/CXH08n2j8-v/?utm_medium=copy_link
Ironically Matt in the Hat's first episode is about a popular business in the Hat, Sweet and Pure Honey owned and operated by Stella Sehn and her personal and business partner Sheldon Hill whose farm is near Porcupine Plain but whose actual home is in Medicine Hat.
The mini-documentary opens with a shot of a long, prairie road, shots of multi-talented Sehn, the white beehives buzzing with activity, and the homestead nestled in the green plains of central Saskatchewan.
There is a peace, a joy and free flowing vibe which is conveyed by Astorga with the hardworking duo ofThe Food Power episode allows all of Canada to check out the lives of the apiarists and resilient business owners, but it also describes that unlike that long romantic road which opens the episode, there was a lot of hard work,, trials, tribulations and unjust hurdles along the way, the same as Astorga.
Astorga has become a media sensation but suffered from brain injuries caused by a car accident a few years ago. It took him two years to recover and since then has been doing. A lot of great work including organizing a memorable fundraiser for people in Nigeria in Times Square New York.
The popular business's products can be purchased online (www.sweetpurehoney.ca) but are also in such stores as Nutter's and other specialty shops. Sweet Pure Honey has faced a lot of adversity with an up and down economy, difficulties created by the pandemic for all entrepreneurs and of course any challenges that any agriculture producer would face including poor growing conditions caused by inclement weather, any kind of livestock issues that are faced from time to time and a lack of government support.
As Sehn has done in the past, she resolved to overcome any difficulties she faced and made her own breaks. She ventured outside of southeast Alberta and decided to hit a trade show in Kelowna B.C. a few summers ago where she met Astorga.
"When the oil crash happened in Alberta, our sales dropped locally 60% so I was forced to have to find a new market, that's what led us to British Columbia," explained Sehn. "We heard about wine tasting and we knew there was a foodie culture building in British Columbia and we thought, 'well, maybe they'd be interested in trying different honey.' And I found this Okanagan Valley Food Show, which was a premier food show and we got in. Matthew was a chef that was going to be doing a presentation and it just so happened to be his first presentation after his accident. So we instantly connected I think at our vulnerabilities because of course here I was traveling from Alberta and you know, we were experiencing some hardships, so I was very vulnerable and raw. And here he was on his first show, after his accident and his recovery with his brain injuries, which is ongoing, and the moment we saw each other we locked eyes and just smiled. From there, everything kind of melted away. We just started talking and telling each other's story and I gave him some honey and some products to help nourish his body. And I think that really resonated with him here I didn't know him yet. I just wanted to help his recovery with beeswax candles, some honey and so over the next few months, he used all of these products and we just started talking back and forth and that is how the friendship began."
They connected on a lot of levels: pure food, healthy living, recovering physically and mentally and unfortunately also overcoming discrimination and hate-type crimes.
"another factor for myself, while I was so keen to continue speaking with him, he was so honest and open also regarding his struggle as a Filipino gay man. We instantly also connected on LGBTQ and racism and just it was almost as if our hurt in our pain was also coinciding with as we were healing and finding support within our own community to support us personally," explained Sehn. "We just had a lot of connections definitely the passion, but I think it was through our healing as well that this ongoing, he inspired me but also when I shared my story with him. He found that inspiring so we would fuel each other back and forth. When you're feeling down, we would send each other uplifting texts or tag each other and it just was this back and forth mutual respect and admiration but definitely the passion for healing is where we resonated with each other. We identified that we both have that drive, that passion."
So in the summer of 2020, Astorga came to Sehn with this idea of the For Power TV episode. Because of scheduling, he wanted to do it quickly and didn't leave a lot of lee-way time. Hill was getting prepped for the busiest time of year, the harvest. Long days and little time is available but Sehn and Astorga had a lot of trust and faith in each other and they made the always complicated television shoot work.
Sehn said that Astorga "literally called me four weeks before harvest with this idea, saying I'm gonna come there with film crew and we'll film."
"I was in shock because if you know anyone who was a farmer and you know about harvest time, it is definitely not a time where you are planning to entertain or hosting people or planning to do anything outside of harvest because there's always problems," explained Sehn with a chuckle. "There's always delays due to the weather. It's a very high stress time for any farmer. So the thought of having a film crew or guests show up. It just it didn't seem like it couldn't be possible. And the same time as I was struggling with, 'could we do this? 'I also knew this was an incredible opportunity to help us try and save our bee farm.
"We do not have money to pay for a film crew crew or a videographer to come out to our farm. And I knew that this was an opportunity I couldn't pass up with somebody I trusted to tell her story honestly, and that had our best interests at heart. So I talked with Sheldon and we both realized it was going to be a stretch and we would have to push ourselves but we knew that we had to take this opportunity. And on top of it. We also live in a rural location (Porcupine Plain, Sask) and it's not like you can just book rooms at the Four Seasons Hotel. So that was the other factor that I had to find accommodation and where they can stay.
"In the end. Things did come together. It was a very stressful time but it was at a time when we had lost hope. I guess that was the beginning of feeling comfortable again."
Filming took three full days including getting back round shots of the farm, sunrises (4 a.m.) and sunsets and everything in between. She says it was lot of work, running around and getting outside help to take care of regular day to day things, it was worth the effort. It was gratifying for Sehn and Hill to see Astorga and his crew to not only enjoy their time shooting but also describing the peace and beautiful scenery of the area.
The finished episode has Astorga preparing what looks to be nothing short of culinary mastery, a symbolic gesture for the effort and time everyone had put into not only the episode but life in general.
It was extremely uplifting to watch as the mini documentary leaves the viewer with acknowledgement of the world's challenges but hopefully better days ahead being surrounded by loved ones.
Sehn noted she and Hill learned a lot from the experience as they continue to vigorously work for the viability of their farm while doing other work in the off season.
"Even the most confident, secure human being can be knocked down to their knees at any given time and that you have to ask for help to get back up," she explained. "Just watching how effortlessly other human beings reached out their hands and helped … just knowing how easy it is once you are surrounded and nurtured with care is to ask for what you need. We have all these people asking us how can we help you? It is an action plan to tell people this is what we need to save our bee farm. We are literally fighting to save our bee farm and we had not used those words. Whether it be being too proud before, but we literally were fighting to save our bee farm and we could not bring ourselves to say those words. So I learned you have to ask for help you have to tell people what you need so they can help you how you need it."
Sehn knows all about that having earned numerous awards for her civic and business accomplishments. She recently just helped out an Indigenous artist and her company.
Please see: https://prairiepost.com/alberta/2022/03/16/2692/