Family Resource Centre in Swift Current receives national literacy award
Posted on 16 September 2021 by Matthew Liebenberg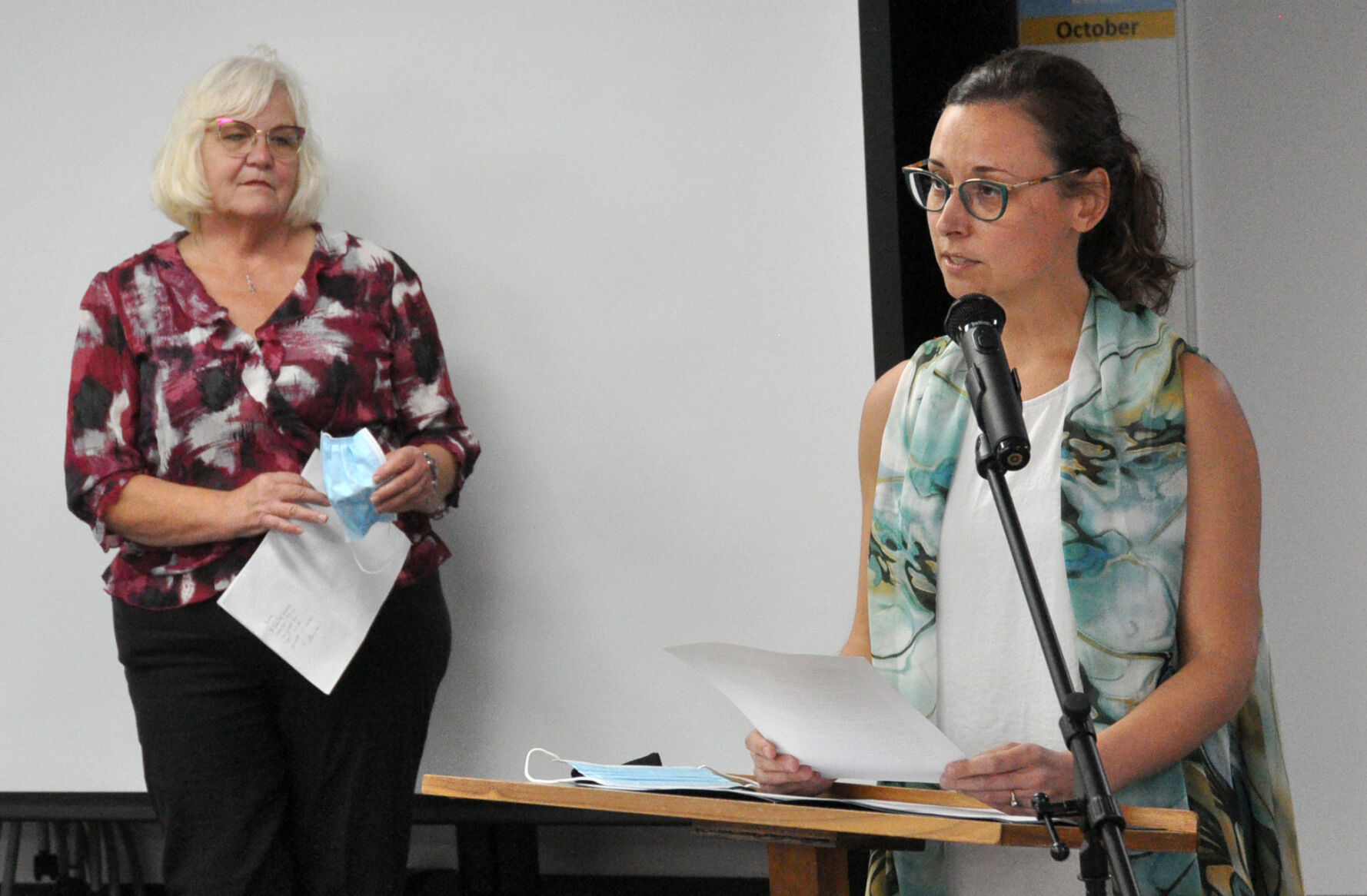 The Family Resource Centre's new executive director Laura Beddome speaks during the award presentation, Sept. 9. The centre's retired executive director Anne Ford is standing behind her.
The Family Resource Centre's innovative approach towards literacy development within various programs won a national literacy award.
The Swift Current based non-profit organization is the Saskatchewan recipient of the 2021 Council of the Federation Literacy Award (COFLA).
An award ceremony took place at the Chinook Education Centre in Swift Current, Sept. 9. The presentation of a certificate, medallion and monetary prize was done by Mental Health and Addictions, Seniors and Rural and Remote Health Minister and Swift Current MLA Everett Hindley on behalf of Education Minister Dustin Duncan.
"The theme of this year's award in Saskatchewan is community literacy leadership, and I can say without question that this year's recipient is definitely a leader in community leadership," Hindley noted during the presentation.
This award was created in 2004 by the Council of the Federation, which serves as a forum for cooperation between Canada's 13 provincial and territorial premiers. The COFLA is presented annually in each province and territory to recognize outstanding achievement, innovative practice and excellence in literacy.
"There were a variety of organizations that would have been in the running across Saskatchewan for this award," he said. "So this is indeed a prestigious honour for our community and for the Family Resource Centre here."
The award was accepted on behalf of Family Resource Centre Swift Current Inc. by recently retired executive director Anne Ford and new executive director Laura Beddome.
Ford said she felt blessed to retire on this note and that families in the southwest will continue to benefit from Beddome's passion for families and literacy.
Ford spoke about the importance of literacy and she noted a lot of research highlights the significance of learning during the early years.
"We know that reading a book to a child is very important," she said. "Literacy is that, and so much more. Literacy is being able to adequately manage our day-to-day lives in the area of reading, writing, mathematics, communication, computer literacy, getting along with others, and critical thinking and problem solving. It impacts everything we do."
Beddome said she has already learned about and experienced the incredible work done by the team at the Family Resource Centre in her role as executive director.
"I have learned that not only does Family Resource Centre offer high quality learning rich with literacy through each of its programs and services, but also continuously adapts and changes these based on the needs and interests of the parents and children participating," she said. "FRC does not strive to be family focused. It is family focused."
She has realized the daily activities of the Family Resource Centre give real meaning to the organization's vision statement "Working together to build strong families." She said the organization's board and staff excel at working together and on drawing from the strengths of each member.
"This incredible team works creatively and cooperatively with the many financial and material donors and funders who make each activity possible and the remarkable individuals and agencies with whom we partner," she mentioned. "These partnerships are at the heart of the Family Resource Centre's success. Working together with families, for whom we have the utmost respect, is also something this team excels at — staying connected, taking an interest, celebrating together."
The Family Resource Centre's mandate is to offer programs and services in support of families with children aged 0-6. It is a small team of between three to six staff, depending on programs offered, but they are able to make a significant difference and reach many families.
"One of the strengths of Family Resource Centre is to really develop and maintain meaningful relationships with families throughout all of those years," Beddome said. "So it's not just necessarily one contact that we're counting, but we do feel confident that in a year we do reach thousands of families in a meaningful way."
Programs offered include Let's Play, Messy Fingers, summer pre-school, parenting programs, workshops, information sessions, and a resource library. Literacy development is incorporated in all facets of the programs and activities offered by the Family Resource Centre.
"Literacy takes the form not only of things like reading, writing, singing, crafting, cooperating, communicating, counting, building as well as developing and delivering in partnership a family literacy program, but also literacy is practiced when acquiring and sharing laptops so families could school at home, completing online forms and tasks together, practicing driving, connecting during family swimming, measuring ingredients during a cooking class, discussing safety during a car seat check or installation, offering a financial literacy program, including music and movement in play activities," she said.
The Family Resource Centre is responsive to the needs of families, which will make programs more effective. For example, it organized a pick-up and drop-off schedule to ensure participation of children from families experiencing transportation challenges. It started the Driving for Success program to support adults in the southwest to overcome various barriers to obtain their drivers licenses.
The Family Resource Centre developed initiatives to support families in the southwest during the COVID-19 pandemic, for example providing laptops for home learning, and offering programming outdoors or with reduced class sizes. It also provided curb-side deliveries of books, craft supplies, puzzles, toys and play equipment, potty training kits and food items.
It was able to respond to the needs of families during the pandemic by taking advantage of additional grant opportunities and by partnering with other organizations, for example working with the Salvation Army to access and provide food to families.
The Family Resource Centre expanded its programming in the fall of 2020 to offer a five-week family literacy program that provided parents with strategies to support their child's literacy development and introduced them to the resources available at their local library.
According to Ford the literacy focus of the organization's activities is the result of a conscious choice. She noted the Ministry of Education has encouraged the Family Resource Centre to do family literacy, and it then became an integral aspect of their work.
"We just took that beyond," she mentioned. "We just said everything we do has a literacy component. Every single thing. So when you hear us explain what literacy means and what it is, we're always conscious of this is how we will build literacy in our programming. … How do we build literacy, how do we teach people and educate people that literacy is more than just reading. It's everything we do."
The Family Resource Centre's new executive director Laura Beddome speaks during the award presentation, Sept. 9. The centre's retired executive director Anne Ford is standing behind her.