Vandalism of Swift Current rainbow crosswalk raises community concerns
Posted on 24 June 2021 by Matthew Liebenberg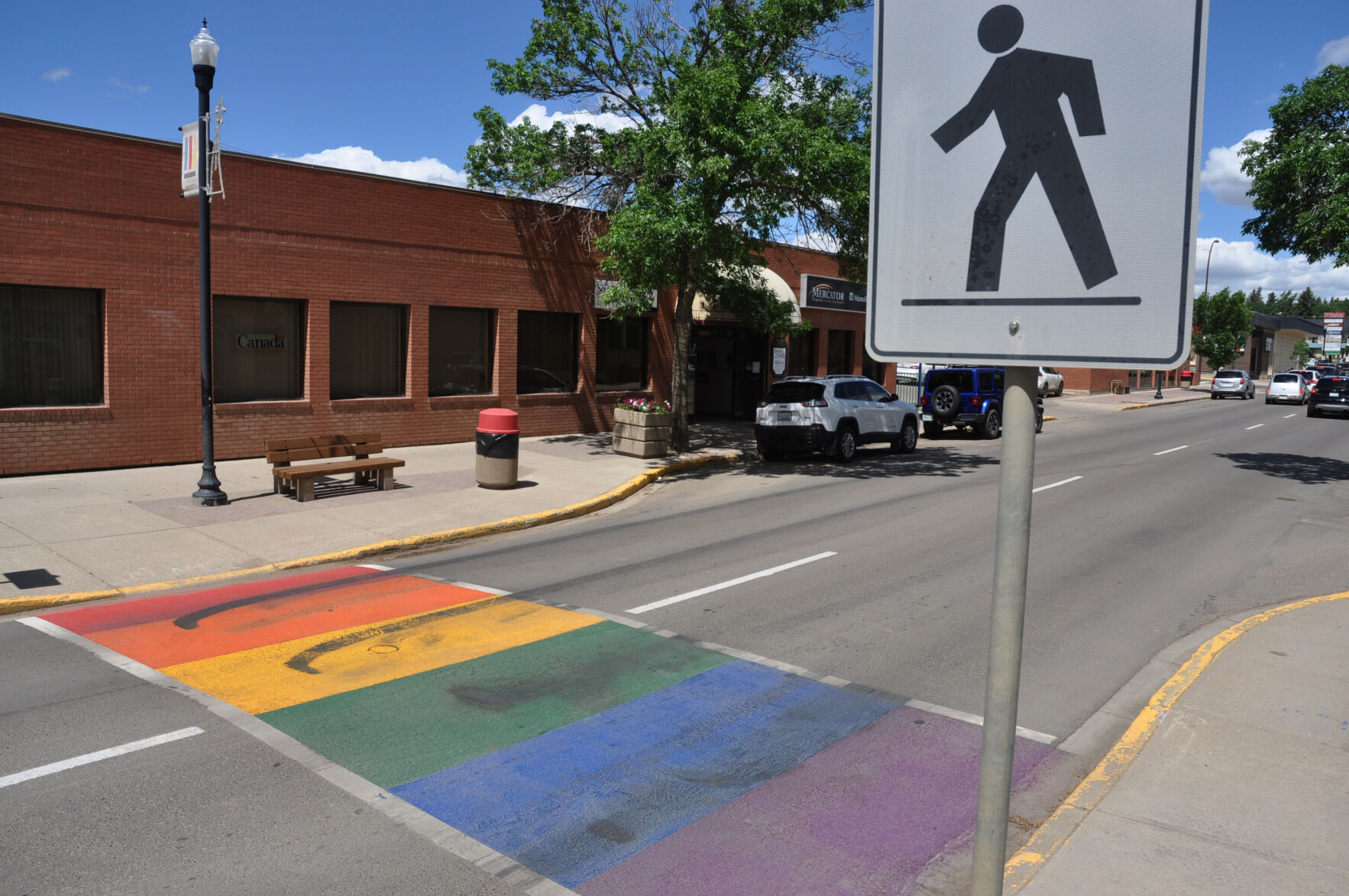 Tire marks were clearly visible on the rainbow crosswalk in downtown Swift Current, June 16.
Vandalism to the rainbow crosswalk in downtown Swift Current has become a cause for concern in the city and also resulted in expressions of support for the LGBTQ community.
Swift Current became the first community in Saskatchewan to have a permanent rainbow crosswalk in 2017.
Southwest Saskatchewan Pride has been taking care of the maintenance and repainting of this crosswalk since then. The crosswalk received a fresh coat of paint in late May, and since then it became a target of vehicle burnouts.
Southwest Saskatchewan Pride board member Shaun Hanna said this particular crosswalk has always been a target of vandals, but there are more tire tracks than usual this year.
"It's definitely worse in nature this year, simply because of the amount of tire tracks that have been deliberately left," he said.
He was encouraged by the expressions of support towards Southwest Saskatchewan Pride and the condemnation of these acts of vandalism. The organization always faces a dilemma after such acts to decide whether it should say something or remain quiet.
"We face that exact question every year on whether to say something," he said. "The question is if we say something, does that give a bully a power, does that empower vandals to go out and do it again to get the attention, are we playing into that. In year's past, because it's sort of been a one-time scuff and then more or less people have left it alone, we've sort of always turned a blind eye and just ignored it."
But this time there was an official response from Southwest Saskatchewan Pride on their Facebook page to the situation.
"The difference this year is that we've had such an outpouring of community support from business leaders, from our allies, from our own families, from friends and frankly from people that we really did not expect to reach out to ask if we're OK and to condemn the vandals and their actions that it was at a point that we really couldn't stay silent anymore," he explained. "Something had to be said and what we chose to say or to focus on is thanking our allies out there and thanking the community of Swift Current for recognizing what an important symbol of inclusion and diversity this is for our city."
The response of the community went even further, because a local company volunteered without being asked to clean the crosswalk over a weekend on June 13, but not long afterwards there were fresh tire marks.
"It really highlights the way the community has banded together against the vandals, but within hours of the cleanup the person or persons returned and scuffed it up again," Hanna said. "So it's clear that it's a targeted attack against that symbol. It's frustrating and it's also quite exhausting to see that."
Southwest Saskatchewan Pride is planning to have another cleanup effort of the crosswalk as part of the planned activities for the upcoming Pride Week from July 10-17.
"We're going to invite anybody who's interested to come down and help with the cleanup and show some civic pride," he said. "So I think we'll just continue to move on. I mean, eventually the tire tracks will fade. We're a pretty resilient community and it's clear by the support that we had over the last couple of weeks that it's not going anywhere, we're not going anywhere, and people support that decision."
Southwest Saskatchewan Pride submitted a victim impact statement to the RCMP City detachment to ensure there is an understanding that this is more than a mere act of property damage.
"When we spoke to the RCMP we're also understanding that several other community members have also made statements," he said. "We made a victim impact statement so that the RCMP understands that there are real victims to this particular incident, not just in terms of the emotional impact, but there's also monetary impact. The cost to our organization to maintain and upkeep has been somewhere between $8,000 to $12,000 over the last five years to make sure that the crosswalk is kept up and in good condition. So it's not just a little bit of rubber. There's also other things that people should be considering with their actions."
Rainbow crosswalks in communities across Canada and elsewhere have become visual symbols of a community's commitment to diversity and inclusion.
"Symbols carry extra weight that regular objects don't," he said. "So in the case of the crosswalk, on the one hand it is simply just colours on the pavement, but for those who need that symbol, it's a mark of acceptance. It's a mark of a way in which our community has changed and embraced the diversity that comes with those demographic changes, and for people who need to see it, it's kind of an anchor point."
The vandalism of the crosswalk also has strong symbolic value and makes it different from other acts of property damage.
"When you see a vandal going out of their way to be destructive towards not just property, but to that particular symbol, it's charged with symbolic meaning as well," he said. "One of the things that we as an organization are constantly asked is if somebody is willing to tear down or try to destroy a bit of paint on the pavement, what else are they willing to do? And so we as a community are also faced with potential repercussions or the possibility of repercussions for us just existing."
The vandalism of the rainbow crosswalk was raised during discussions at a City of Swift Current council meeting, June 14. Mayor Al Bridal said he discussed the issue the previous week with RCMP City detachment Staff Sgt. Evan Gordon, who was present at the meeting to present the community policing report.
Bridal asked Gordon for an update on the actions the police has been taking in response to the vandalism of the crosswalk.
"It's unfortunate that the actions of one or two or a handful of people can sometimes tarnish the image of an entire city," Gordon said. "However, after hearing and seeing some of the outrage, some of the concerns, some of the information that's out in the media right now, I think it's safe to say that the majority of the residents of Swift Current don't stand for that behaviour, the defacement of that crosswalk and obviously what it stands for."
He added that the RCMP has started an investigation into the vandalism after receiving two calls about the matter. The investigation was ongoing and the RCMP was looking into information posted on Facebook.
"It's amazing what people will put on Facebook and think they can get away with," he said. "So without giving away too many details, there is an investigation under way and there are some avenues for us to follow up with and it is ongoing right now."
Councillor Ryan Plewis expressed his displeasure with the vandalism. He noted that Swift Current is a safe and caring community, and these actions show a complete lack of compassion and care towards the LGBTQ community.
"These are people who live in our community, these are people who belong to what in many ways is a very sensitive and vulnerable community, and these are people who are our neighbours and our friends and our co-workers and our families," he said. "And I quite frankly think it's extremely shameful that you would choose to express yourself on the few feet of the city that's reserved for people that belong to that community. … It shows a real lack of courage to make a statement in such a faceless way. If you have something to say, put your name behind it. Otherwise, keep it to yourself, because these are real people in our community who feel threatened and unsafe as a result of the actions that a few take. So shame on you, whoever you are."
Tire marks were clearly visible on the rainbow crosswalk in downtown Swift Current, June 16.