SCCWS Monitoring for Zebra Mussels again in 2023
Posted on 25 July 2023 by Prairie Post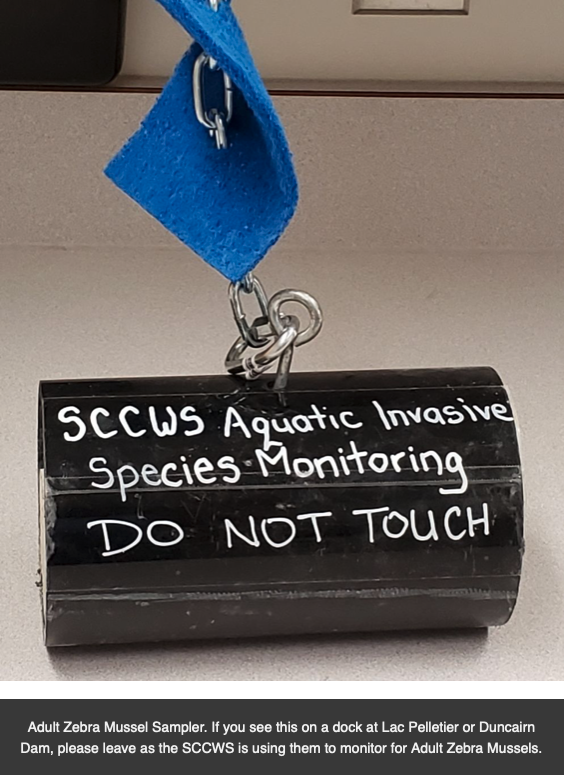 Submitted by SCCWS
The Swift Current Creek Watershed Stewards are again monitoring for Adult Zebra Mussels at Lac Pelletier and Duncairn Reservoir/Reed Lake this year. The Adult Zebra Mussel samplers have been placed at docks at both lakes to monitor for the presence of the mussels. If you see these samplers on the docks, please leave them where they are so that we can monitor for the zebra mussels all summer.
The SCCWS would like to thank everyone that gave the SCCWS permission to place these samplers at their docks for the summer.
Remember to drain your boats and clean and dry out all equipment when moving your watercraft from one waterbody to the next to stop the spread of these invasive species.
On August 12th,the SCCWS is hosting a Weed Identification and Removal Day in Swift Current. Residents will learn more about identifying the invasive weeds along the creek, and how to report their location on the iMap invasive app. Attendees will work to remove these weeds from sites along the creek to reduce their spread and help to beautify the city.
The day will start at the Remple Community Gardens at 9 AM with presentations and will continue with weed removal until noon. There will also be fun activities for kids during this time.
Please watch our Facebook page and Instagram account for more information.
For more information, please contact us at kevin.sccws@gmail.com or call 306-770-4607.
The SCCWS is now on Instagram, please check us out at @sccwatershedstewards or search for Swift Current Creek Watershed Stewards.