Great Plains College signs agreement with partners to support student learning
Posted on 28 April 2023 by Matthew Liebenberg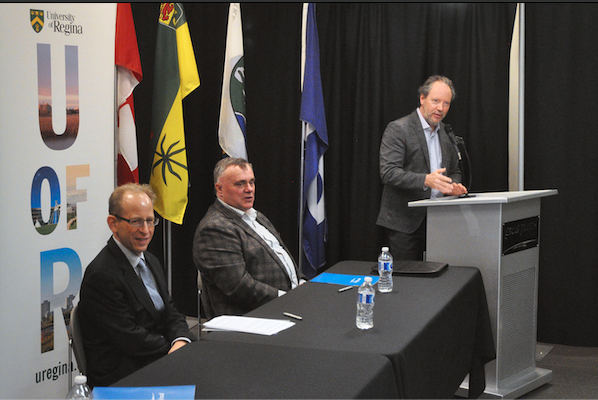 Great Plains College President and CEO Dr. Brad Mahon speaks during the MOU signing event, April 13. University of Regina President and Vice-Chancellor Dr. Jeff Keshen (at front) and Swift Current Mayor Al Bridal are seated at the table. Matthew Liebenberg/Prairie Post
By Matthew Liebenberg
The signing of a memorandum of understanding (MOU) between the Great Plains College, University of Regina and City of Swift Current will continue and broaden an existing partnership in support of post-secondary education opportunities.
The signing of the MOU took place at the Great Plains College campus in Swift Current, April 13.
The agreement was signed by City of Swift Current Mayor Al Bridal, University of Regina President and Vice-Chancellor Dr. Jeff Keshen and Great Plains College President and CEO Dr. Brad Mahon.
A previous MOU between the three partners was signed in February 2016. The new agreement will further promote post-secondary education and facilitate co-op student placements with local businesses and municipal government.
"The MOU expresses our shared intent to collaborate, to meet and expand opportunities for learners in Swift Current and in the surrounding area," Mahon said.
He felt the agreement is important, because it revives the partnership between the three organizations.
"The pandemic was really a time when it was difficult for organizations to be thoughtful," he noted. "It was difficult to be strategic. We were often reacting, we were responding to ever shifting circumstances and there was a lot of uncertainty, and I feel over this past year we stood ourselves up again and we've sought out a sort of a new normal. Today's MOU really formally revives the close partnership between Great Plains and the University of Regina and the City."
He added that the MOU is a commitment by the three partners to work together to built pathways and offer more options for students.
"We'll work to ultimately provide post-secondary students with the opportunity to choose from a broader offering of undergraduate studies that may come from arts and science, from health and from education," he said.
Keshen noted the University of Regina has many academic and other agreements on a regional, provincial and international level. These MOUs and agreements are wide-ranging, but a common principle with each one is that it must be beneficial for all signatories.
"It needs to be mutually beneficial for all of us and we understand that working with you there's going to be priorities," he said. "I'm aware of some of them already. We know that nursing is a priority here. We'll be working with you on other programs as well that's going to be important for Swift Current and that's going to draw students to this area and hopefully as well do their degrees here to a greater extent, but also if they choose to transfer in some areas to the University of Regina, they're going to get full credits for that."
He felt this MOU is a clear demonstration of the University of Regina's commitment to students in their home communities. The university just signed similar agreements with North West College and Southeast College.
"There's a lot more students today that are looking for alternative forms of delivery," he said. "Our goal is to offer rich programming through our regional colleges across the province. So a student may not be able in all areas to take their full degree in Swift Current or Yorkton or Esterhazy, but we would like to offer the opportunity through our programs in partnership with the regional colleges to give them more opportunities for comfort, for finances and also because more students have become accustomed to the possibilities of doing courses remotely to be able to have that option."
The collaboration between Great Plains College and the University of Regina previously resulted in the availability of the Bachelor of Science in Nursing program in Swift Current, but it was discontinued in 2017.
Keshen explained that it was offered in a more traditional format of face-to-face delivery and there were not enough students to ensure the financial sustainability of the program. The university aims to revamp the nursing program and the new delivery model will create future opportunities for students elsewhere in the province to participate.
"The model that we are working on is the distributive model using virtual reality to be able to offer that programming not just in Regina," he said. "There will be some students from Swift Current who want to come to Regina, but there will be others who want to be able to access that programming in Swift Current. That's what we're working towards."
Bridal mentioned the City's involvement with this MOU fits well with a goal in its five-year strategic plan to strengthen regionalization and partnerships.
"This endeavour today fulfills strategic objectives that directly benefit our community and our region by the renewal of this MOU and the exploration of what is possible through a spirit of cooperation," he said.
He felt the City's role is to encourage the college and university to develop programs that can be offered in Swift Current to attract students to the community and allow those living in the area to study locally without the cost of going to Regina.
"So my encouragement to both the Great Plains College and the University of Regina is to bring programs to our city and to the southwest so we can train our people and they don't have to go away," he said.
Co-op students have done their work experience at the City and as a partner to this agreement the City can convey information about local training needs to the college and university.
Mahon felt the possibilities of this MOU extends beyond Swift Current, because the college has six campus locations. He has spoken to the mayors of all the campus communities about the possibility of a local community advisory committee to provide the college with a direct line to business and community leaders. This feedback will assist the college to provide training opportunities appropriate to the needs of the workforce in the future and this can involve cooperation with the university to offer suitable programs.
"A big part of our identity is that connection between education, training and workforce demand," he said. "We hope that when our students finish with us, whatever that looks like, they either are able to successfully enter the workforce as a result of that education and training or they're able to have that pathway to further education."