A Message from Mayor Al Bridal
Posted on 12 April 2023 by Prairie Post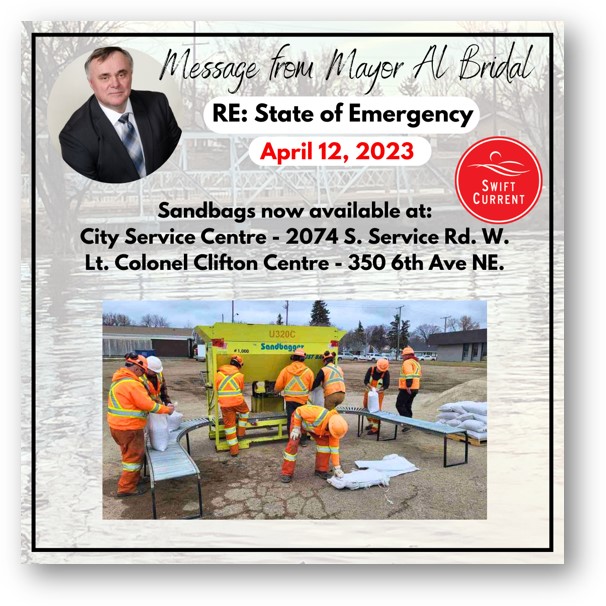 Dear Citizens of Swift Current,
As you all know, yesterday at a Special Council Meeting, the City of Swift Current declared a local State of Emergency due to high water levels in the Swift Current Creek. Today, we will see the water levels rise a bit more with a necessary release from the Duncairn Dam. All measures available to us are being taken, to protect people and property. I'd like to commend Fire Chief Ryan Hunter and the Swift Current Fire Department for their capable and trustworthy command of this State of Emergency as it continues to develop. I'd also like to acknowledge all the City staff who are working diligently around the clock to manage the situation the best we can. Your hard work and dedication are greatly appreciated.
There are now two sites where the public can acquire sandbags – the City Service Centre at 2074 South Service Road West, and the Lt. Colonel Clifton Centre at 350 6th Avenue Northeast. We would encourage all property owners in low lying areas to take every precaution to protect their property.
And lastly, I would also like to add that in challenging times like these, I really feel like the heart of our community is displayed. I'm proud of everyone in how they're handling the developing situation together with teamwork, compassion, care, and resilience.
The next news release is expected to come from the Swift Current Fire Department at 4:00 PM today, so please be watching for updates, and most of all, stay safe.