Art gallery showcases Swift Current and southwest artists in Member's Salon
Posted on 2 January 2023 by Ryan Dahlman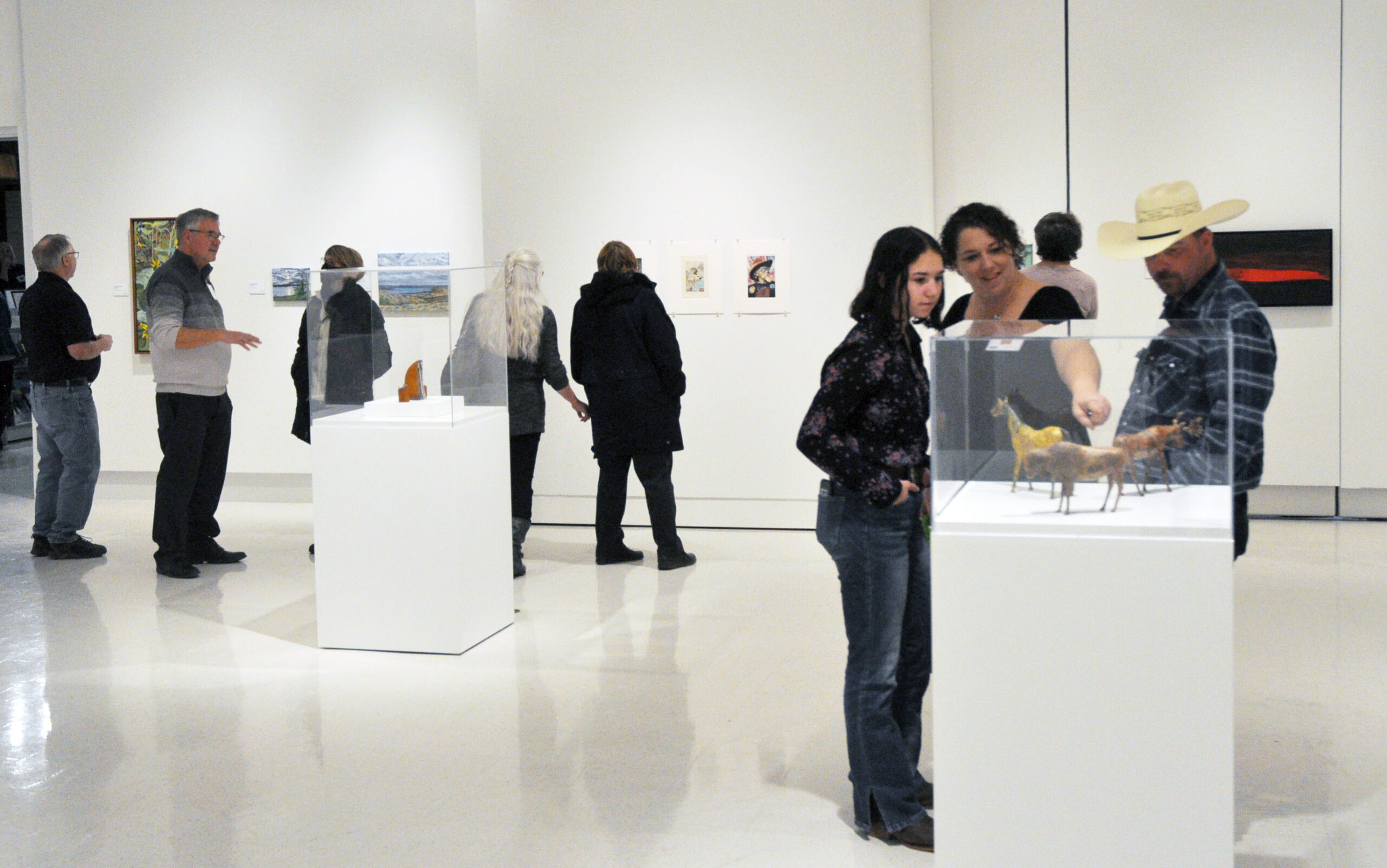 By Matthew Liebenberg
The current exhibition at the Art Gallery of Swift Current (AGSC) features a variety of artworks by local and regional artists.
The 2nd annual Member's Salon and Sale continues the success of last year's inaugural event.
AGSC Programming and Communications Coordinator Morghie Flaterud said around 45 artists participated in last year's exhibition.
"We had lots of visitors from around the community and we sold over 10 pieces," she noted. "So I think it was a very positive response last year."
This year's exhibition presents the works of 27 artists from Swift Current and southwest Saskatchewan. It represents an interesting mix of established and emerging artists from the region.
"Some of the artists have been working on their art practice for many years and others are very new to their practice," she said. "So they would be emerging onto the scene and it's really good to show their work as well."
The exhibition provides an opportunity for the community to learn more about the artists active in the region and to discover what type of artworks are being created by them.
"It's really good to see," she said. "We have a bigger art community than people realize."
The exhibition brings together a wide range of artistic practices, including painting, sculpture, photography, and mixed media work.
"We have a pretty good variety this year," she said. "We've got sculptures of all different medium, we've got paintings, we've got printmaking, and there's some embroidery this year."
Most of the artworks in the exhibition are for sale and a portion of the proceeds will to go the AGSC.
"The artists receive most of the sale," Flaterud noted. "We do take a small percentage. This show is also a bit of a fundraising initiative for us for our community programs."
Funds raised for the gallery will be used to support the various programs, classes and events offered by the AGSC.
Two paintings by Cadillac artist Dixie Kendall are included in the exhibition. She also participated in last year's inaugural exhibition. She attended the public reception for this year's exhibition, Dec. 9.
"I like this exhibition, because I meet so many artists and so many people come out to purchase, to look and to mix," she said.
She has a variety of paintings from which to select her submissions to this exhibition, which was not an easy task. She picked two paintings that will appeal to viewers in an exhibition that offers the artworks for sale.
Her one painting, called Creek Views, depicts a natural scene next to the Swift Current Creek. It was already sold on the night of the public reception.
Her other painting, The Old Barn Blooms, shows a colourful field of sunflowers with an old barn in the background. Sunflowers is a national symbol of Ukraine, which was her inspiration for this painting. It has a distinctive rustic frame made from old barn wood.
She reclaims old barn wood as part of her art practice. She will use it to paint on and to frame her paintings.
Kyle artist Dennis Hall also participated in last year's Member's Salon and Sale. He felt the exhibition offers various benefits.
"It's an opportunity to show your artwork to different people in the community," he said. "It's always nice to price it and look at other people's pricing too. I've sold a few pictures this last summer and it's a difficult thing. You don't know how much you should ask. Are you getting your money's worth or are you overpricing it. So this is a good way to see what's comparable. And it's just nice to display it too."
He used different arts media for his two artworks on display in the exhibition. The painting Shimmering Touch depicts a scene at Clearwater Lake near Kyle. It was done with oil paint.
"It was last May, early in the morning, and the water was just like glass," he recalled. "I thought that's going to be a nice picture. I worked a lot on the rocks to get the right colour in there and the reflections in the water."
His other work Quenched Thirst is a still life of tulips with fine details, for which he used pastel pencil and crayon on velvet.
"It's real velvet material on a board," he said. "That's why it has to be behind glass, because it will come off if you touch it."
He only started using oil paints last year after attending an AGSC art class. He retired recently and painting is an enjoyable pastime.
"It gives me something to do," he said. "I enjoy it. The hardest thing is to figure out what you're going to do and once you get into it though, time just goes away. You're just involved in it and you don't think about any other pressures in your life or anything."
He frequently attends art classes offered by the AGSC. It helps to improve his skill and to keep him motivated to work on his art.
"I love coming to class," he said. "I have all my materials at home and ideas, but I don't really put it into action unless I come to a class. Then I learn a few little extra techniques and it gets me interested again and then I get going again on some new paintings."
Artists with an AGSC membership are eligible to participate in the Member's Salon and Sale. The art gallery began to offer memberships as a new initiative since last year.
The annual membership fee ranges from $20 for students and seniors to $25 for individuals and $45 for couples or families. Membership can be purchased online or in person at the AGSC.
AGSC membership offers various benefits, including 15 per cent discount on art supplies and classes, as well as 15 per cent off custom framing from Artistic Expressions for original works of art made by the member.
Members receive newsletters with information about events at the gallery and details about classes and workshops offered by the AGSC. They can also participate in the annual Member's Salon and Sale.
The 2nd annual AGSC Member's Salon and Sale will be on show at the main gallery until Jan. 3, 2023. Admission is free and gallery hours are noon to 5 p.m. on Monday, Friday and Saturday, and noon to 6 p.m. on Tuesday, Wednesday, and Thursday. The gallery is closed on Sunday and holidays.