First-ever Pride flag raising takes place at Swift Current high school
Posted on 22 June 2022 by Matthew Liebenberg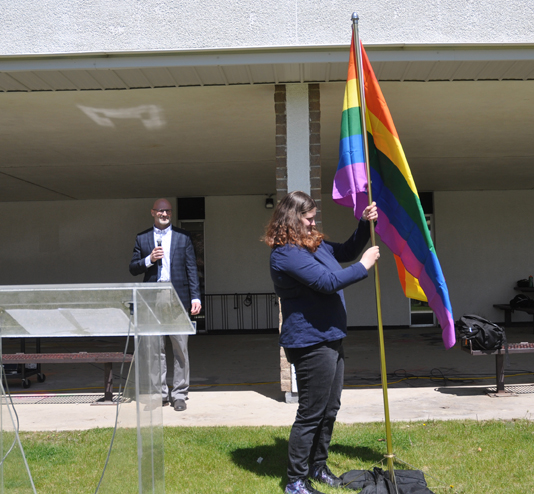 SCCHS student and QSA member Kylie Dyke places the Pride flag on a stand at the start of the ceremony, June 3.
There was a historic moment at the Swift Current Comprehensive High School (SCCHS) on June 3 when the first-ever Pride flag raising took place in front of the main building.
The ceremony was attended by students, staff and several dignitaries, including Swift Current MLA Everett Hindley, Swift Current City Councillor and Deputy Mayor Ryan Switzer, Chinook School Division trustee Ken Duncalfe, Chinook Director of Education Mark Benesh and other senior school division managers.
The Pride flag raising ceremony was the result of an initiative by the SCCHS Queer Straight Alliance (QSA).
The ceremony started with the placing of the Pride flag on a stand by QSA member Kylie Dyke, who also spoke and read her poem We Are Here during the event.
"This flag raising means a lot to the QSA club, the other students and the LGTBQ+ community supporting the flag raising to happen," she said. "And the attendance of everyone here makes me realize that we are heading in the right direction, that we are all making the school a more safe and supportive space for all."
For QSA member Rachel Argue the raising of the Pride flag was the realization of an important goal.
"The raising of this flag has been something that I have been trying to put together for a while now, and it is amazing to see it come to life," she told the gathering. "Inclusion has always been a huge value of mine. … To help orchestrate this Pride flag raising has been incredibly important to me. I hope that with this event, people will feel welcome to be their authentic selves without fear."
Several speakers referred to the significance of this occasion and felt it was a sign of positive change.
"To stand here and bear witness to the presentation of the Pride flag is a totally different feeling than I remember as a Swift Current Comp graduate myself," Deputy Mayor Ryan Switzer said. "To say that times have changed is a monstrous understatement."
He added that there was a limit to the recognition of diversity during the time he attended high school.
"Of course, there were students who identified differently back then and there always has been, but they were unequivocally not supported or included," he said. "The closet, so to speak, was likely overflowing. There was not acceptance, not even true acknowledgement of anyone who didn't 'fit in', as we defined it back then."
He felt the lack of recognition for diversity in the past within the high school setting was actually a missed opportunity.
"Not only does that make me feel old, thinking back on that, but it also makes me feel like we really missed out on truly knowing ourselves, on truly knowing others, on learning about identify, why representation matters, on providing a safe place for people to just be themselves without judgements or ridicule, on pushing past long-held ideas fuelled by fear and a lack of understanding," he said.
These sentiments were echoed by Chinook Board of Education trustee Ken Duncalfe, who said a celebration like this would not have been supported or even possible when he attended high school.
"At Chinook School Division we're committed to ensuring all of our schools are safe and inclusive environments where student success is a priority and everyone feels included, protected and respected," he noted. "Our schools will provide all students, including sexual and gender minority groups, with equal right to the formation and operation of clubs, alliances, and forums within the school culture. … When students do not feel safe or valued, it undermines their learning and wellbeing."
SCCHS Vice-principal Melanie Arntsen spoke on behalf of the school. She noted the QSA club started at the school in 2016 to fill a void for students who needed a place to be themselves.
"Over the six years that the club has been in existence, it has provided a safe place for students to belong and has been effective in educating staff, students and parents about the queer community," she said. "Approximately 10 per cent of our school population identify as queer. We have 20 plus students who are transgender with new names and pronouns. The school community strives to accept students for who they are."
There are currently about 30 or more active QSA members. They meet once a week to organize and participate in a variety of activities. For example, they always support the Students Against Drinking and Driving club by entering a team in the annual mocktail competition.
"The QSA has organized cookie and muffin sales to raise money for the Trevor project, which is a support line for queer teens," she said. "At some meetings they host guest speakers such as queer adults who have shared their stories. The QSA is working diligently to educate the community, as shown through their parent information nights."
Jesse Koethler, a recent SCCHS graduate and a current Southwest Saskatchewan Pride board member, was a speaker during the event. She said it was really special to come back and attend this event.
"This is a really important moment in our fight and I want to thank everybody in the audience, every parent, child, student, teacher, community member, that has contributed in any way to the fight for equality and continues to do that," she mentioned. "Being queer used to be a punchline and to some people it still is, but because of the work that people like us are doing, those people are becoming fewer and fewer. And we'll keep working on dismantling the systems and the beliefs that want us to be quiet about who we are."
QSA member Rachel Argue spoke afterwards to the Prairie Post about the significance of the Pride flag raising.
"I really think it's a strong statement for queer youth especially, seeing that the school is encouraging them to be their true self and that they're safe to be who they want to be," she said. "It's definitely affirming for a lot of people."
However, negative attitudes towards queer youth still exist and the QSA will continue to promote diversity and acceptance.
"Our big goal is to try and educate people about the community and just try to promote diversity and a safe space," she said.