Old barn finds a new use at Rock Solid Refuge program
Posted on 16 June 2022 by Matthew Liebenberg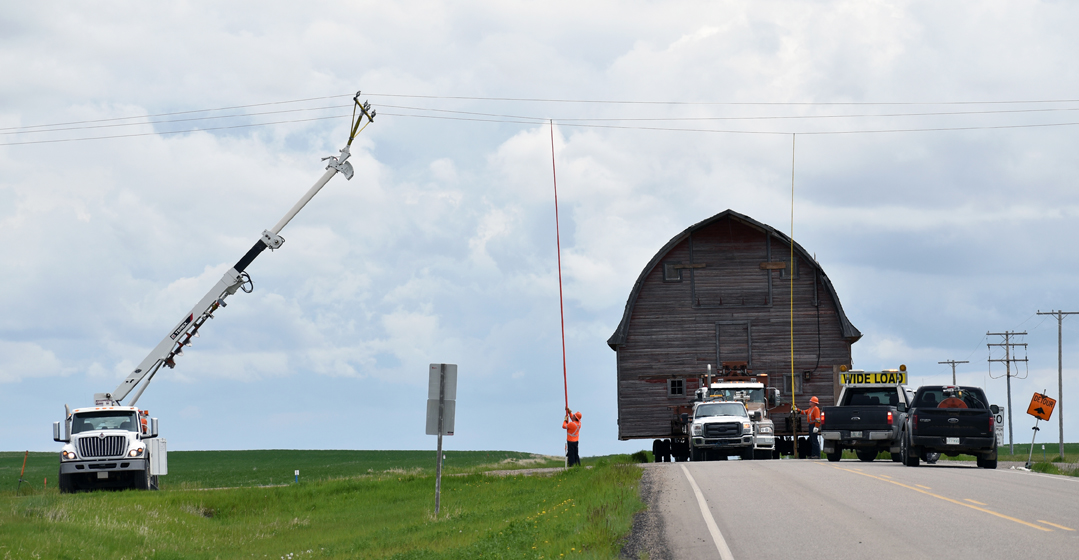 Rock Solid gets an assist from a SaskPower crew lifting the power lines.
A large old barn was carefully transported from a farm northeast of Swift Current to the Rock Solid Refuge campus near Shaunavon, where it will find a new use as part of an equine program for students.
The day-long journey of the nearly 100-year-old hip-roof barn took place on June 7 along a well-planned route that required a Trans-Canada Highway crossing and the involvement of SaskPower crews to lift power lines along the way.
It was moved by Lucyk Building Movers from north of Waldeck to northeast of Shaunavon. The barn's dimensions are 28 feet wide, 48 feet long and about 28 feet high. After it was lifted for the move, the overall height that had to pass underneath power lines increased to about 31 feet.
Rock Solid Refuge offers a faith-based residential program for teenage boys with life controlling issues. The rural setting of the campus provides a structured environment with educational and other activities to support personal growth.
"Our equine program has been a vision that we've had as an organization from the very beginning and we've worked towards that all along," Executive Director Dallas Block said. "This is our third summer of officially having horses and equine assisted learning and riding as an activity for the students here at Rock Solid. This barn just means that we can do that aspect that much better."
He felt this old wooden structure will have another benefit due to its very noticeable presence on the Rock Solid Refuge campus.
"It is an amazing addition to the look of this site as well," he said. "So now it's visible as you drive up the final mile to our yard, and immediately puts that kind of exclamation mark to our rural setting for a teen treatment program."
The hip-roof barn was built in 1929 on the farm of Ernst and Emmalie Sesula, who homesteaded there since 1911. They raised 12 children on the farm and Block was able to speak to one of the children, Emma Hussey. She has many fond memories of the farm and the barn, and she was able to watch part of the move.
The farm was recently purchased by the Waldeck Hutterite Colony and through an arrangement the barn was donated to Rock Solid Refuge.
"It became available and the new owners of the land, the Waldeck Colony, was happy to see the barn go to a good use and the previous owners really wanted that to happen," Block said. "They didn't want it to be discarded or anything like that, and so it has a new lease on life here. The cost of the moving was what we were responsible for, but the actual cost of the barn was a donation. … We are extremely appreciative of the donation and excited for what it means for the growth of our equine program."
He noted the barn is still in a really good condition, and it sits straight and true on a new concrete foundation. Some exterior work will be required to keep it in good shape for the future. Contributions from donors made the transport of the barn possible, for which Rock Solid Refuge is grateful.
"We've had some of that cost already in hand," he said. "So we would love for people to have a part in the move as well as restoration of this barn, if anybody would like to make a donation."
Brad Block is the equine program facilitator at Rock Solid Refuge. He is certified as an equine assisted learning facilitator and has seen the benefits of this program for students. They have experienced hurt and pain in their lives, and through building a bond with the horses they learn to trust others again.
"It's just amazing how working with horses will melt the heart of these young men and really help them to overcome," he said. "They don't even realize it, but as they start to build a relationship with a horse, it just starts to translate into the relationships they have with the staff here at Rock Solid, with their families, with anybody around them. It starts to shift their perspective on life and they don't even see the change sometimes, but we as staff can watch as they change and they start to have good relationships and they begin to love life again."
The barn will make a real difference to the program. It is located next to the outdoor riding arena. All the equestrian equipment and horse feed can be stored inside.
"We've got all of our tack and equipment in two different sheds and it has worked well, but everything is in different locations," he said. "It just makes everything more efficient and better for us and the horses, having everything all in one place."
In addition, the barn will provide a sheltered location to tie up the horses when they are brought in from the paddock.
"It's a good area too come winter time," he noted. "We don't run a horse program during winter, but I still make time and take students riding. If the horses get hot and sweaty, they need a place that's out of the wind and out of the cold to dry off and to cool down and to not get sick after we've used them during the winter."
It was a really exciting moment when the barn arrived at its new home and then slowly lowered onto the concrete foundation.
"I was running around like a little kid at Christmas time," he said. "I was just giddy and giggling like a little boy again. God just really blessed us for this to happen, and I couldn't be more excited and more thankful."
Wendell Patzer, who takes care of facility maintenance at Rock Solid Refuge, said work started immediately to anchor the barn properly.
"We're getting into summer storm season here," he noted. "The last thing I want is a twister coming here and take it off the foundations. So we want to get it anchored down properly."
He noted there are hardly any knots in the barn wood and the building survived this long due to the way it was originally constructed.
"Every third floor joist is a completely straight one-piece floor joist, 28 feet long, and then the other ones are one third overlapping on the beams," he said. "Our biggest thing is if we can get a good roof on it now. I think the shingles are pretty much all gone. So our first goal is to get a new roof on it and then see where we go. If we get lots of donations, we'll consider tinning the outside, but at bare minimum we'll paint the outside."
For more info about Rock Solid Refuge or how to donate, visit their website at http://www.rocksolidrefuge.com