Swift Current resident speak about importance of becoming an organ and tissue donor
Posted on 28 April 2022 by Matthew Liebenberg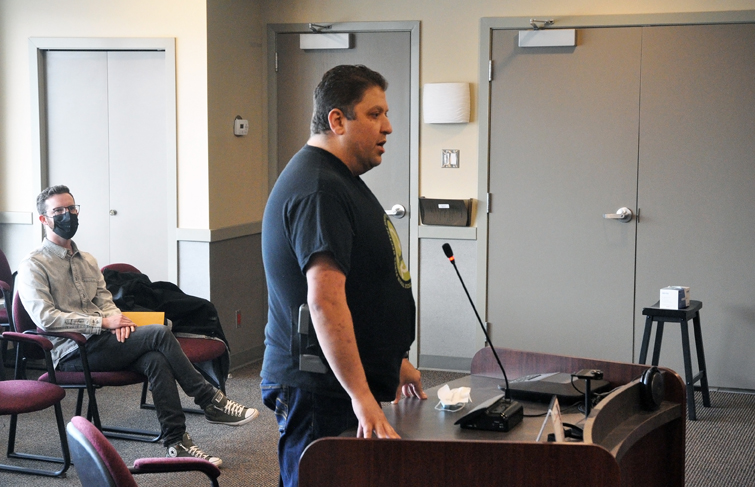 Swift Current resident Sammy Khalife speaks in support of the proclamation of Organ and Tissue Donation Awareness Week during a regular City council meeting, April 18.
A Swift Current resident shared his personal story of waiting for an organ transplant at a City council meeting in support of a proclamation to highlight the importance of organ and tissue donation.
The regular council meeting on April 18 proclaimed April 24-30 as Organ and Tissue Donation Awareness Week in Swift Current.
Sammy Khalife has been waiting for several years for a heart transplant. His advocacy resulted in the first ever proclamation of Organ and Tissue Donation Awareness Week in Swift Current in 2019. Similar proclamations have been made in subsequent years.
He spoke during his latest presentation about the experience of waiting for an organ transplant during the pandemic.
He underwent initial surgery in Edmonton in May 2019 to receive a ventricular assist device (VAD), which is a battery-operated mechanical pump that helps to pump blood to the rest of the recipient's body.
He noted that he was in a group of eight people from British Columbia, Alberta, Saskatchewan and Ontario who received this device during that time.
"Two of those people get a heart, but before the pandemic hit, and five died," he said. "I'm the only one alive right now out of the group that got the VAD together."
The recovery period after VAD surgery means a person will not be on the heart transplant list for a certain period thereafter. This was also what happened with him after his first and second VAD surgeries.
"Every time they open you with a VAD, you're not allowed to get a heart for another year," he said. "So I had two years luckily during the pandemic that didn't count and there wasn't any much going on during the pandemic."
The pandemic had an impact on surgeries, and another factor is the availability of blood of the same type for a transplant.
"The other problem is blood donation," he said. "There is one time that a heart didn't get transplanted, because they didn't have enough blood for that type in the whole Alberta. They had an emergency and there's so much going on and a heart became available. By the time they flew the heart in and the blood in, they were not able to harvest it."
Khalife said he still remains optimistic about receiving a heart transplant after all the challenges he already had to face.
So for all the problems that you think you're going through physically and mentally and financially, I'm still alive and I'm ticking," he said. "I've been doing it for four years now, but no one has passed the four years on VAD. So I'm special."
He noted that heart transplant procedures have resumed, and there are both individuals in hospital and those with a VAD waiting for a heart to become available.
"They restarted the transplant process in Saskatchewan," he said. "There are some delays in Edmonton. There are some priorities. There are certain people in the hospital on bypass. So those people will get a heart first and then us, the one with the VAD."
He felt there is still work to be done in Saskatchewan to clear away misunderstandings and wrong impressions that people might have about organ and tissue donation.
"There is a lot of misunderstanding and our job is to clear that, but we still had a good amount signed up," he said. "The last time I talked to the minister of health I got a really promising e-mail that it's a lot of signups. We can only do what we can do and hope for the best."
He noted that he was in a recent meeting where everybody present, about 20 people, indicated they would support organ and tissue donation, but only two were already signed up.
"So we need to take that extra effort to push them to do it," he said. "I hope we all together can bring attention to the issue."
Saskatchewan residents can register online to become organ and tissue donors. Any person 16 years or older with a valid Saskatchewan Health Services card number can register to be a donor. A person can select to donate all organs and tissues needed for transplant or to only donate certain organs and tissues.
The current donor card and sticker will not be valid by the end of 2022 and this registration will therefore ensure that healthcare providers are aware of a person's wish to be an organ and tissue donor.
Khalife emphasized it is still important to speak to family or next-of-kin to ensure that they understand your decision to be an organ and tissue donor.
"You still need to talk to your significant others and family, because they can still override your decision," he said. "So that's still the law and it's going to take a long process to change that."
Registration can be done online at http://www.givelifesask.ca or a paper registration form can be downloaded on this website, which can be completed and mailed to the organ and tissue donor registry.