The Ted Knight Saskatchewan Hockey Hall of Fame Launches Inductee of the Month contest
Posted on 5 April 2022 by Prairie Post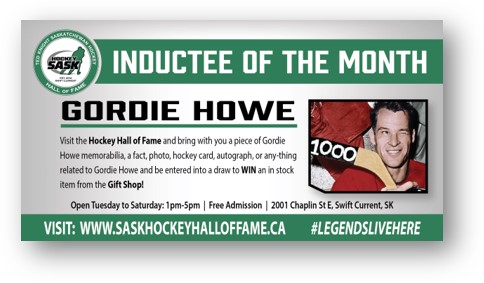 The Ted Knight Saskatchewan Hockey Hall of Fame is pleased to announce the launch of its Inductee of the Month contest. Visitors are invited to spend some time at the hall and bring along some memorabilia of the Inductee of the Month, such as a hockey card, autograph, picture, or a story, and enter their name in the draw bin for a chance to win any item from the gift shop.
The Hall of Fame is open Tuesdays to Saturdays from 1 pm to 5 pm, and during Swift Current Broncos games.
"Admission to the Hall of Fame is free-of-charge and suitable for all ages," said the Hall's Director, Lloyd Begley. "We hope to enhance visitation to this wonderful resource, to foster conversations about all things hockey, and to let the people of Swift Current and our neighbors find out for themselves thatLegends do, in fact, Live Here."
Visitors are reminded that COVID-19 protocols have been removed and, therefore, wearing masks is not required.
For more information on the Ted Knight Saskatchewan Hockey Hall of Fame and the Inductee of the Month Contest, please contact:
Kelly Cummings
Visitor Services Attendant
Ted Knight Saskatchewan Hockey Hall of Fame
(306) 773-3031