Provincial budget includes large allocation for health care
Posted on 5 April 2022 by Matthew Liebenberg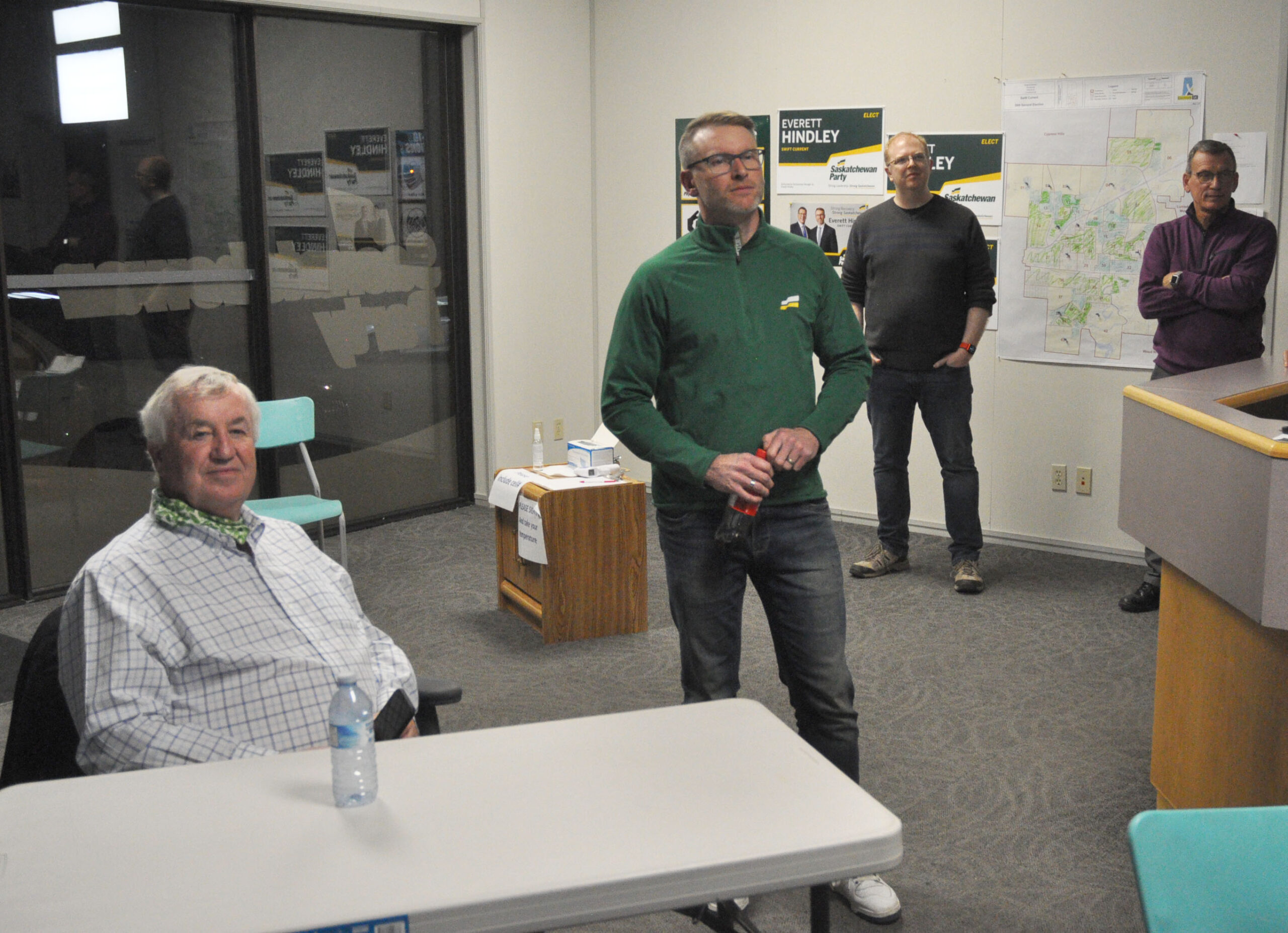 Everett Hindley
By Matthew Liebenberg
Swift Current MLA Everett Hindley feels upbeat about the provincial budget for 2022 -23 and the large investment in health care, which includes various investments for programs and services under his ministerial portfolio of mental health and addictions, seniors and rural and remote health.
"The theme of the budget this year is Back on Track and that will be the focus for us going forward," he told the Prairie Post. "What's important to note is that the finances of the province and the provincial government are in a good position."
He noted the forecasted deficit for 2022-23 is $463 million, which is an improvement of $2.1 billion over the 2021-22 budget.
"We're expecting smaller deficits in each of the next three years and projecting to be back at balance again, which was a goal of ours pre-pandemic and we got there briefly, but expect to be back in balance by 2026/27," he said.
The budget includes various investments to support a growing economy, but there are also tax increases. Provincial sales tax will be applied to various activities, including admissions to various entertainment events such as sporting events, concerts and shows, movie theatres, museums, fairs, and rodeos. PST will also apply to professional theatre tickets and subscriptions, gym, golf and curling fees and memberships, as well as hunting and fishing guide fees and outfitter services.
These changes are expected to provide an additional $10.5 million in PST revenue during the 2022-23 financial year and $21 million annually.
"Some of the increases don't take effect until Oct. 1," he noted. "So there is some time for some of these sectors to get back to normal here this spring and summer. … We're trying to make sure that we're not heavily reliant on non-renewable resource revenue, and that is part of the reason that we do have some extra cash this year. We're able to put over $2 billion down towards the deficit. So that's significant, but the trade-off is that we want to make sure we're able to pay for some of the investments."
The provincial budget also includes an adjustment to the mill rates for the education portion of property taxes. The mill rate change and forecasted increase in number of taxpayers will add about $20 million in revenue in 2022-23.
Hindley noted the provincial budget includes an allocation of $200,000 through the Ministry of Advanced Education towards the auditorium renewal project at the Great Plains College campus in Swift Current.
"It was identified as something that was a need in our community and was able to make the for a budget investment this year," he said. "The Great Plains College auditorium is well used, not just by the college, but by a number of community organizations. So I think that's a significant investment for our community going forward."
Premier Scott Moe appointed Hindley as minister of mental health and addictions, seniors and rural and remote health. The 2022-23 provincial budget includes a record allocation of $6.44 billion for health care, which is an increase of $318.7 million or 5.2 per cent from 2021-22.
"We had a number of areas of concerns that we needed to focus on prior to the pandemic and of course the pandemic delayed some of those, when it came to the implementation of some changes," Hindley said. "It's a significant amount of dollars and I'm hopeful it will make some significant impacts for people in their everyday lives, whether it's access to treatments, surgeries, access to mental health and addictions or their ability to have EMS service in their rural community. I'm very hopeful that we are through this year's investment going to make some advancements in those areas, but I think it's going to be continued in the years ahead."
He welcomed the announcement on March 25, a day after the release of the provincial budget in Saskatchewan, that the federal government will provide $2 billion to provinces and territories to reduce the backlog of surgeries delayed by the pandemic. Saskatchewan will receive about $61.7 million for this purpose from the federal government.
"Every province and territory's individual health care system in the country is in a similar position," he said. "The federal government announced a significant investment into surgical wait times and that's a good investment, but I think this won't be addressed in one year. It's not going to be addressed just by the provincial government. It's going to take a lot of work and some dollars to support it if we're going to address some of the concerns that are out there."
Hindley referred to several allocations in the 2022-23 provincial budget that will benefit rural health care. There is $10.8 million to support the stabilization of rural emergency medical services.
"I have been hearing a lot about that over the past number of months, including most recently at the SARM convention," he said. "So this will help provide funding for 70 FTE in 27 communities across the province to help stabilize rural ambulance service. We know it's not going to impact it all. We still have some work to do, but this is the first step in that multi-year plan."
There is $3.5 million for physician recruitment and retention initiatives that will specifically address the need for family physicians in rural areas. The number of training seats available for the Saskatchewan International Physician Practice Assessment (SIPPA) will be increased.
"We're making some enhancements to the post SIPPA assessment process, which provides supports to physicians that are practising in rural Saskatchewan, and then also some additional funds for the rural physician incentive program so that we can better retain physicians in rural communities," he said. "We're making some enhancements there, because we've been hearing loudly and clearly from rural residents about some of the changes that need to be made there."
He noted there were 21 candidates in the September cohort of the SIPPA program and the March cohort is currently under way with 20 candidates.
"That will wrap up at the end of May," he said. "So once that's done, there will be another 20 physicians that we'll be able to place in communities around the province."
There is an additional $1.3 million for the distributed medical education residency program, which will add four new family medicine residency training seats in southeast Saskatchewan.
"We've utilized it here in the southwest and in other parts of the province, and that has worked very well," he said. "A large number of medical students that go through that end up staying in these communities. We found with the SIPA program as well, there's a significant number that end up staying in the province. This is an area where we have to make sure that we're competitive. There is demand for healthcare workers across the nation right now, frankly across the globe. We're not just competing with Alberta and Manitoba. We're competing with the United States for healthcare workers as well."
The budget includes $6.5 million for an additional 117 continuing care aide positions, which is part of a three-year commitment to hire 300 continuing care aides to work in long-term care and expanded home care services. An amount of $4.9 million has been allocated to expand nurse training by 150 seats in the province.
There is $1.5 million in the budget for a new initiative to recruit 150 health care workers from the Philippines. The intention of the two-year program is to bring 300 health care workers from the Philippines to Saskatchewan.
The budget includes funding for a new and independent agency to recruit and retain health care workers. Hindley said this agency will expand the work previously done by an organization called Saskdocs.
"There was some feeling in the last number of years it wasn't as effective as it had been previously," he noted. "I think part of that may have to do with just the formation of the Saskatchewan Health Authority and in transitioning from a number of different health regions and trying to streamline the systems across the province. So we want to really re-establish it's focus again, but the more important factor is it's not just doctors that we need. Saskdocs focused very hard on recruiting physicians, but there's other healthcare workers that's in high need in this province."
The 2022-23 provincial budget includes an increase of $8 million for targeted mental health and addiction initiatives. There is $2.1 million for new addictions treatment spaces, an amount of $800,000 to expand the mental health capacity-building in schools program, and $500,000 for the virtual rural Police and Crisis Teams (PACT) partnership with the RCMP.
There is $475,000 to fund additional detox treatment spaces and $255,000 to expand the rapid access counselling program to eight additional communities in the province. The Take Home Naloxone program is expended with an allocation of $200,000 to include more community pharmacies and $175,000 is provided to improve treatment services for people using crystal meth.
"We're making fairly significant investments into harm reduction," Hindley said. "The ultimate goal is that we want to be able to help people break that cycle and harm reduction has to lead to treatments for people and part of that is also the aftercare as well, but we want to do what we can to help people break the cycle of addiction."