Rally in Swift Current expresses solidarity with Ukraine
Posted on 2 March 2022 by Matthew Liebenberg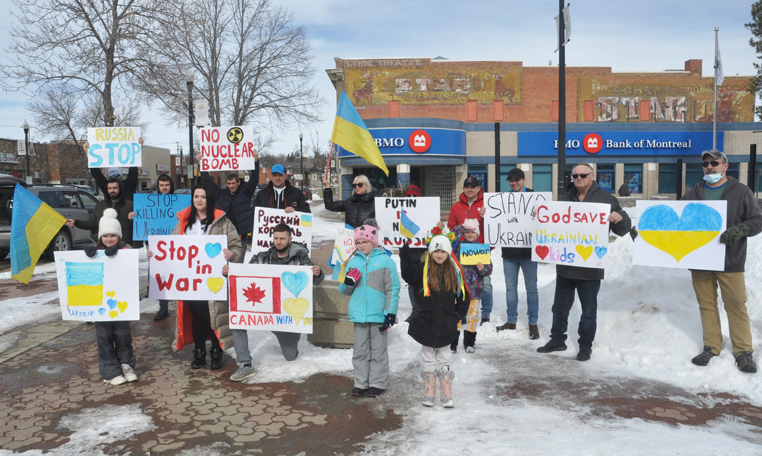 People express solidarity with the people of Ukraine during a rally at Market Square in downtown Swift Current, Feb. 27.
A group of people gathered on Market Square in downtown Swift Current on Feb. 27 to express solidarity with the citizens of Ukraine against the Russian invasion.
They waved Ukrainian flags and held placards with messages supporting Ukraine and expressing opposition to the actions of Russian President Vladimir Putin. There were frequent sounds of honking horns from passing motorists expressing support for the group.
The rally was organized by local members of the Ukrainian community, who are concerned about the safety of their family members in Ukraine.
Myron Shten was at the rally with his wife and eight-year-old daughter. They immigrated to Canada from Ukraine and have been living in Swift Current for two years.
"So yesterday we talked with our Ukrainian community to help at least a little bit to support Ukrainian military, Ukrainian people, Ukrainian moms, kids and all of the county," he said. "We can't really go there even to fight, because many airports are destroyed and you can't really get to Ukraine. At least we have to show that we are with them, we are praying for them, we are helping them. We will organize also some donation for them between us at least."
He appreciated the support of other Swift Current residents who joined the rally and also those motorists who indicated their feelings.
"I see Canadians really support us," he noted. "They're saying we are with you, and we really thank you."
Russian forces launched their attack against Ukraine on Feb. 24. The invasion and uncertainty about the well-being of their family members are causing stress among Ukrainians in the Swift Current area.
"It's really difficult for us," he said. "There's always something going on and very dangerous."
Shten and his wife are constantly following the news and looking for information about the situation on social media, because they are worried about their family.
His wife has found it difficult to sleep since the conflict started. Her parents live in the city of Bila Tserkva, which is about 80 kilometres south from Ukraine's capital Kyiv. They will seek shelter in a basement when sirens go off to warn against a potential threat, and there was a report that a Russian military transport plane was shot down near Bila Tserkva.
Shten said his parents are "pretty safe" where they live in the western part of Ukraine. However, he is still worried about them, because there have already been reports about suspicious activities in the region.
He feels proud about the strength and resolve of Ukrainians in response to the Russian invasion of their country.
"I'm proud about Ukraine now," he said. "They're so strong, all the people. … Ukrainians get kind of stronger, and they're all together. They're helping each other. It's so good, I'm so proud, because we're all Ukrainian. It's so hard for us, because you can't know what will happen in one minute, in 10 minutes. You don't know."
He is concerned about Russian air superiority and how it can impact the outcome of the war. He therefore hopes other countries will assist Ukraine.
"We need to blockade the sky, to close the sky, because we don't have so many planes like Russia," he said.
He also hopes Canada will continue to support Ukraine in various ways and that the Canadian government will be providing assistance for Ukrainian refugees.
"We have to stop Putin right now, because he is doing ugly things," he said. "It's unbelievable. We couldn't imagine it will happen so bad."