Swift Current RCMP already seeing benefits of new way to provide crisis support
Posted on 16 February 2022 by Matthew Liebenberg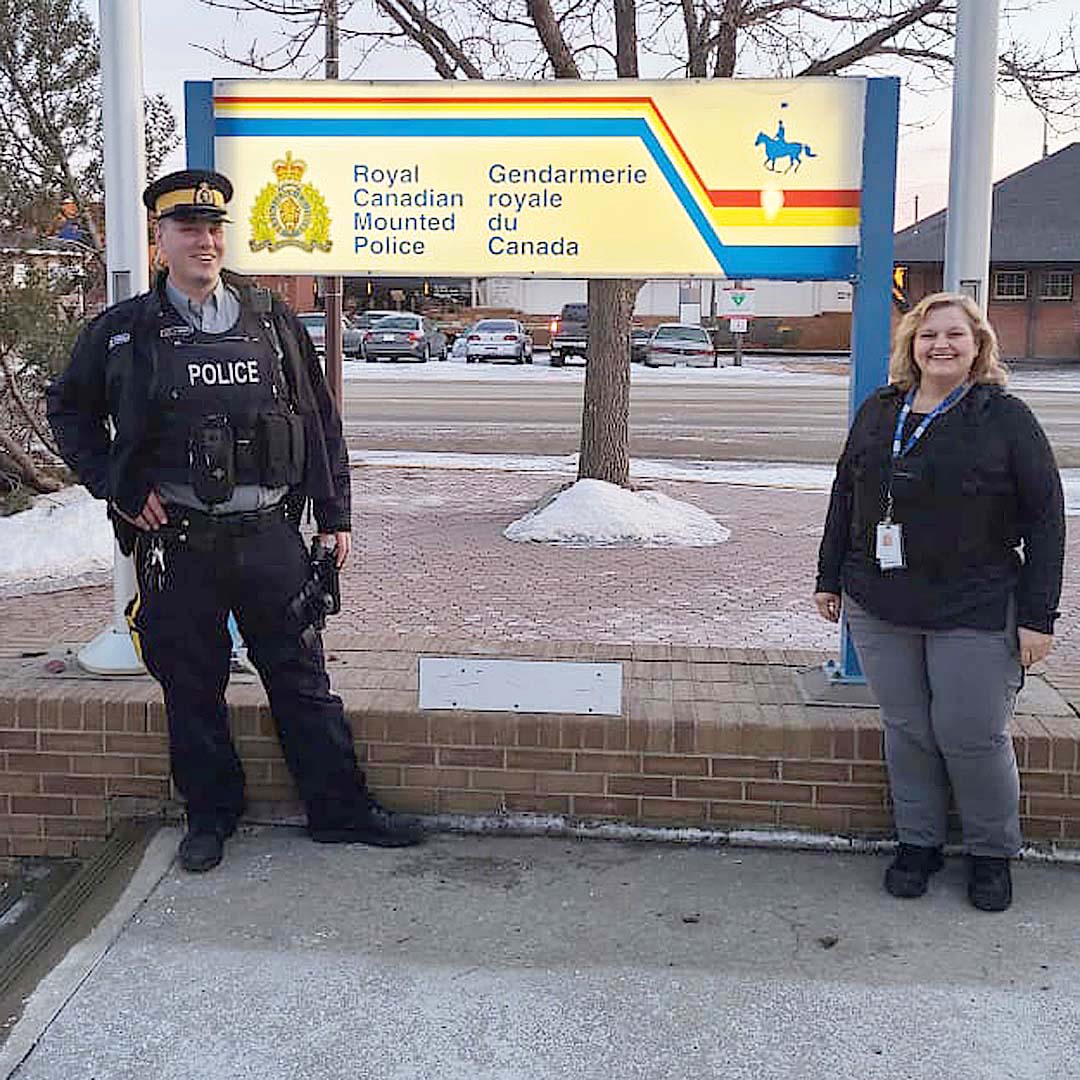 Karla Rempel works with the Swift Current RCMP such as Constable Joseph Munz.
The Swift Current RCMP is already seeing the benefits of having a healthcare professional as part of their team to provide support to people experiencing a personal crisis.
The detachment's Police and Crisis Team (PACT) worker Karla Rempel and Staff Sgt. Evan Gordon, the City detachment commanding officer, made a presentation about the benefits of this approach to policing in the community during a regular City council meeting, Feb. 7.
Rempel is a social worker employed through the Saskatchewan Health Authority. She specializes in mental health support and she started working at the detachment on Aug. 31.
Gordon noted she completed 65 shifts at the detachment since the end of August. She went out on 93 calls with RCMP officers during these shifts and she made 121 follow-ups through phone calls and face-to-face discussions at the office.
"So we're definitely putting her to work," he said. "She's averaging about 1.5 calls per shift and 1.8 follow-ups per shift. So she's really making a lot of contact every shift she's working."
He added that her contribution at the detachment includes making connections with other agencies and organizations.
"It's been a blessing having Karla there, because Karla can actually speak to what she's seeing there as well and not just us," he said. "She's really integral to our interagency communication with Saskatchewan Health and Social Services, being able to relay information about issues that we're seeing and discussing it with the other agencies. Sometimes there's a little bit of a breakdown in that discussion, but with Karla here it seems like it's on the up and up, definitely improving."
Rempel spoke about the reasons that the PACT position was created and her role at the detachment. She mentioned that PACT was developed through a partnership between the Saskatchewan Health Authority and the RCMP to address the need for enhanced involvement with community groups and agencies and to improve the assistance offered to individuals and families struggling with mental health and/or substance issues.
"Frontline resources are experiencing additional pressure to respond effectively to the growing number of individuals and families who require crisis support," she said. "RCMP are often the first contact when individuals and families are experiencing a mental health or an addiction crisis."
The PACT positions in Saskatchewan are located in Swift Current, Estevan, North Battleford, Prince Albert, Yorkton, Moose Jaw, Regina and Saskatoon.
"PACT pairs RCMP members with a mental health professional to help direct individuals and families with mental health and addiction issues to appropriate services," she said. "PACT assists individuals who are experiencing mental illness or addiction issues and provide real time response to real time crisis. To the extent allowed by privacy legislation, the team shares information and resources, thereby improving public and personal safety through collaborative crisis intervention."
She referred to the benefits of having a PACT worker at the RCMP detachment to ensure proper coordination of information with other agencies.
"In the past, I've worked for Community Mental Health and Addictions and I also worked in the Mental Health Unit," she said. "Often we had no way of knowing if a client we were working with have had interactions with the RCMP because of a mental health crisis. So being in the role that I'm in now, I'm able to actually provide that flow of information back and forth between the RCMP and Community Mental Health and Addictions."
The goal of the PACT approach is to bridge systemic gaps, which will result in a better outcome for individuals and families struggling with mental health and addictions.
"The PACT team meets with individuals and families where they are to assist in connecting them to services," she said. "PACT strives to strengthen relationships with community members and partners, prevent repeat calls for service by providing immediate support and connection to services, provides short-term follow-ups to individuals experiencing a crisis, and often I'll provide supports as well for people who have referred to services, but maybe their services aren't happening for a couple of weeks."
This coordinated approach, which starts with her presence at the RCMP detachment, has several positive outcomes.
It can result in fewer arrests for disturbances due to a psycho-social crisis, a decrease in the number and duration of avoidable mental health emergency room visits, the successful resolution of a crisis through the coordinated provision of appropriate community supports, and it ensures there is follow-up with an individual and/or their family about the supports that are required.
"I think any time that we can either divert someone from unnecessarily attending the ER or are able to de-escalate a situation to the point where people are no longer in crisis, those to me are success stories," she said. "So having a crisis happen and then being able to talk to those people either in the moment or a couple of days later, depending on the circumstances, I'm able to do intakes. So I'm actually able to do the assessments with people right away to figure out their level of care and what the best service options are for them, and we actually have quite a few service options for mental health now in Swift Current."
RCMP officers can request assistance from the PACT worker, but Gordon credited Rempel for her commitment to assist officers wherever possible.
"I think really why this works so well is that Karla doesn't leave it to us to tell her," he said. "She's right there in the detachment. She's in the bullpen. She hears the radio calls come in, she hears the dispatches. So as the guys and girls are getting up, so is Karla."
Rempel will not always be on duty when someone needs her care, and the detachment therefore has a procedure in place to still connect her with an individual who requires support.
"There are times where Karla is not around, but her services would still be useful even after the fact, and so that's maybe more so where we're working towards having the members turn their mind to could this person benefit from Karla's expertise," Gordon said. "So we're having a referral process where we're able to let Karla know about files that the members have been on or people they've dealt with where they feel she would be beneficial and those are the follow-ups that's send out. Long story short, Karla tells us when she needs to be involved and when she's not there to tell us, then we ask her if she would like to be involved and the answer is always yes."
Rempel added that as the PACT worker she is also available to provide support to the Swift Current Rural RCMP detachment.
"If they feel that there's some way that I can benefit the people that they come into contact as well, either through referral or through an immediate urgent call, then if it's appropriate for me to go along, then I would go along for that as well," she said. "I haven't quite branched out to all of the rural detachments in this area, because that's spreading things a little thin, but certainly Swift Current Rural I'm able to support them as well."