Swift Current students create successful drama production for live audiences
Posted on 15 December 2021 by Matthew Liebenberg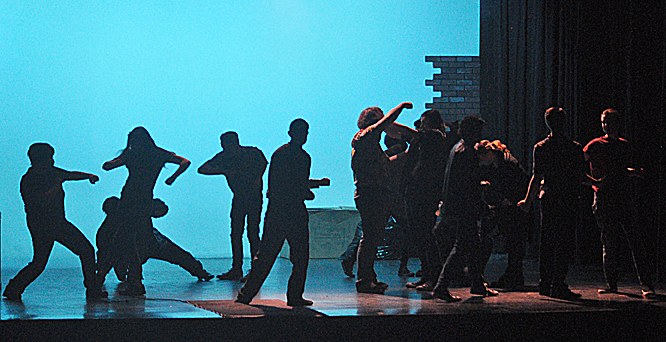 Swift Current Comprehensive High School students depict a dramatic fight scene between two rival gangs in their fall drama production of the coming-of-age story The Outsiders, based on the well-known novel by American writer S.E. Hinton. Photo by Matthew Liebenberg/Prairie Post
By Matthew Liebenberg
The drama program at the Swift Current Comprehensive High School made a successful return to the stage in front of a live audience with a four-show fall production.
A large cast of 32 students and a technical crew of 30 students were involved in the production of a theatrical adaptation of the coming-of-age novel The Outsiders by S.E. Hinton.
Several teaching staff were involved in the direction of the production. The co-directors were Nancy Bridal, Scott Derksen, and Shaun Spence, and the technical director was Riley Sharp.
Evening performances took place from Dec. 9-11 and there was also a matinée performance on Dec. 11. Only a limited number of tickets were available for each performance due to COVID-19 precautionary measures for the event, and they sold fast.
This was the first time since the fall production in 2019 that SCCHS students were able to experience the excitement of performing in front of a live audience. For drama teacher Nancy Bridal it was important to provide students with the opportunity to have that special experience.
"When I first took on this role a year and a half ago now, I remember walking onto the stage and wondering when I would be able to do a show with these kids with everything that was going on at that time," she said. "We have an incredibly talented group of kids who have been working really hard. Drama students love what they do. It's not the easiest thing to do, but they pulled together and they found their characters and they worked a lot on character and finding their lines and being comfortable with each other on stage and working together."
The Outsiders is about the conflict between two rival urban gangs, the working-class Greasers and the upper class Socs. The story is told through the eyes of the main character and narrator Ponyboy, played by Grade 12 student Liam McKeown.
This was his debut on stage in an acting role, but he felt his previous experience in improvisational theatre was a real benefit to feel comfortable on stage.
"I think I have a natural kind of talent in drama, and I'm just taking advantage of it and having a good time," he said.
His biggest challenge was to memorize all the dialogue for his role, which was a substantial amount of text. He noted that he did not have a text line on only six pages out of the 80 pages of the play.
"It was my first time ever remembering lines for a play, which was difficult in the beginning," he said. "I was always looking at the book, but I just kept on practising and now I'm doing pretty good with that."
He felt the role of Ponyboy came quite naturally to him and he enjoyed playing the character, a teenager who does not feel entirely committed to a gang lifestyle.
"At school everyday I already wear a leather jacket, and everybody kind of said that I fit the role naturally really well and I just looked fit for the part," he mentioned. "And it's a really fun character to play. I like it, because I don't need to wait for any cues. I start most of the cues on stage. This is my first play as well, and I'm just really enjoying being the lead. I'm having a good time."
He noted that Ponyboy is quite different from some of the other, more hardened members of the Greasers gang.
"He's seeing that as a lifestyle that he should be living, but in the end he's just a nice, young innocent kid who doesn't really know any better," McKeown said. "I think the simplest message that I would personally draw from the play is to not let things draw too far, and just because you're different doesn't mean you have to hate each other."
Bridal felt the production of this story, which was written by American writer S.E. Hinton when she was 16, was a good choice for several reasons.
"We had the actors to be able to play the characters," she said. "It's a show that a lot of people have a heart for. You'll find very few people who haven't read the book sometime in their youth. So that's something that spoke to me. … I wanted something that we can connect with, and be able to bring the magic of theatre to a live audience again."
Last year the SCCHS drama program did a radio play as an alternative to a theatre production. That offered a different experience to participating students and it was also a new experience for Bridal.
"At the beginning we started with everyone rehearsing together and then in November last year the kids that were in different classes couldn't be in the same room together, because we needed to cohort," she recalled. "So each individual actor recorded their lines and then all of our technicians went from prop, lights, stage management into editing and finding sound effects and creating the ambient sound and putting it all together."
The work to bring this year's fall drama production to the stage was not less daunting due to the need to follow COVID-19 precautions. Students were masked during rehearsals and in-person rehearsals could not take place when classes returned to an online format for two weeks after an outbreak was declared at the school.
Roles were double casted to ensure an actor will be available for a role in case of any illness. Actors had the option of removing their masks for the actual performances when they were on stage, but both actors and production crew members remained masked off stage.
"We've worked really hard to be positive in this process and to bring as many opportunities to as many students as we possibly could," she said.
Bridal noted that only a handful of students involved in this production have previous experience of doing a drama production for presentation to a live audience. She felt their hard work paid off and they were able to present a quality production to audiences.
"This is a big part of being the drama teacher at the high school and giving the kids the opportunity to learn and being able to see what it takes to put on a production," she said. "It's really exciting to be able to watch the students find their aha moments and find their characters and their beats, and being able to perform and bring the magic of theatre to an audience."
She also credited the technical crew for contributing to the success of the production, which relied on the effective use of lighting to create an appropriate atmosphere for different scenes. It was especially evident in one of the most dramatic scenes in the production, a big rumble or fight between the rival gangs.
"The light design is great," she noted. "I'm really excited about the lights that come on at the side of the stage, and those are added pieces that Mr. Sharp put in and the students have been helping with that as well. There are just some really great added touches. Our head of props is very particular. She's a student who is very good at finding exactly what she needs for each thing."
Bridal performed on this stage when she was a student at SCCHS and since then she helped out on the technical side with several productions, but this was also her first time as director of a show at the school. She was pleased to be able to share her love for theatre with students through this production.
"It gives them the opportunity to be creative, to find those different characters, to find the different lights, to create a world that is different," she said. "Theatre in its art form is a way to share and a way to bring emotion and life into something totally different than what's going on in our day to day lives."