SaskSPCA's Emergency Pet Food Bank helping animals including in Swift Current
Posted on 14 December 2021 by Ryan Dahlman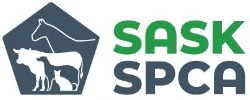 Since launching in November 2020, the SaskSPCA's Emergency Pet Food Bank has provided over 31,000 pounds of food to pet families in Saskatchewan.
On December 17, the SaskSPCA will host a Day of Awareness to recognize the importance of the Emergency Pet Food Bank. Using social media, the Society will share information on how and where folks can access the program. The SaskSPCA is also asking the public to support the Emergency Pet Food Bank through donations of unopened pet food and cash donations.
"Food insecurity is something Saskatchewan families face daily – this includes furry family members too. Donations that we're hoping to gather on this Day of Awareness will help to ensure no one in the home goes hungry over the holidays," explains Laura Zmud, Family Ties Coordinator at the SaskSPCA. "For many of us, our pets are a consistent comfort, particularly during difficult times such as the COVID-19 pandemic. Your donations towards the Pet Food Bank make sure that families are able to stay together without the worry of an empty stomach."
According to a food bank partner, the program has had a significant impact on their local community. "Many of our clients are challenged with depression, anxiety, addictions, and mental illness. Most, if not all, who have pets would prefer to feed their pets before feeding themselves. Having the Emergency Pet Food Bank gives them the security to know that they will not have to worry about feeding their pet while trying to navigate food insecurity for themselves. These animals are more than pets, they are support, companionship, and family."
The SaskSPCA encourages animal welfare supporters to follow our Facebook, Instagram, Twitter, and LinkedIn pages for regular updates on the Day of Awareness. Tune in throughout the day on December 17 to hear from the SaskSPCA Pet Food Bank team, donors, supporters, and partners with pictures, live video, and more. Those interested in making a donation can do so at http://www.saskspca.ca/food.
The Emergency Pet Food Bank is currently available in Fort Qu'Appelle, Maple Creek, Melville, Moosomin, Nipawin, Rosetown, Rosthern, Saskatoon, and Swift Current.
http://www.facebook.com/SaskSPCA // http://www.instagram.com/saskspca // http://www.twitter.com/saskspca // http://www.linkedin.com/company/saskspca