Chinook board meeting reflects on importance of Treaty 4 flag raising ceremony
Posted on 24 November 2021 by Matthew Liebenberg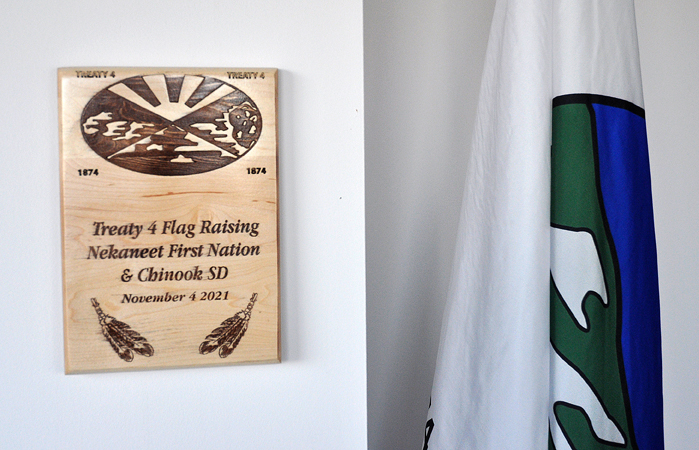 A plaque to commemorate the Treaty 4 flag raising on Nov. 4 is on display next to the Treaty 4 flag inside the front entrance of the Chinook School Division administration building in Swift Current. Matthew Liebenberg/Prairie Post
A celebration of the partnership between Chinook School Division and the Nekaneet First Nation took place during recent flag raising ceremonies in Maple Creek.
The Treaty 4 flag was raised at the Maple Creek Composite School and Sidney Street School during ceremonies attended by students, staff, and dignitaries from Nekaneet First Nation and Chinook School Division. The flag will now be flying permanently at both schools.
The flag raising at each school was a celebration of the partnership between the Nekaneet First Nation and Chinook School Division. The two parties signed a partnership agreement in September 2020 to improve the educational outcomes of First Nation students.
The importance of the flag raising was highlighted during a discussion that took place at a regular meeting of the Chinook School Division board meeting, Nov. 8. Board Chair Kim Pridmore felt it was a very positive event.
"The relationship seems to be moving in a very positive direction with the Nekaneet Education Committee," she said.
She noted a plaque that was part of the gift exchange between the Nekaneet Education Committee and the Chinook School Division had been installed inside the front entrance of the school division's main administration building in Swift Current.
Superintendent of Schools Steve Michaluk and Curriculum Coordinator Curtis Biem shared their thoughts about the day with board members.
"It was a great event," Michaluk said. "To me it felt like a day where we could come together and really celebrate and work towards something that was tangible."
He received positive feedback from both schools and the Nekaneet Education Committee about the flag raising.
"I got a couple of e-mails from people that attended from the First Nation and they were very thankful, because it was such an important day to have that flag displayed," he said. "We did the big ceremony over at the high school and then a smaller, intimate ceremony at the elementary school that afternoon. So overall it was a step in the right direction, for sure an important step."
He referred to the close connection that Nekaneet First Nation has to the Treaty 4 flag. The designer of the flag was Gordon Oakes, who was from that area.
"We had a follow-up meeting with the committee that afternoon and it just put us in a really good place moving forward," he said. "We had a really positive meeting as well."
Michaluk felt the flag raising was a teachable moment for students and staff, and this was achieved in a safe way.
"We would have liked to have a bigger group of students there, for sure, but we did it in a way that we felt was reasonable during COVID times," he said. "We included the elementary students from Sidney Street in that. One class came over and actually a second class joined us from the Comp as well. So we had three classes there and lots of good representation."
The event included traditional ceremonies led by Elder Larry Oakes. There were several addresses by dignitaries, including Chief Alvin Francis from Nekaneet First Nation, Chinook Board Chair Kim Pridmore, Nekaneet Education Councillor Wes Daniel, Chinook Director of Education Mark Benesh, Nekaneet Education Committee member Irene Oakes, and R.M. of Maple Creek Reeve Elden Jamieson.
Biem noted that the flag raising was really a celebration of relationship between the two partners, but at the same time there was a strong curricular connection.
He referred to the work done by History 30 teacher Anthony Nickel at the Maple Creek Composite School in partnership with Irene Oakes from the Nekaneet Education Committee to include Nekaneet history into the class curriculum. The Grade 5 curricula includes First Nation celebration and culture, and it was therefore also a good opportunity for Sidney School students to witness that during the flag raising ceremony.
"It was a really good day out together," Biem said. "It felt like it's something that makes a difference and it makes a contribution. So I was really happy to be part of this."