Renowned artists and prestigious Medicine Hat College Alumni featured at exhibit
Posted on 24 March 2022 by Prairie Post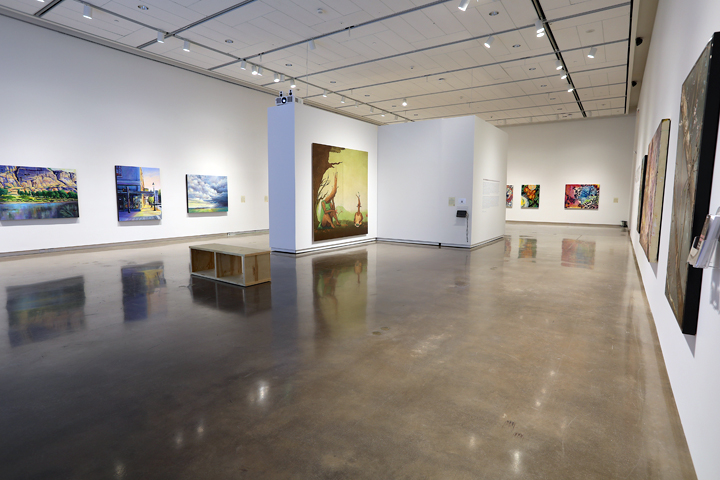 View of artwork- MHC Alumni Exhibit 2022
Eight renowned artists/designers, all alumni of Medicine Hat College, are being featured in
Cultivated, a special exhibit at Medicine Hat's Esplanade Gallery, until April 9th.
From featured roles in the international fashion industry, interactive designs for the Vancouver
2010 Olympics, to southern Alberta landscapes, the renowned alumni featured in Cultivated
cross the gambit of visual arts excellence.
"I'm excited to be a part of Cultivated, this wonderful exhibition at Medicine Hat's Esplanade
Gallery, which features renowned artists and designers from across Canada who got their "start"
as students in the Art and Design program at Medicine Hat College," said Theresa Eisenbarth,
artist/exhibitor with Cultivated.
Cultivated opened January 22nd, 2022 and will close on April 9th, 2022. The exhibit's closing
reception will take place at the Gallery on Friday April 8th from 7-9 pm. The reception is free of
charge, and everyone is welcome. Visitors are encouraged to take in this inspiring exhibit before it
leaves the Esplanade next month.
Eisenbarth is excited to have her provocative Alberta landscapes profiled alongside the work of
other prestigious Medicine Hat College artist alumni.
Prestigious Medicine Hat College alumni included in the Cultivated exhibition are:
• Theresa Eisenbarth (AB),
• Chad Burton (ON),
• Myron Campbell (BC),
• Melissa Chinski (AB),
• Scott Cumberland (AB),
• Darrin Hartman (AB),
• Kelly Hartman (AB), and
• Maureen Newton (AB)
Theresa Eisenbarth is a unique visual storyteller who creates commissioned artwork, painting urban
and prairie landscapes throughout Alberta and Western Canada. Theresa's artwork incorporates the
sights, sounds, and aromas of today, mixed with a re-imagining of those impressions from the past.
Her use of vibrant colours, and of non-traditional materials, brings an arresting quality to her paintings
and aid in portraying the family homes, the businesses, and the strong, neighbourly ties of the Southern Albertan prairies. Her focus is on creating 'Art that feels like home'.
Eisenbarth's work can be seen at the Esplanade and in Medicine Hat's Framing and Art Centre.
"Vivid, bold colours inspire me and allow me to re-imagine neighbourhood and natural
landscape pieces. Art is personal. The street corners, the views we see in our neighbourhoods,
which includes the natural landscapes which root us to where we live. I entice my viewers to
take a second look, through my embedded text, sometimes stories, keys, and door hardware to
create substance and interest on the paint surface," she said.
Eisenbarth's focus on commissioned work enables her to paint to fit an interior space in an
individual's home or business. "For many it's a way of treasuring the past – a reminder of a longforgotten family home, farm or street scene," she said.
Eisenbarth started incorporating keys into her paintings in 2018. She was painting doors in downtown
Medicine Hat and found a box of old keys in a church studio. It seemed a natural transition to begin
placing old keys into her artwork, which she has been doing ever since.
"I embed them in the artwork. Sometimes they are exposed, sometimes they are hidden. In the end, for me, a key is a metaphor for opportunity. It's that liminal space between the doors I find fascinating,
especially when it comes to places where people reside," she said.
With a focus on outdoor landscapes, Eisenbarth strives to create excitement about the vast prairie
expanses and big open skies.
"We live in a location that is truly unique in its formations, climate, and vegetation. I strive to capture this beautiful and diverse landscape in my artwork. I want people to see the beauty in this semi-arid desert
landscape, and I especially wanted to capture some of this landscape in my paintings for this Cultivated exhibit," said Eisenbarth.
The Cultivated exhibition is providing an opportunity for eight prestigious alumni, who have been
working within their creative fields for the last decade, to express their diversity of creative knowledge
and abilities, in the Esplanade's expansive three-thousand-square-foot exhibition space.