Photographer Chris Attrell focuses on historic grain elevators in new photo book
Posted on 18 February 2022 by Matthew Liebenberg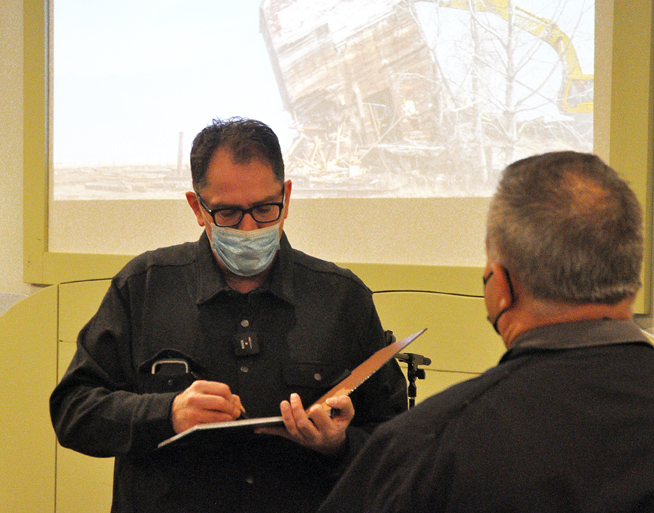 Photographer Chris Attrell signs a copy of his new photo book about old grain elevators during his visit to the Swift Current Museum, Feb. 9.
Photographer Chris Attrell's ongoing fascination with old structures and buildings on the prairie landscape has resulted in the publication of his second photo book.
Grain Elevators: Beacons of the Prairies features around 140 images of wooden grain elevators photographed across western Canada during different seasons and at night and day.
The 128 pages hardcover book is published by MacIntyre Purcell Publishing Inc. It contains Attrell's full-colour images as well as text written by Christine Hanlon about the history of these prairie sentinels.
Attrell spoke about his passion for photography and his two published works during a presentation at the Swift Current Museum, Feb. 9. He also spoke afterwards to local media about his latest book.
"I've always been fascinated by grain elevators," he said. "They're like little art sculptures in the prairies. So I got so many pictures. I was able to get enough to easily make a book out of it."
His first publication, Forgotten Saskatchewan, has been very successful. It provides a photographic journey into Saskatchewan's past through Attrell's images of old abandoned buildings and structures scattered across the rural landscape.
"When that book came out, it was very well received all across the province, because a lot of times people can recognize the buildings and they had stories about them," he said. "Saskatchewan, even though it's big, it's very small as far as degree of separation. So somebody knew somebody who lives in that building or who went to that church. So I got a lot of stories, a lot of phone calls and people just absolutely loved the fact that somebody was shooting these."
Forgotten Saskatchewan was the most popular photo book in Canada in 2019. The book publishing company therefore had no trouble agreeing to his suggestion of a second photo book about historic grain elevators in Manitoba, Saskatchewan, Alberta and British Columbia.
"I asked my publisher if I could do a grain elevator book, because I already have enough pictures and mostly enough stories and also just because I really wanted one," he said. "I still to this day love grain elevators, but I already had it ready to go and the publisher was very willing."
There are some images of elevators in the new book that was taken as far back as 18 years ago as he travelled across the landscape.
"For the first 10 [years] I did not think I was getting a book," he said. "It was just for fun, because it has always been my hobby just to drive down small highways in the prairies taking pictures, but in the past couple of years I knew I was going to do a book."
He had to carefully select the images for the book from all those photographs of elevators taken over the years.
"I wanted to do a right balance, like every province got some representation, and I also wanted to make sure there's a balance of seasons," he said. "They're not all summer pictures, but it was very important for me to capture the ones where I feel like I captured it in a way that was unique and special, because some of them are abandoned. … So there was an artistic part of me that wanted to have certain pictures just based on those conditions."
His approach to photography is to use his camera settings to create the image he wants in the field and he prefers not to use digital photo editing software afterwards to make corrections.
"I just don't know how to use it," he said. "I'm not against it, I just don't know how to use it. And to be quite honest, I just would rather have my fun out in the field rather than sit at a computer."
He has a certain approach when he takes of photograph of a grain elevator, because he wants to capture more than just the actual structure.
"The thing about an elevator photo for me is it's not just to capture the elevator," he said. "That's a snapshot, but it's to try to shoot it in a way where you can get a sense of what the town is like or some foreground objects. So you have to get those angles, find that way to shoot it that's unique to you, unique to the season, rather than just pulling up beside it and opening your car window and just snapping a photo. It's kind of more like the composition, how you shoot it."
Most of the elevators featured in the book are still standing, but some might have been lost due to their age and deterioration.
"It's hard to know," he said. "I would probably say at least 90 per cent of them, because I mostly shot ones that have been abandoned for decades. … Some have burned down, some have just fallen down, and sometimes a demolition company does have to do it because the town orders it."
In that sense his book therefore serves as a photographic record of these old structures that used to be so commonplace on the landscape, but is now disappearing fast. The book has been well received since its publication in September 2021. He felt it is partly due to the recollections of many people in rural areas who lived near wooden grain elevators or even dropped of grain at these structures when they were still in use.
Attrell's journey as a photographer took him from being a landscape and nature hobbyist photographer in the 1990s to becoming an acclaimed and published photographer who also offers photography classes across western Canada.
He started to explore rural Alberta and Saskatchewan with his camera around 2003, when he was living in Banff. He became fascinated with abandoned buildings and other old structures on the prairies and he moved to Shaunavon in 2006, where he still lives with his wife. He has taken thousands of photos over the years and he has several other ideas for future photo books.
"One of the ones that I'd like to be able to do is not just take pictures of old abandoned buildings, but to do a prairie book on buildings that may still be in use, but are old, like old movie theatres, union halls, the small-town hotels with the bar in them and stuff like that," he said. "It doesn't have to be abandoned to be nostalgic, and I've heard a lot of the stories. … So I'm hoping to add in some of those weird stories that people might have of characters and stuff like that."
To learn more about Attrell's photography and to see examples of his photographs, visit his website at http://www.anywhere.ca