Swift Current author publishes lighthearted and fun children's picture book
Posted on 11 August 2021 by Matthew Liebenberg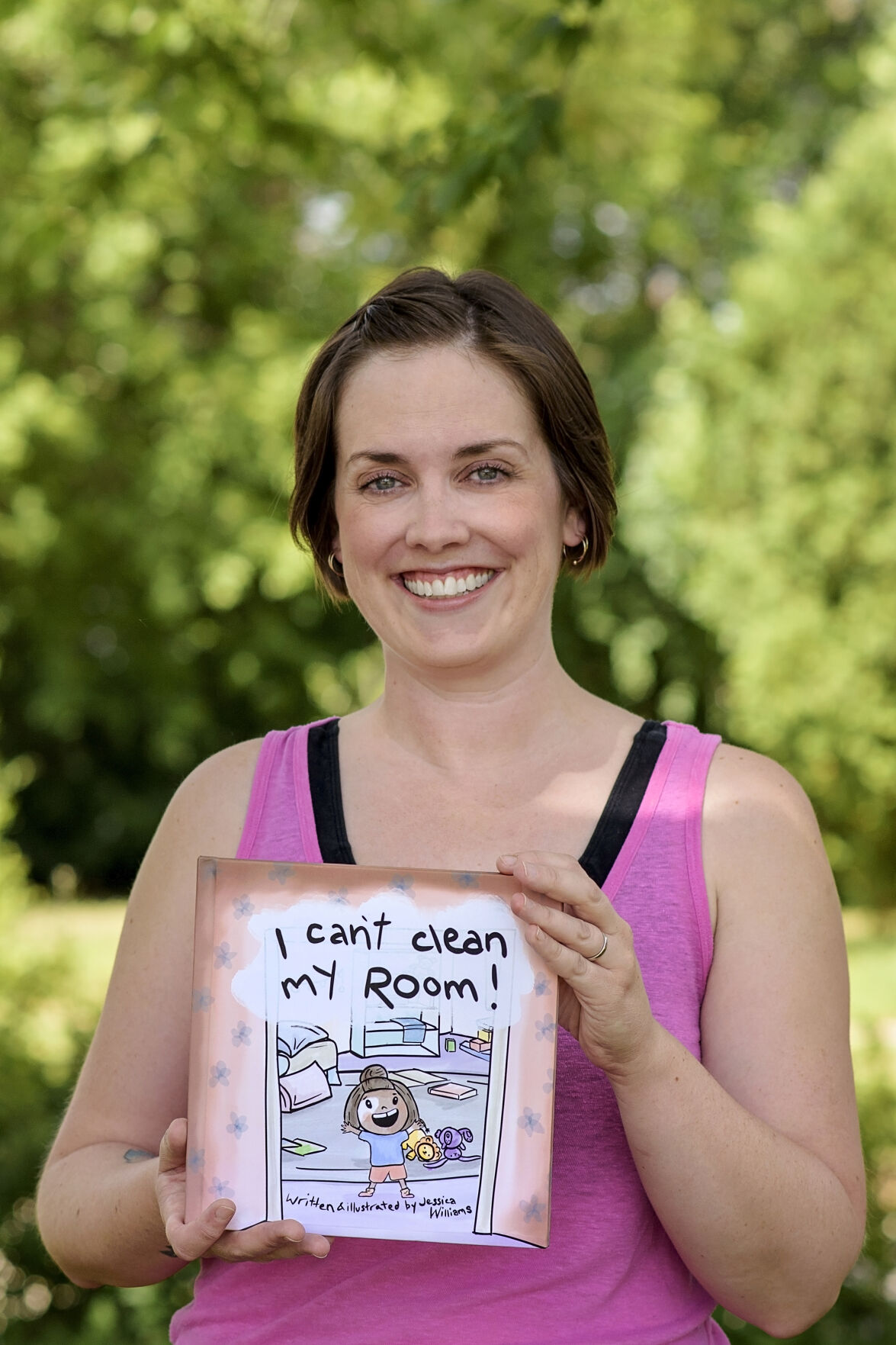 Jessica Williams and her new book.
The latest publication by Swift Current author and illustrator Jessica Williams is a lighthearted picture book that will resonate with both children and their parents.
The children's book I Can't Clean My Room! is the story of a little girl's excuses for not cleaning her room.
"I was really excited to put it out," she said about her seventh children's book. "It's just a lot of fun."
This book is a departure from her previous books, which highlighted topics such as mental health, inclusion and empathy.
"My other books have dealt with bigger topics or bigger themes as a means of opening conversation between adults and kids," she said. "This story is light-hearted, it's silly, and it's just a fun sort of story. There's no message or anything like that behind the scenes for anyone to pick up."
This book reflects her own preference to do things that can serve as a counterbalance to the reality of living in a global pandemic for more than a year.
"As far as my writing goes and just life in general, I have been really drawn to things that are lighthearted," she said. "I'm not reading really deep literature, I'm not watching intense TV. Everything is light, and I think that's sort of my own attempt to balance the heaviness of the news and the world and feeling like everything has just been hard for everyone for the past year and a half. So I think that having that light side of things has really come out in my own life and then again in my writing style and the stories that I'm telling."
The main character in the book is Josephine, a little girl with a really messy bedroom. Her dad discovers the state of disorder when he comes into her room to announce it is bedtime.
"So he tells her it's time to clean her room, but she has all of these fantastic excuses for why she can't do that," Williams mentioned.
It is a scene that will sound familiar to many families, and perhaps some of Josephine's excuses might also have been used elsewhere.
"I think it resonates more with the grown-ups that read it than with the kids," she noted. "The kids can relate, but the grown-ups seem to almost enjoy it more from a facetious sort of point of view."
Williams held a virtual launch party on June 24 to officially launch her new book, and the issue of excuses for not cleaning one's room also came up during the discussion.
"I asked the kids that were attending what their excuses were, and there were probably enough to write another book," she said.
This is a rhyming picture book, which she felt was an appropriate style for the fun and lighthearted nature of the publication.
"I have one other rhyming book in my collection," she noted. "It just felt like that was what was needed with this story. It felt like it lends itself well to rhyme and to the story itself. The writing is all done from the perspective of the two characters, the dad and the daughter."
The rhyming style presented a certain challenge, because of the need to appropriately structure sentences to fit in with the rhyme.
"It is more challenging in some ways, because the words all have to be very purposeful," she said. "There's no room for extra in any way, and then it also has to come down to the syllables and the pacing and the beats. So it is more challenging, but it can also be more fun as well, just a little more creative, a bit more of a difficult spin on it."
The book was written for children aged three to seven, but Williams emphasized she prefers not to put too much focus on the age range of her books.
"I don't like putting a big age definer on them, because I think older kids still enjoy picture books," she said. "I know lots of older kids who love story time and a picture book, and little kids as well. Reading books is a great way to have that bonding experience with kids is reading books, but technically it would be three to seven age group."
She did the illustrations for several of her previous publications, and also created the artwork for this book.
"I've only illustrated the books that I feel I can imagine the characters and if it flows for me," she said. "I'm certainly not against hiring freelance illustrators whatsoever. For this one, I was doodling one day and the main character Josephine just sort of appeared and it worked. I realized that's what she's going to look like and so I went with it from there and it was a lot of fun."
She used her skills from taking online classes to create an illustration style she considered appropriate for this picture book.
"I've been taking some online classes about illustrating and finding a style, and playing around with different ideas," she said. "This particular style just felt really natural and was fun for me to play with. So that's what I went with."
The usual approach will be to complete a manuscript before starting with illustrations, but she adjusted the process somewhat during the creation of this book.
"If you spend a lot of time on the illustrations and then change things in the text, it's not necessarily going to fit anymore, but with this particular one I knew the ideas for each page, even if I didn't have the writing fully hammered out yet," she said. "I knew what it was going to be like on each page. So I did the illustrations more or less simultaneously."
Williams published her first book in 2018 and she has been writing actively since then. She is currently working on several other projects.
"I'm always working on something," she said. "I have two other children's books, picture books, that are sort of in the first draft stage, and then I'm still working on a middle grades series at this point. I'm waiting until I have a couple more chapter books ready to go in this series before I start pushing those out."
She had no preconceived ideas about where she wanted to go with her writing when she decided to focus on being an author.
"It was more of a let's go with this and see where it takes me," she said. "So I'm pretty amazed and pleased and humbled and excited."
She was one of the featured authors of children's literature in the Saskatchewan Writers' Guild's online summer reading series, Book Bytes 2021. She read from her new book during an online event held July 7.
Her new picture book I Can't Clean My Room! is available in hardcover, paperback and eBook versions. It can be purchased online through Amazon, Chapters and Barnes & Noble, or through her own websites at http://www.jessicawilliamsonpaper.com and http://www.allwriteherepublishing.ca
Jessica Williams and her new book.