Plenty still on tap for SouthGrow Regional Initiative in 2021
Posted on 24 August 2021 by Cole Parkinson, Alberta Newspaper Group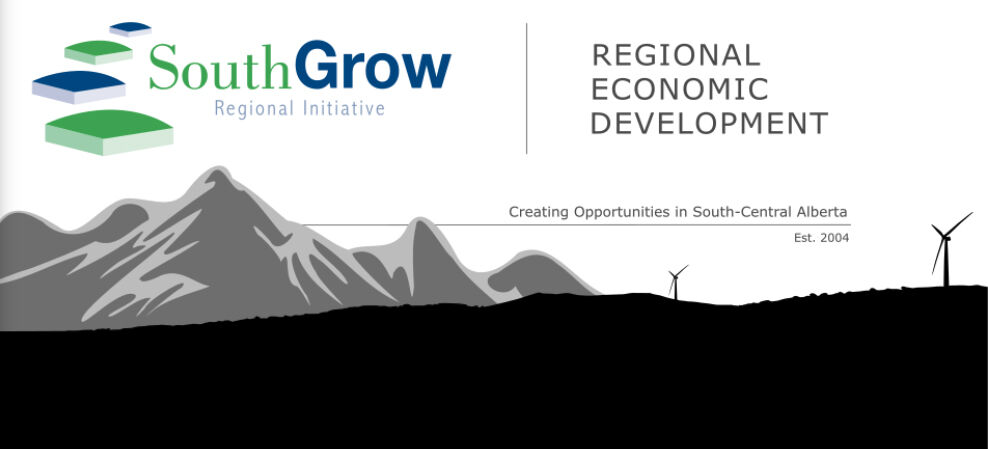 SouthGrow will be busy in the near future
While 2021 is closer to the end than the beginning, SouthGrow Regional Initiative still has plenty on its schedule to end the year.
One thing they've been looking at is expanding their staff capacity.
"That was a goal of SouthGrow three years ago," explained Peter Casurella, executive director at Municipal District of Taber's regular council meeting on July 27. "We wanted to be able to have more staff in place in order to do the work that we know enables investments in the region. Because we've actually lost money with the province cutting us by 50 per cent, that hasn't been a reality. But we have expanded our ecosystem considerably by being innovative and different. So I am a contractor who runs SouthGrow as the executive director. I now have Kim Welby, who used to work for Community Futures, she now works for me. But because she works for me on my projects, she works for SouthGrow as well on SouthGrow projects. So while we don't have more hours going into it, I have more expertise and I have more flexibility."
With the Alberta government announcing Highway 3 will finally be twinned from Taber to Burdett, SouthGrow has also been involved there.
"We've also pulled the Highway 3 Twinning Association into the SouthGrow ecosystem as well," added Casurella.
Come October, residents will head to the polls for the municipal election.
SouthGrow is hoping to help new councillors and returning councillors with training around economic development when councils are set.
"We want to run a course called Economic Development Training for Elected Officials, which is provided by the Economic Developers of Alberta that both Ben (Young, M.D. economic development officer) and I are board members on. In January/February, after the new council is elected, it's extremely important course we feel to bring councillors up to speed," continued Casurella. "Number one, what is economic development, because it's not obvious to everyone, you're all seasoned vets at this point. Number two, what's your role as council. How can you be most effective as decision-makers and enablers of staff work in order to get economic development rolling in your communities."
SouthGrow has also been looking at ways to better market the southern Alberta region.
"We're also working on marketing the region globally, which has impacts for the M.D. of Taber. I've just got all animations back and we've got a global awareness program that we're going to be running. The build of the program is now done and I've got to come back to my committee and say 'our social media calendars are all built, here's all of our marketing assets built out and now we've got to run this.' We're going to target global food companies with awareness of the opportunities in southern Alberta," stated Casurella.
One conversation that continues to happen is bringing high-speed Internet to rural parts of the province.
As this discussion continues, SouthGrow has continued exploring broadband options.
"I don't know how much you want to get into broadband, but the gap is rapidly closing. We now have an opportunity to provide all the small villages that don't yet have high-speed fibre optics with wireless mesh networks that are equivalent to fibre optics. The last of our villages up in Vulcan County, down Highway 4, and the Town of Cardston are all working towards that finish line. There are opportunities coming down the pipeline for the very rurals as well," said Casurella.
Coming up next month, SouthGrow is looking for funding from an emission program.
"Another big thing for us is SouthGrow is going to be delivering $2 million as part of the zero-emissions vehicle infrastructure program. I'm racing towards a start date of September 1, so it's 50 per cent funding for charging infrastructure for businesses, municipalities, institutions. There's an opportunity as well because the other organization in Alberta that got this money was the MCCAC (Municipal Climate Change Action Centre)," continued Casurella. "They (MCCAC) have got provincial matching funding for a little while until it's gone. So there's an opportunity to maybe get 100 per cent, but we've got a partnership with them and we're going to be working together to max the money from both organizations."
"We've got two potential projects that are sitting in bureaucratic inboxes waiting for approval. A regional import replacement program, which I'm really hoping gets off the ground. It's shop local for industry basically and the next stage for labour market work following on our skills gap study we did last year," added Casurella, who also touched on the benefits tourism can bring to the province.
"Tourism should never be ignored. It is one of the fastest-growing economic sectors based off of fundamental, large-scale macroeconomics. There's growing populations worldwide, but more importantly, there are more people than ever that are entering the global middle class and they want all the same things that we want. They want to travel, they want to see the world. And to us, it's just the Prairies, but to them, it's the new, it's the alien, it's the exotic. The more experiences we can offer for the Prairies, the better."
With plenty of projects on the go, Casurella also shared some of the organization's challenges moving forward.
One of the biggest things for SouthGrow is the continued sustainability of the organization.
"We took that 50 per cent cut. Between our members and the government of Alberta, we got about $100,000 in operating right now, which is not enough for what we operate at. The board voted to take money from our reserves, which thankfully have been fairly healthy, for last year and for this year. We're currently at 50 cents per capita. There's a committee that's meeting this week to discuss the options for what we do in regards to sustainability," he explained. "We feel we have a very strong value offering for our communities. For example, I'm bringing in $100,000 plus a little bit of extra fees this year as our base funding model and $50,000 of that is member contributions. Our leverage ratio is, I think, 31-1 this year. We really do turn that money into massive value that goes into projects for the region. We also appreciate communities are making very hard choices with the looming cancellation of MSI coming up."
With municipal elections coming, Casurella explained what challenges that brings to SouthGrow.
"The other challenge is new councils. SouthGrow is a hard thing to understand for new councillors, it's not tangible. The value proposition and the ethic of what's good for one is good for all is something that really has to be shown, learned, and described. The thing we have seen across the region is we're probably going to have a huge council overturn, which for an organization like us that relies on that understanding of what we do when it doesn't impact you on your day-to-day basis, that's a challenge. We're probably going to have a huge turnover of our own board as well."
SouthGrow is also exploring and planning how to funnel stimulus funding to various projects in the region.
"Basically where I'm sitting right now, there's a fire hose pointed right at us and with this federal money that is being hosed down to the local level. The problem we have is moving all the money through us, we cannot move it fast enough because there's so much coming down the line. The problem for us is we can't open our mouths wide enough to take it all in. I don't have enough capacity to go and get all the money that's flowing downhill."
SouthGrow will be busy in the near future