Former Alberta Newspaper Group publisher remembered as vibrant lover of Medicine Hat
Posted on 21 August 2021 by Collin Gallant Alberta Newspaper Group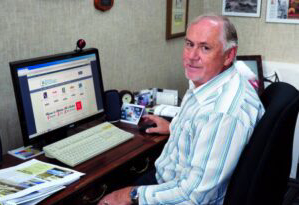 Mike Hertz, who was the publisher at the Medicine Hat News from 1996 to 2018, died on Thursday after a long battle with cancer. He was 71 years old.
Mike Hertz, publisher of the Medicine Hat News and newspapers in the Alberta Newspaper chain including Prairie Post for 22 years, died Aug. 19 after battling through recurring bouts of cancer over the past 10 years.
He was 71.
Friends in the city recalled his love of baseball, community work and support for the Rotary Club.
Colleagues said his pride in the community was matched by his pride in the News.
"He had a real dedication to not only his family and the News, but the community and helping out where he could," said Kerri Sandford, who succeeded Hertz as local publisher when he retired as "group publisher" of the News's sister publications in 2018.
At that time, Hertz was given the title "publisher emeritus" and continued to take on special projects, despite having continuing medical problems from a multiple myeloma diagnosis in 2009.
"He just had a real determination to him," said Sandford. "That determination made certain the disease didn't define him."
Hertz also helped lead the Medicine Hat News Santa Claus Fund, and was a strong supporter and active member of the Rotary Club of Medicine Hat, where he met and became friends with Dave Stalwick, who lived next door.
"He was a good Rotarian and a good neighbour," said Stalwick on Friday. "The Santa Claus Fund was so near to his heart, making sure children had what they needed for a good Christmas."
And a good promoter, adamant each spring that front-page space be reserved for the winner of the Rotary Music Festival's Rose Bowl competition, along with other items to bolster community spirit and interest.
At one point during Hertz's tenure, the News tabulated that it had provided more than $1.5 million in advertising support to local non-profit groups, discounting or providing free advertising for fundraisers or direct sponsorships for large events.
Similarly, Hertz brought the News's resources behind a bid to bring the Baseball Canada Cup to the city several times in the late 2000s. (A huge baseball fan, Hertz vacationed in March in order to take in spring training in Arizona each year).
Hertz grew up in Alsask, Alta., near Oyen, attended the University of Saskatchewan and worked in the hotel business before joining the Moose Jaw Times-Herald as a salesman in 1987.
By 1993, he became publisher of the Swift Current Sun, and three years later moved to the same position with the News in Medicine Hat, a key feeder paper for writers and executives in the Southam chain.
After several ownership changes, the Southern Alberta Newspapers and Alberta Newspaper Group moved to a regional chain that included the News and Lethbridge Herald as dailies, plus 14 weekly community and regional papers.
"He was much more entrepreneurial than some of the other publishers we had had," recalled Ron Turner, who served as chief financial officer of the paper under Hertz. "He really had a drive to 'try this, try that' and he managed the paper through a very tough time for newspapers."
Hertz had a clear vision of Medicine Hat as the central hub of the chain, and often cited that the News could boast the best-read circulation numbers for service in Western Canada, and top-five nationally.
Bill Hartley, the now retired News production manager, worked closely with Hertz and the two became friends. Hartley said Hertz was a good business mind who also valued personal relationships.
"He was very driven, but fair, and very proud of the paper, the whole organization really, which is a big operation," said Hartley.
He is survived by his wife, Nancy, and two sons.
Mike Hertz, who was the publisher at the Medicine Hat News from 1996 to 2018, died on Thursday after a long battle with cancer. He was 71 years old.
MEDICINE NEWS FILE PHOTO