Certified weed free forage offers a lot of advantages for Alberta agricultural producers and land owners
Posted on 26 May 2021 by Ryan Dahlman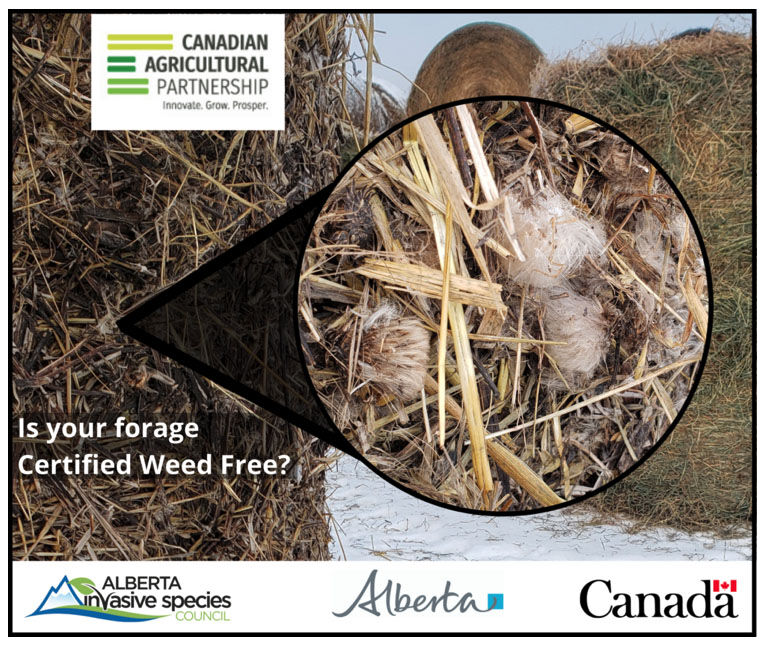 Program brought back and is coming back strong
The Alberta Certified Weed Free Forage Program is making a comeback.
After lying dormant for many years, a concerted effort has been made by a few organizations to revitalize the program in Alberta. One of those on a provincial basis is the Alberta Invasive Species Council, whose main office is based in Coleman in the Crowsnest Pass. 
The program was initiated many years ago because "Contaminated hay is one way invasive plants are spread across the province, between provinces and around the world. To address this, the North American Invasive Species Management Association, has set industry guidelines and maintains minimum standards for certified weed free products, which are recognized across North America." 
The North American Invasive Species Management Association (NAISMA) sets the guidelines, standard and protocol for the Alberta Certified Weed Free Forage Program. NAISMA's information can be found here at https://secureservercdn.net/198.71.233.67/yjc.cc8.myftpupload.com/wp-content/uploads/2021/01/NAISMA-WFF-Minimum-Standards-Final4-16-20.pdf
Megan Evans, Executive Director, Alberta Invasive Species Council says this program is important and has many different advantages. The AISC received funding from the Canadian Agriculture Partnership to help promote and revitalize this important program. It is our intention to work with producers, municipalities, and the province to facilitate, promote and revitalize the Alberta Certified Weed Free Forage program resulting in more weed-free forage on the market in Alberta. 
In Alberta specifically, the Alberta Invasive Species Council does the inspector training and related specifications. Alberta signed under this program in the year 2000. "This is not a new program in Alberta. In the year 2000 we entered into an agreement and we started participating, but it never really took off, it kind fizzled out," explains Evans. "To date, until when we kinda started with things in this past year, there were only three or four counties that were offering inspections to producers and had some information on their websites. (Before that) there was nothing coordinated it was just kinda fizzling out. We recognize that contaminated forage is a major pathway, a major vector spread for invasive species. There is actually a market for Certified Weed Free Forage. We know that national parks require that weed free forage be brought onto their land to be certified weed-free. We know that provincial parks and public lands made that requirement that as well, but when they made the requirement, the messaging they get back is that 'there is no weed-free forage available', 'I don't know where to find it.'
"So it is a bit of a chicken and the egg thing, we know the demand is there but people can't seem to find the product so we want to get involved. The province has re-signed onto the program so we are fully participating in the Weed Free Forage Program…It is a program that county by county, participation is voluntary so if producers are interested in getting their forage certified as weed free, they would have to reach out to their counties, if their counties are participating in the program, if they're not, we encourage (producers) to reach out to us so we can work with them to come up with a solution."  
The Alberta Invasive Species Council also works to train weed inspectors from various counties throughout the province to participate. 
According to the program's website: "Inspectors have the authority to certify portions of fields or even fields with weeds present, provided that no invasive plant propagules will enter the baled forage. Inspections must be conducted within ten days of cutting, if the crop is not cut within ten days of cutting, a new inspection must be conducted to certify the forage as weed free."
They restarted this program this winter. The first step was to get as many weed inspectors trained as soon as possible and try and "get counties to come on line with it." Evans says the inspectors are spread out across the province but they are just getting going and she is pleased with the progress.
"We are taking baby steps here. The first step is to get the regulatory and the inspection process in place. We have trained 45 inspectors which is amazing. We are really pleased with the turnout for the inspection training," explains Evans. "We can only train weed inspectors, we can't train anybody up with authority to authorize something as certified weed-free. We are really pleased with the interest from the counties and we hope to bring more on board as we go forward with the program. Right now we just started just now trying to connect with producers."
Evans tells producers they should participate in this program because they will help them sell their forage.
"We know there is people who want it and that are willing to pay for their certified weed-free forage. We are going to help link producers to those people who want to buy it," says Evans. "So we are going to promote the program on our newsletter, we are going to talk to media, we are going to talk about this on social media, do targeted newsletter articles with other organizations' newsletters and talk about this program a lot and promote it. We plan to keep a list of producers with their contact information on our website who have current inventory and then we will work to promote it with potential buyers. 
"The other thing is not just public government land managers who should be interested in buying weed-free forage, everybody should be buying weed free forage because if you are a private land owner, you don't want to be introducing knapweed or goodness only knows into your property because you are going to create a huge problem that causes a lot of liability an a lot of time and money in the long run so it is in everybody's best interest we see a lot more weed free certified forage on the Alberta market."
Producers interested in having their forage certified as weed-free, contact the AISC (587 999 0954) or your local Weed Inspector/Association of Alberta Agricultural Fieldmen  (https://aaaf.ab.ca/directory.html). 
For more information on this program on either training or wanting to find weed free forage, please contact Evans at execdirector@abinvasives.ca or call 587-999-0954.
Program brought back and is coming back strong