RCMP wants to remind provincial government of their worth to Albertans
Posted on 24 February 2021 by Ryan Dahlman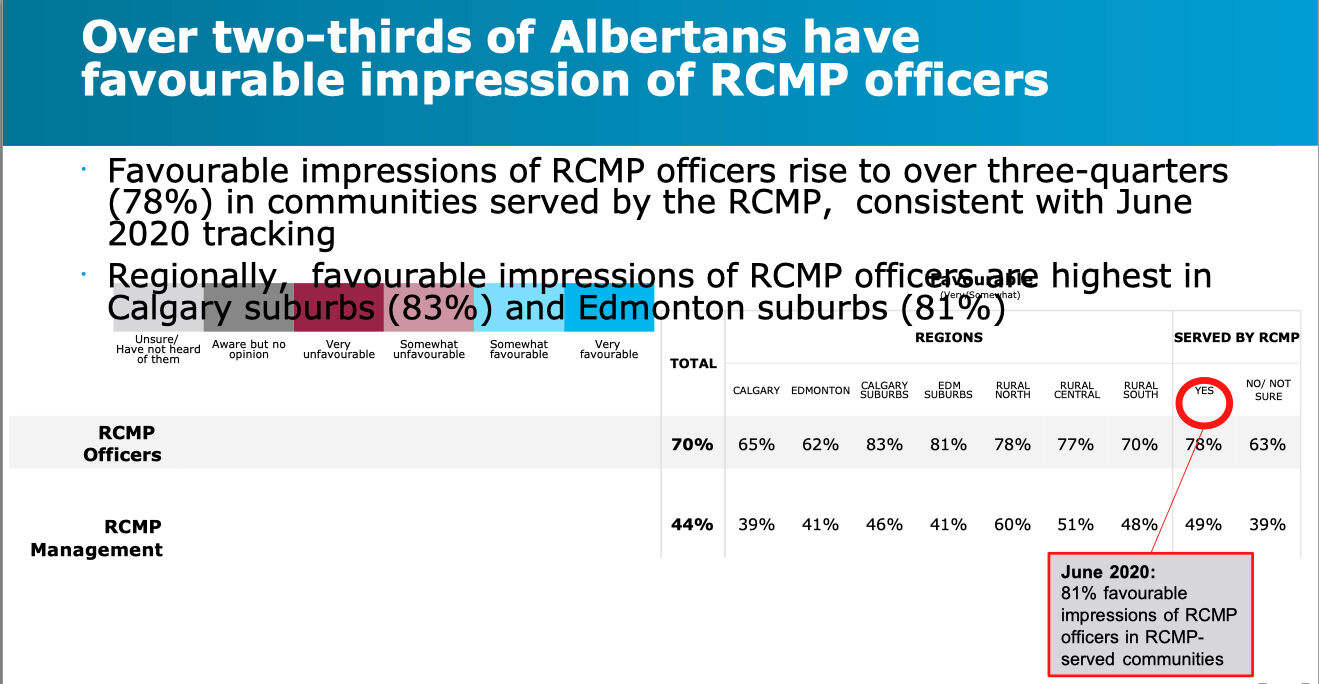 Some of the survey results quite telling
There has been a lot of discussion recently about talks with the Alberta government doing more work in trying to establish a provincial police force and replace The Royal Canadian Mounted Police from law enforcement in Alberta.
The RCMP are now examining the situation and are finding out what is happening with the government's plans.
In 2019, the Alberta government set up a task force called the Fair Deal Panel to study opinions of Albertans from all walks of life, and get their thoughts on how they feel about their place in Confederation. 
"The Fair Deal Panel's mandate is to listen to Albertans and their ideas for Alberta's future. The Panel should focus on ideas that would strengthen our province's economic position, give us a bigger voice within Confederation, or increase provincial power over institutions and funding in areas of provincial jurisdiction," read a Nov. 9, 2019 letter from Premier Jason Kenney which listed "establishing a provincial police force by ending the Alberta Police Service Agreement with the Government of Canada" as something to consider.
In the Fair Deal Panel's Report, there were a total of 25 recommendations given to the Province. Recommendation 14 was "Create an Alberta police service to replace the RCMP."
Brian Sauvé, President of the National Police Federation (NPF) says they learned of the seriousness of the official plan to initiate talks and organization of a provincial police force in May 2020. The National Police Federation launched its website (https://www.keepalbertarcmp.ca) and Facebook page (Under @KeepAlbertaRCMP) in January of 2020.
"The National Police Federation learned about the Fair Deal Panel Report when it was made public in the summer of 2020. That said, the National Police Federation was voted for in mid-2019 and constituted officially in January of 2020," explains Sauvé in an interview with Prairie Post. "We are the RCMP's first ever labour union, and we are still in growth mode. Once we learned the details of the Fair Deal Panel, we started to map out our strategic approach, which is all fact- and data-driven. In October 2020, the NPF engaged Pollara Strategic Insights to conduct a survey of 1,300 Albertans with broader and more representative participation within RCMP-policed communities. 
"This caught our attention because we keep our ears close to the ground. We've also been facing a similar situation in Surrey, B.C., so we're applying some of our lessons learned there to Keep Alberta RCMP. So no real surprise element, really. We want to make sure that our voice, which represents over 3,500 RCMP Members across the province, is heard. Again, once we learned the details of the Fair Deal Panel, we started to map out our strategic approach, which is all fact and data-driven."
Sauvé says that in October 2020, the NPF engaged Pollara Strategic Insights to conduct a survey of 1,300 Albertans with broader and more representative participation within RCMP-policed communities. Pollara's key findings revealed that: 81% of respondents living in RCMP-policed communities are satisfied with current policing; 70% are opposed to the Fair Deal Panel's recommendation to create provincial police service; 77% are concerned with costs associated with a transition; and 93% want a detailed accounting of the costs and impacts associated with a transition. 
In other words, Sauvé isn't sure why this is being persued by the government.
"Only 1 in 5 respondents supported replacing the RCMP, and when it came to ranking priorities, Albertans ranked creating a new provincial police service in 14th of 15th places — practically dead last," explains Sauvé. "The big take-away: Albertans simply do not want this transition."
According to the Fair Deal Panel's findings "the RCMP in Alberta perennially struggles with having enough RCMP officers to adequately staff smaller municipalities. Posting officers in a small communities, then relocating them anywhere in Canada, is a disincentive for many applicants. Indeed, in 2006, Alberta created the Alberta Sheriffs to help with traffic enforcement, surveillance, communications, and security at the courthouse and the legislature. However, in many small towns, sheriffs have become the backbone of local law enforcement when RCMP staffing is inadequate. In 2011, then Premier Ed Stelmach renewed Alberta's contract with the RCMP for 20 years, from April 1, 2012, to March 31, 2032. The contract contains a termination clause, which allows the agreement to be terminated on March 31 of any year by either party, giving the other party at least twenty-four months' notice. In other words, Alberta could, when this report is issued, terminate its agreement with the RCMP effective March 31, 2022. The contract could be terminated even earlier if the federal government concurred. 
Alberta pays $262.4 million annually for RCMP service, with the federal government paying $112.4 million annually. If Alberta canceled the agreement and created its own new provincial police service, the current federal contribution would have to be fully or partially absorbed by the province and municipalities.33 
"33 Municipalities will be responsible for $15.4 million of policing costs in 2020, and $60.3 million in 2023. The total contributions from small and rural municipalities will be $200.6 million by 2024."
Sauvé acknowledges that money is always a key factor in these sorts of large-scale decisions, and even more so given the current economic situation in Alberta. He says when Finance Minister Travis Toews delivers Alberta's 2021 Budget next week, Alberta taxpayers will be able to see, in concrete terms, Alberta's public finances when  Sauvé describes as "are in very bad shape" right now. He believes that "makes now a uniquely bad time to embark on unnecessary and costly pet projects that don't improve the status quo of RCMP policing in Alberta."
RCMP members in Alberta serve more than 1.7 million Albertans, through 117 RCMP detachments across 47 municipalities and 21 First Nations communities.  
All of the Provincial Policing Service Agreement statistics between the RCMP and government were unavailable. In terms of overall costs, NPF figures show that Alberta currently pays $262.4 million for its RCMP service, with the federal government paying $112.4 million annually in a 70-30 per cent split.
They are urban police forces in such police as Medicine Hat, Lethbridge, Edmonton, Calgary and one in Taber to name a few.  RCMP Members and their salary or benefits, that is something the NPF is presently negotiating with Treasury Board of Canada. All RCMP Members in Canada are compensated under the same contract, regardless of their province or territory of work. E.g., a Constable in Estevan, Saskatchewan gets the same rate of pay as a Constable in Brooks, Alberta or New Minas, Nova Scotia.
The RCMP have been in Alberta since 1873 and  Sauvé describes as being "very much part of the provincial fabric and history, having deep personal, family, and social connections to the communities they serve. These programs include Crime Stoppers, Centre for Youth Crime Prevention, Rural Crime Watch, and Safely Home Program, among others." 
"Can there be improvements, though? Absolutely. And that's what we should be focusing on, rather than signing up for higher costs with less service," adds the NPF president."Creating a new provincial police force isn't as simple as clicking your heels, pulling out your provincial government debit card and pressing 'enter' to approve the transaction. The Government of Alberta will need to consider all things related to staffing, training, of special units such as terrorism, major crimes, forensics, emergency response, police service dogs, air support (helicopters), and more. IM/IT infrastructure, facilities and maintenance, ongoing recruitment and training of officers, administrative support, pensions and more. 
"In terms of risks to community safety, as we've seen in other jurisdictions, a transition away from the RCMP would result in less officers, putting rural  communities at risk."
He points out that Since 2017, public requests for police assistance in both emergency and non-urgent matters in Alberta  have risen 20%. Despite flat funding and increasing demand, in 2018 the Alberta RCMP dedicated 30 officers and 40 civilians to a Crime Reduction Strategy, with a focus on addressing rural crime rates.
That Strategy achieved a  10% decrease in crime rates  for rural detachments and 6% for municipal detachments so far.  Sauvé says a new police force would put this progress at risk. He adds there is also the issue of federal government Housing for Members in isolated communities — many communities do not have a viable rental market and the RCMP provides housing to Members, which "would be a very real concern for individuals hired into this new Alberta Police Service. "
As well, under the provincial police services agreement, the federal government pays 30% of the costs to redeploy RCMP officers within the province in cases of emergencies, such as fires, floods and protests. Sauvé says that's also money that the Government of Alberta will have to raise, perhaps even directly by taxpayers, in order to cover those costs.
Over the past two weeks Albertans sent over 14,000 letters to government officials expressing their concern with the proposal to replace the Alberta RCMP with a new provincial police service.The NPF has been engaging with key legislative and stakeholder groups, such as the Rural and Urban Municipality associations as well as media. The NPF president isn't sure what will be the outcome.
"To be sure, it's not our role to tell the Government of Alberta what to do — that is up to voters who duly elect their representatives," explains Sauvé. "On behalf of our 3,500 RCMP Members in Alberta, we've launched the #KeepAlbertaRCMP campaign through a Facebook page and website, to encourage a fulsome discussion between Albertans and their elected representatives. The support has been strong and growing, and we're also engaging with PricewaterhouseCoopers to provide our unique perspective on the risks."
Some of the survey results quite tellingChart contributed