From the farm to the rink: Summer student looking forward to Manitoba move to play hockey
Posted on 15 September 2022 by Ryan Dahlman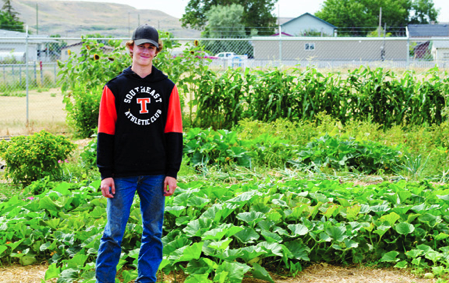 By Samantha Johnson
Ryder Stimson spent part of his summer working at the Irvine Agricultural Discovery Centre. Aug. 27 was his last day on the job.
Going into Grade 11 this year, the 16-year-old Dunmore native took the job "for farm experience; I wanted to see what it was like."
Now, Stimson will be leaving this week to move to Manitoba to attend the Pilot Mound Hockey Academy.
Pilot Mound Hockey Academy is a Hockey Canada registered sports school.
It is an academic-based 10-month hockey program in southern Manitoba. The school is 50 per cent academic and 50 per cent hockey, explained Ryder.
Ryder will play defence on the U-17 team and wants to see how hockey pans out before making any concrete decisions regarding his future, but first he needed to tend to his duties on his final day at the Agricultural Discovery Centre.
The centre's garden has an elaborate self-watering system set up. Canola, durum wheat, lentils, barley, pumpkins, onions, zucchini, tomatoes, corn, strawberries, green leaf lettuce, red leaf lettuce and flowers for the bees. There is a beehive in the corner behind the sunflowers and every flower passed had bees on them. Most of the harvested produce is given away. Straw has been placed between the rows of vegetables to keep the weeds down.
On the opposite side of the centre are the animal pens containing chickens, pigs, goats, calves and cows. Cleaning the pens, along with feeding and watering all the animals are part of a summer student's duties.
Three summer students rotated working at the centre throughout the summer, so someone was there each day to check on the animals and garden. The students worked six-hour shifts, beginning at 8 a.m. and leaving at 2 p.m. when the heat of the day started to get intense.