Movie producers of Fallen Heroes: Their Journey Home looking for extras, help in southeast Alberta
Posted on 19 August 2022 by adminis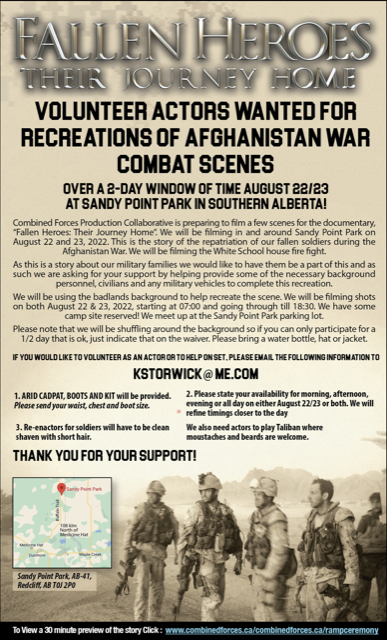 By Anna Smith
Over August 22nd and 23rd, Combined Forces Production Collective is looking for people to help bring to life a touching tribute to those who have given their lives in service to their country.
Karen Storwick and Robert Curtin have been associates for the past 20 years, and above all else, have passion for telling stories about the Canadian Military, and their latest work, titled Fallen Heroes: Their Journey Home, is no different.
"We were working with Princess Patricia's Canadian Light Infantry, on a variety of projects, when we started working with Afghanistan veterans quite closely that we're all still serving and coming back from the war," said Storwick. "And we started listening to stories, and one of the stories we heard really inspired us to make a film that we originally titled with the ramp ceremony. And, it was about the first fallen soldiers in Afghanistan in 2002."
It was over the course of working on this original concept that they realized there was a much larger story to tell, said Storwick, which eventually has turned into the current project, which follows not only the Ramp Ceremony, but its counterpoint in the Highway of Heroes and how the Canadian people responded to being able to bring these fallen soldiers home.
The plan is to shoot in southeast portion of Alberta including Sandy Point Park and around Suffield Because the military has a strong presences both historically and currently, southeast Alberta was a natural fit. There have been numerous obstacles along the way, such as building the right relationships, but as they continue with production, both Storwick and Curtin are excited to not only highlight these stories, but to give greater context to them.
"One of the things that we plan to do with the fallen heroes film is build some context as to why the war in Afghanistan was so important for Canadians," said Storwick.
"We tour the viewers kind of through a little bit of that history route through the First World War, the Second World War, Korea, into peacekeeping, and where that was that brought us to a place where the war in Afghanistan really hit us personally." Curtin explains that prior to Afghanistan, soldiers would be buried where they had fallen, making the bringing of soldiers home to be laid to rest here in Canada significant both for the families and for the country at large, something they want to highlight in their film.
"I think the response of the Canadian people with the Highway of Heroes and so on, which was really an organic response by the people to the sacrifices that were being made. That's why it's so remarkable. This is the first time we've ever brought our people back. And our people show their respect in such an outstanding way," said Curtin.
The team has been interviewing current and former military personnel for all ranks for the past 6 and a half years, and all the shooting they'll be doing, both out at Sandy Point Park and later in the Suffield area, will be about recreating these stories as authentically as possible.
"We're historians. We're not manipulating this story. We want this story to be as historically accurate as possible to bring honour to these soldiers into this history. So it's really, really important to us that the stories we're telling are being told by the people that were there," said Storwick. "The other remarkable thing about this story is that yes, we wanted it to be about the sacrifices and experiences of our personnel," said Curtin. "But as we began to tell the story, especially with the Highway of Heroes, and the outpouring of grief and gratitude from the Canadian people, it became clear that this is not just a story about our military personnel. It's a story about Canada, and how we responded to those circumstances."
On the 22nd and 23rd, Storwick and Curtin are looking not just for extras, but for anyone willing to lend a hand during the shooting, to hold things up or carry equipment around.
Thus far, they've seen around 40 volunteers, many of whom are veterans, and are overwhelmed with the support. Anyone interested is encouraged to email kstorwick@me.com for more details. Curtin, of course, has one more request, as part of their goal for the film being to help bridge the gap between military and civilians.
"If you step up to a bus stop or your checkout counter or wherever you might be and there's somebody in uniform. Say hello and thank them," said Curtin.