HALO gets long sought-after provincial funding
Posted on 31 March 2022 by Ryan Dahlman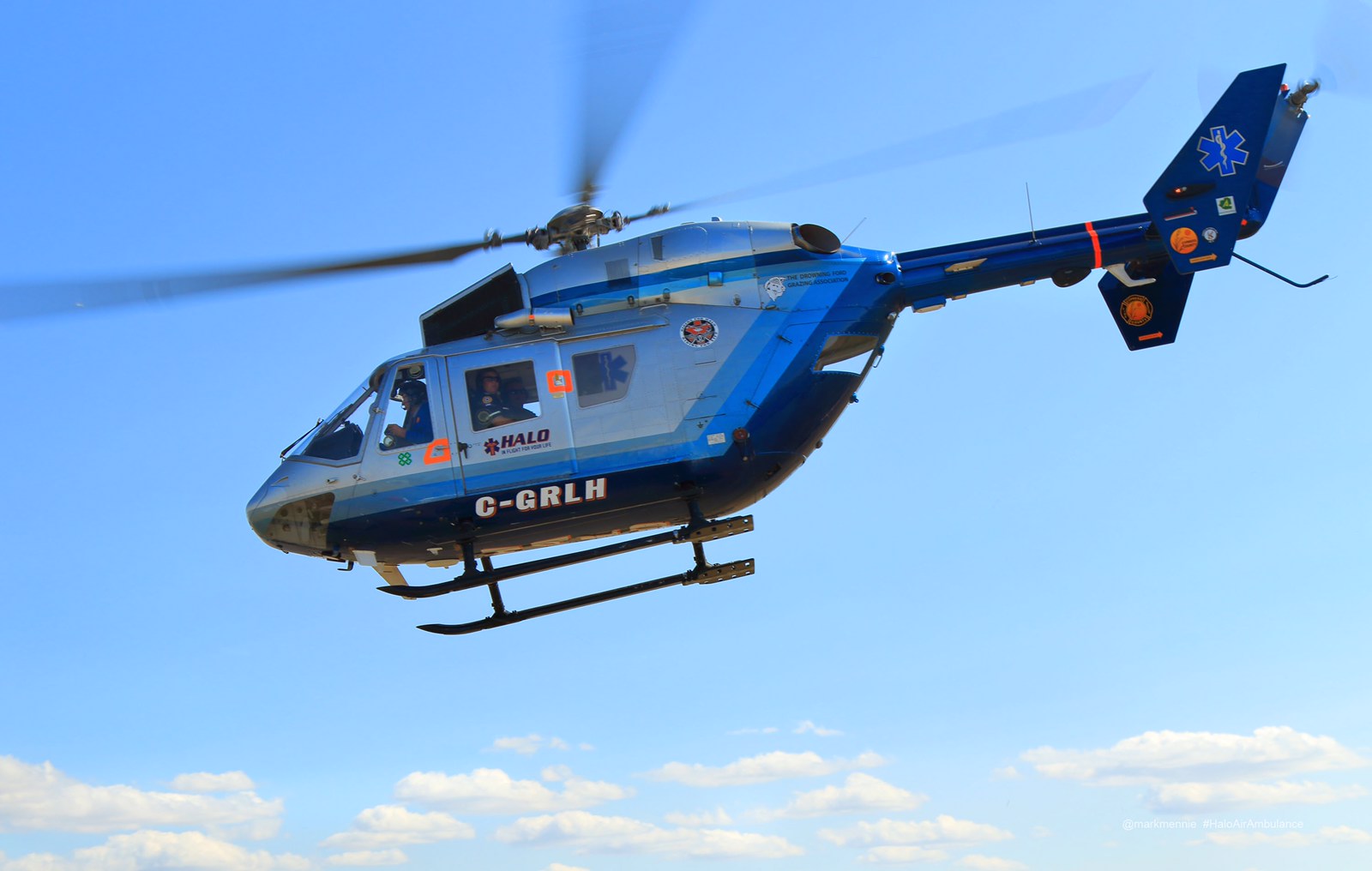 A provincial funding boost for helicopter air ambulance operators will ensure Albertans continue to have quality and timely access to this life-saving service.
For the first time, Medicine Hat-based Helicopter Air Lift Operation (HALO) will be offered guaranteed funding and a contract with Alberta Health Services, moving from a fee-for-service model. HALO will get more than $1 million in annual funding.
Fort McMurray-based Helicopter Emergency Rescue Operation (HERO) will get almost $2 million under a new five-year contract, which is double its current annual funding.
"We have listened to Albertans in the northeast and southeast of our province about the importance of experienced regional air ambulance operators. That's why we are following through with record funding for HALO and HERO, to improve their emergency services for rural Albertans, on top of our announcement more than doubling funding for STARS Air Ambulance," explained Jason Kenney, Premier in a prepared statement,
"Both HERO and HALO offer a lifeline for rural communities in the northeastern and southern parts of our province, flying Albertans in need directly to a hospital with the required level of care. Predictable funding, direct contracts with AHS and better integration means sustainable air ambulance services to help Albertans in their moments of need."Jason Copping, Minister of Health.
"This deal has been a long time coming. This stable and predictable funding is not only well-deserved, but essential for rural Alberta," said Michaela Frey, MLA for Brooks-Medicine Hat.
These contract changes mean better integration within the provincial air ambulance system, improved oversight and equitable and sustainable funding levels among all three helicopter air ambulance providers in Alberta.
The investment in HALO and HERO follows last week's announcement of increased funding for STARS Air Ambulance to $15 million annually, more than doubling previous funding.
Reaction for the funding was extremely positive.
"Helicopter air ambulance service, along with ground ambulances and fixed-wing air ambulance, are critical components of the EMS system in Alberta. Providing stable, sustainable funding for helicopter air ambulance is one of the ways we are able to provide safe, reliable and timely service to rural and remote communities," said Darren Sandbeck, chief paramedic and senior provincial director, Alberta Health Services EMS.
"This historic investment represents countless hours of work, by thousands of people, over the past 20 years! Adding the Government of Alberta as a predictable and stable funding partner ensures HALO will not only remain in flight for your life in southern Alberta, but will be able to enhance our ability to provide world-class helicopter emergency medical services for decades to come. HALO is extremely proud of our financial efficiency, driving the bulk of every dollar raised towards helicopter operations. We are committed to ensuring this investment is treated with the same fiscal responsibility, ultimately providing more service for less, building capacity in the system, and saving lives."Paul Carolan, CEO, HALO.
"This is fantastic news for our county's residents, whose lives can depend upon the speed with which HALO can get to remote areas. I would like to thank our municipal neighbours for their unwavering support for HALO. Knowing there is a steady stream of funding for this essential service allows us all to breathe easier," said Dan Hamilton, reeve, Cypress County
Budget 2022 invests more than $10 million in additional funding for HERO, HALO and Shock Trauma Air Rescue Service (STARS), bringing the total provincial support for helicopter air ambulance operators to more than $18 million in guaranteed annual funding.
Quick facts
• Budget 2022 includes $64 million in additional funding for emergency medical services (EMS) to respond to high demand and stress on staff, including $28 million in supports for ground and helicopter air ambulance services.
• Helicopter air ambulance service is the most expensive form of EMS per patient transport.
• HALO is based in Medicine Hat and serves southeastern Alberta. In 2019-20, HALO flew 38 missions.
◦ Though HALO does not have an existing or historical contract with AHS, as they are paid based on a fee-for-service model, they received about $200,000 last year for the air ambulance services.
• HERO is based in Fort McMurray and serves northeastern Alberta. In 2019-20, HERO flew 62 missions.
◦ AHS has been funding HERO indirectly, via the Regional Municipality of Wood Buffalo EMS Agreement, since April 2017. The current agreement funding is $1 million per year.
• The Alberta EMS Provincial Advisory Committee is developing recommendations to address EMS system pressures. A subcommittee, which includes key partners, will focus on further strengthening air ambulance services.
• An objective review of the EMS dispatch system will also include air ambulance dispatch processes. The independent review of the dispatch system is expected to be completed this fall.