Olympian helping her home region with shoe campaign
Posted on 9 February 2022 by adminis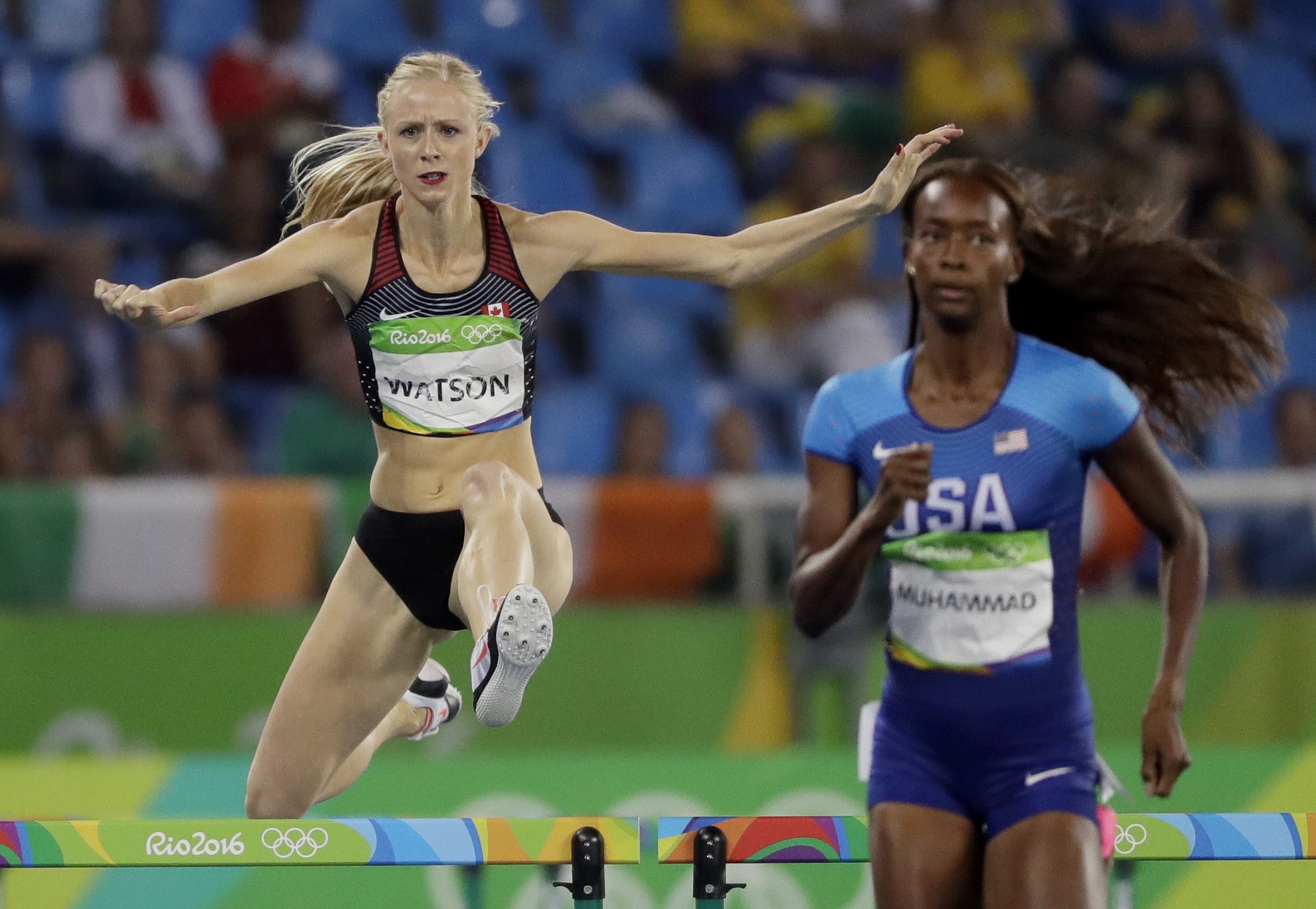 Canada's Sage Watson, left, competes in a women's 400-meter hurdles semifinal during the athletics competitions of the 2016 Summer Olympics at the Olympic stadium in Rio de Janeiro, Brazil, Tuesday, Aug. 16, 2016. (AP Photo/David J. Phillip)
Local Journalism Initiative Reporter
In between sponsors, Canadian Olympian Sage Watson is running with the chance to champion causes she believes in.
"I'm currently not sponsored by a shoe company. And usually, as a pro athlete, you have to wear the particular item of clothing, based on who your sponsor is when you compete, other than when I run for Canada, at the Olympics; I obviously represent Canada," explained Watson. "So I thought this time when I'm in between getting a contract, I might as well use my platform and kind of represent something that I truly believe in."
Watson decided to use this time to shed light on a fundraiser that she helped start back in 2019 with the Medicine Hat Track Society. On Feb. 2, she teamed up with popular Medicine Hat brewery Hell's Basement to do Brews for Shoes. Proceeds of sales went to the cause.
"For the past few years, we've been able to donate shoes to kids who are in need within the community," said Watson. "We're grateful that teachers and coaches are the ones who sign the kids up and know why they might need the shoes and what specific sport they need the shoes for so we've been able to donate wrestling shoes, basketball shoes, volleyball shoes, just running shoes and track spikes, which has been really great, but I wanted to keep you know right now with COVID and everything."
Presently, to raise money for this cause, Watson is selling some of her gear from past Olympics, starting with her Olympic phone. She looks forward to continuing to build this program, with hopes that one day she will be able to help children across Canada.
Watson really wants to promote sports in the region with young athletes.
She knows it can be difficult to have a passion for sports, but lack the equipment to participate. Watson hopes that this can help more children do what they love, and appreciates the coaches and teachers who are able to make this happen.
"I've done this in the past. I auctioned off my 2016 Olympic year to help the Medicine Hat Track Society to fundraise money. I just found that very rewarding and I have stuff that I know that other people would love to have and I didn't use," said Watson.
"The Olympic phone, I was kind of saving it because I knew I wanted to do something with it. It just kind of seems like the right time with where I'm at in my career and I just want to use what I have to give back to others."