Author shares love for ranch life in debut children's book
Posted on 29 June 2023 by Ryan Dahlman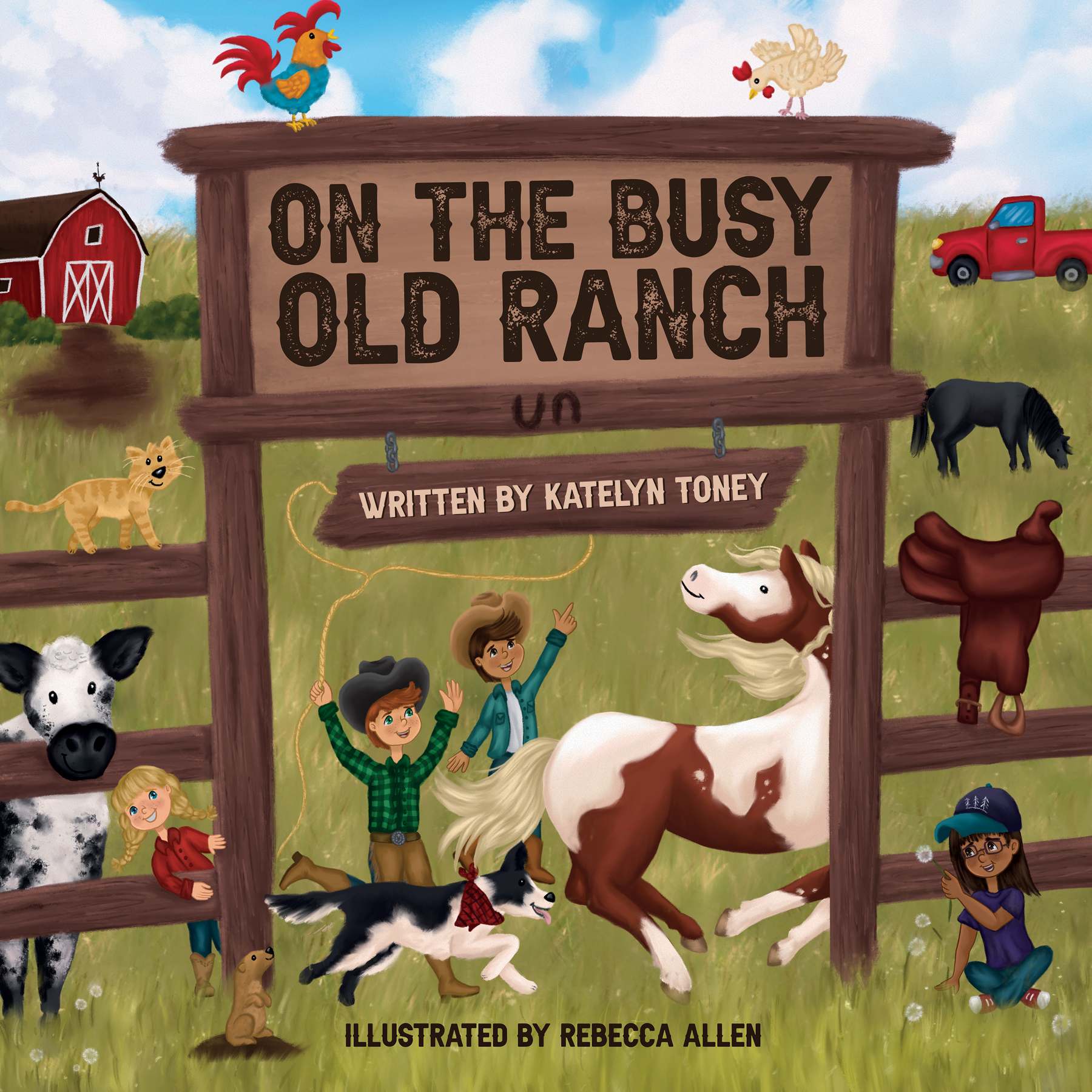 By Matthew Liebenberg
Southwest Saskatchewan author Katelyn Toney combines an engaging story with colourful illustrations to share a passion for ranch life in her debut children's book.
She wrote On the Busy Old Ranch to provide young readers with a sense of the beauty and variety of rural life on the prairies.
"I love books and reading, and it's always my favourite thing to help people find books that they love," she said. "I have four kids and I've been reading to them forever, but I found there just really wasn't a lot of books that were a very good representation of ranch life, especially on the prairies."
She grew up in the Simmie area and now farms and ranches with her husband north of Tompkins, but she could not find books about this lifestyle.
"All the books that were there had milk cows or people hauling cattle and stock racks in the back of their trucks," she recalled. "They didn't really show what we do and the kids couldn't really relate to them. They loved reading farm books, but they also didn't see themselves in them. So I just thought I would write one."
Even though she wrote it for younger readers, the book will have a broader appeal to those who have the same lifestyle.
"I love our lifestyle and it was kind of a love letter to other ranchers," she said. "So they can look at it and feel like someone out there gets it and also loves what they do."
It is a rhyming story and a counting book that starts with one little cowgirl on the first page and ends with 10 cowkids on the final page. She felt it will be enjoyed by a broad age group.
"I would say that with the illustrations you could probably start reading it to anyone from 18 months old to my seven-year-old who still really likes it," she mentioned.
The activities on the different pages reflect a variety of ranch chores as well as time spent to play, to take a nap under a tree and to pray for rain. She felt the book will certainly appeal to ranching families.
"Everyone's telling me how much they love it," she said. "The adults love looking at the pictures and reading the story to their kids. It's just really fun to look at and be like this is how we do this and I relate to this."
The book will also have appeal to those who are not so familiar with the ranching lifestyle and who live in a more urban setting.
"I think rural people will love it for different reasons," she said. "They'll love it, because they can see themselves in it and really feel like it's accurate. And then I think town and city people can learn something and also see the beauty of where we live and what we do."
The attractive illustrations were created by Rebecca Allen, a graphic designer and illustrator from London, Ontario.
"She did a really good job of portraying the prairies," Toney said. "The pages where she drew what the prairie looks like and the grass are some of my favourite pages in the book."
She decided to self-publish her debut book and took on the entire process, because it fits a very specific niche and it is difficult to find a publisher to work with.
"I think the hardest part is marketing it after the fact," she said. "If you have a good handle on how to do that or you know a lot of people who would be interested in your book, then that's not too hard, but it's definitely challenging and expensive to do. … I figured out what it would cost, how many I would have to sell the break even and I think that I can do it. That's great If I end up making some money, but I just want people to read the book."
Toney did a book reading at Yellow Canary Books & Stationery in Gull Lake on June 4 and she has received positive feedback since the book became available during the spring.
"Everyone has loved it," she said. "I have had just rave reviews and a bunch of people asking for it. It's been really great."
She already completed the text for her next children's book, but it still needs to be illustrated. She has rough copies for a few more books and someday she might even write a novel.
"I've been saying that I'm going to write a book since I was a little girl and I thought it would probably be a novel or something, but this has absolutely been a dream come true," she said.
Her debut children's book On the Busy Old Ranch is available at The Cowtown Kids Toy & Candy in Maple Creek, Yellow Canary Books & Stationery in Gull Lake, and can be ordered on her website at http://www.katelyntoney.com