Saskatchewan organic producers receive national Outstanding Young Farmers award
Posted on 21 December 2022 by Ryan Dahlman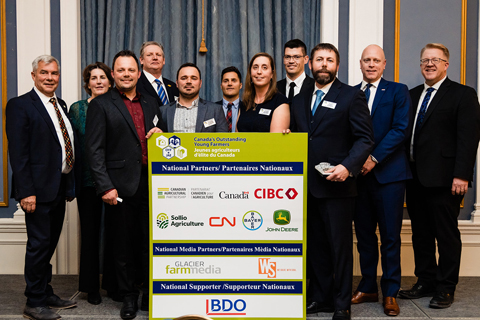 The winners of the 2022 Canada's Outstanding Young Farmers national award were announced in Saskatoon, Nov. 26. Front row, from left to right, winners Guillaume and Etienne Lessard from Quebec and winners Allsion Squires and Cody Straza from Saskatchewan. Back row, from left to right, Simon Baillargeon (Sollio Agriculture), Alexandra Wright (AAFC), Steve Cooper (COYF President), Komie Hossini (Bayer), Koos Van Jaarsveld (John Deere), Chad Haidey(CIBC), Scott Brown (CN). Photo submitted
By Matthew Liebenberg
Cody Straza and Alllison Squires from Upland Organics near Wood Mountain are recipients of the 2022 Canada's Outstanding Young Farmers national award.
The Outstanding Young Farmers program is an annual competition to recognize farmers between 18 and 39 years of age for excellence in their profession.
Participants are selected from seven regions across Canada and two national winners are chosen. The other recipients of the 2022 national award are brothers Guillaume and Étienne Lessard of St. Honoré-de-Shenley, Quebec.
The farming couple from Wood Mountain qualified for the national event after winning the regional award program to become Saskatchewan's 2022 Outstanding Young Farmers.
"It's been quite a journey, for sure," Straza said. "It was a bit of a surprise at the start. There were a lot of other great honourees there that could have been any two of the seven that were named."
The national winners were selected by a panel of judges. They considered various criteria during the review process of the candidates, including progress made during their farming career, environmental stewardship (use of soil, water, and energy conservation practices), crop and livestock production history, financial and management practices, and contributions to the well-being of the community, province and nation.
"I think it's kind of a reassurance that the path we're on is the right one," he said about their selection as winners. "We're doing a few things that are a little bit different outside of the mainstream agriculture and it's rewarding to know that other people believe that we're on the right path."
Straza grew up on a farm in the Wood Mountain area and completed a degree in agricultural and bioresource engineering at the University of Saskatchewan, where he met Squires. She was born in Newfoundland and grew up mainly in southern Ontario. She received a BSc degree in environmental toxicology at the University of Guelph and thereafter completed her MSc and Ph.D. in toxicology at the University of Saskatchewan.
They got married and worked in Saskatoon for several years, but bought their first land in 2010 and started Upland Organics.
"We both knew that we wanted to be our own bosses," he said. "We wanted to be entrepreneurs and this just fits very well and when an opportunity came up, we jumped at it."
They currently manage over 8,000 acres of land, of which approximately 4,500 acres are cropped and the rest is pasture land.
"We've grown in land size, but I think our biggest area of growth has been diversifying and adding on enterprises," Squires noted. "We're an organic grain farm, but we also run a large stock operation and we also have a commercial seed cleaning facility. We have all these different things going to diversify our income stream and to allow us to be more resilient, because markets change, the climate is changing. It's hard to put all your eggs in one basket."
The addition of the seed cleaning plant in 2015 meant a reduction in grain dockage and an ability to respond to market needs in a more effective way.
"That was the first thing we diversified, because we wanted to market our organic grains to higher end users and to more niche markets," she said. "To do that we needed to be able to clean our own grain on site to our customers needs right away."
They began grazing cattle on their cover crop land in 2018 and they now have a herd of around 300 cattle that eliminates the need for fall tillage and contributes towards improved soil health. It was another case of turning a challenge into an opportunity through research and talking to other farmers about alternative options to tillage.
"That's when we got into livestock, and they've been a huge opportunity for us in diversifying our income stream and reducing our tillage by using the livestock as a method of weed control and termination of our cover crops," Straza said. "They have improved our soil health dramatically as well over the years. So it's all about how you look at challenges and I think that's been a huge part of our growth."
Their farming operation benefits from data gathered through their on-farm research activities to address the specific conditions and challenges of a working organic farm. Squires' postgraduate education is a great advantage to their research efforts.
"We have several research projects that are always on the go, whether we collaborate with other people or just doing them ourselves," she said. "We have our own data bank of results and we're tracking all of our improvements in the soil as we experiment. So we know what's actually making a difference or not."
She added that the conditions and circumstances on each farm will be different, which means what will work on their farm to improve soil health might not be applicable elsewhere. The changes can be small and incremental, but they have seen improved water infiltration and water holding capacity of soil on their farm due to an increase in soil organic matter.
"Everything is connected back to the soil," she said. "It's healthy soil, healthy plants, healthy people, healthy communities. That's the way we see it, and I think that's the way we're seeing it unfolding on our farm as we're improving our soil health. Everything that builds off that is also improving."
The crop production on their farm is organically certified and they have also obtained regenerative organic certification (ROC), which is a certification standard developed in the United States. Squires said the additional certification is a rigorous process that pushes them to be better.
"The ROC adds on additional practices or verifications around soil health and land management, as well as fairness for farmers along the supply chain," she explained. "So it adds these different pillars that aren't in the Canadian organic standards yet. I'm hoping with the next revision that will change, but it just gives us a benchmark to measure our progress and it pushes us forward, because we keep wanting to add more value to our products. There are specific buyers who are looking for this additional certification on top of the organic certification and they're willing to pay for it as well."
Young farmers face many challenges, of which capital funding and access to land are key issues. Network building is important to connect with more experienced farmers.
"We know a number of people who have started their farm from scratch with very little to go outside help and a common theme is starting small, focusing on niche markets, high value, not entering into the commodity game, more focused on value added, and direct to consumer type of operations," Straza said. "I don't think there is a formula and there's no one answer, but it's just some of the observations that we've made."
They feel family-run farms must be part of the future of agriculture in Canada. These farms can be economically feasible through efforts to identify value-added opportunities, which will provide resilience to farming operations and benefit the wider community.
Their own long-term goal for their farming operation is to create a healthy resilient ecosystem that can be passed on to the next generation in good condition.
"We want to be doing it in a very economically sustainable way and environmentally sustainable way that also supports our communities," he said.