Native Grassland Stewardship opportunities for Alberta farmers available through Cows and Fish
Posted on 16 March 2022 by Prairie Post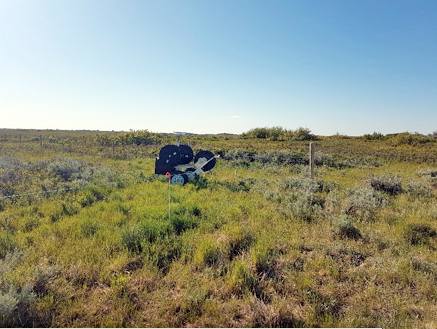 Easy to use, portable electric fencer creating temporary cattle exclusion in sensitive habitat. Photo by Julie Landry-DeBoer, Alberta Conservation Association
By Norine Ambrose, Cows and Fish
As someone who works for a stewardship organization, I like to think of myself as someone who supports others as they care for the land.
I rely upon others taking information I offer, moulding the ideas, and applying them to their own farm or ranch to better support wildlife and create more stable, abundant forage. I have seen countless examples of amazing stewardship—committed landowners ensuring the health of their land, while also making their agricultural operation successful.
Often, these are ranchers or farmers that have kept their lands healthy with thoughtful management, spanning generations. At other times, maybe they noticed something from their childhood memories has gone missing—perhaps the meadow lark song in spring, or the fish they used to catch in a favourite spot—and they are working to help bring that back.
These voluntary, proactive measures to benefit rangeland and riparian areas (those moist areas next to streams, rivers, lakes and wetlands) means healthier, more productive pastures, while also benefiting wildlife in need of support—like sage grouse.
In addition to looking at grazing management, other simple techniques can have multiple benefits: portable off-site watering systems create flexibility and increase weight gain, visibility reflectors on fence lines reduce wildlife collisions and fence repair costs, and portable electric fencing helps landowners protect sensitive areas and aid in cattle distribution where permanent fencing may not be feasible.
We focus on riparian areas and grazing at Cows and Fish, so we rely on partnerships to offer the best support to landowners on other aspects of management.
In southern Alberta, MULTISAR (a partnership between Alberta Environment and Parks, Alberta Conservation Association, and Prairie Conservation Forum) focusses on conserving species at risk in Alberta's native grasslands. Their expertise in range health, wildlife, and grazing management that benefits species at risk complements our focus on riparian areas.
Together, we are working with agricultural producers to support stewardship in critical habitat for greater sage grouse in southeastern Alberta. We are looking to support more projects that have mutual benefits using federal SARPAL (Species at Risk Partnership on Agricultural Landscapes) funding secured by the Canadian Cattlemen's Association.
Contact us to learn more about opportunities:
Emily Purvis
Riparian Range Specialist
Cows and Fish
Cell: 403-635-9013
Email: epurvis@cowsandfish.org
Adam Moltzahn
Wildlife Biologist
Alberta Conservation Association
Cell: 403-795-8926