Busy year, but rural firefighters take invaluable BeGrainSafe course
Posted on 28 December 2021 by adminis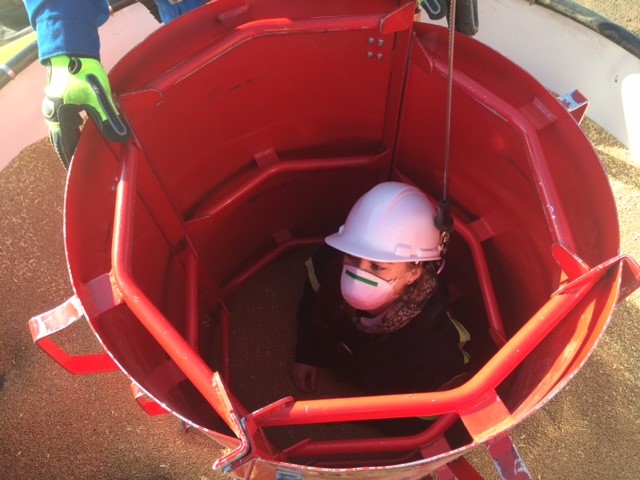 Cypress County Firefighters participate in CASA's GrainSafe rescue course, inside and atop the GrainSafe Trailer, designed to simulate the inside of a bin during a grain entrapment scenario. Photo provided by Jeffery Dowling.
Local Journalism Initiative Reporter
Twenty-five of Cypress County's own firefighters joined the 450 people that the Canadian Agricultural Safety Association (CASA) has taught to BeGrainSafe in 2021.
BeGrainSafe is a series of training courses designed to increase the awareness of the dangers of grain entrapment, which while not a common occurrence, is a very real threat to farmers and anyone else entering grain bins.
"Basic statistics wise, every year across Canada, we unfortunately lose four to five people from grain entrapment every year. So there was actually a spike of grain entrapments in 2015. Unfortunately, where I recall, there were actually three girls, all sisters, that lost their lives to a green entrapment incident in southern or out around the Red Deer area," said Rob Gobeil, Agricultural Safety and Health Specialists with the Canadian Agricultural Safety Association. "So part and parcel with that incident and others, we felt we should try to create a bit more awareness around the topic of grain entrapment, and, more specifically, the prevention of grain entrapments. So that's when we decided to build our BeGrainSafe program. And part and parcel with that is we built our GrainSafe mobile unit, our trailer that we take around, mostly across the prairies, but it was designed to do green entrapment demonstrations. And we also created, with the help of the Office of the Fire Commissioner in Manitoba, a green rescue course for firefighters as well."
"A lot of producers don't realize green beans are confined spaces, they fit the criteria to be confined space. So, you know, the right protocols need to be in place when and if someone is to enter a green bin. And there's discussion about different techniques of the rescue itself of a victim or multiple victims, including breaching a green bin using the proper techniques and tools," said Gobeil.
This rescue course was what the firefighters from Cypress County took part in on March 27th 2021, said Jeffery Dowling, Director of Municipal Services with Cypress County.
"Fortunately for Cypress County and emergency services, the Alberta Wheat Commission, as well as Alberta Barley, and their organization generously covered off the costs and expenses associated with putting on the training course. So they basically helped pay for the instructor who has to be a certified instructor under the National Fire Protection Association. And then also for the costs of transporting and delivering the green bin rescue trailer to our Dunmore fire station, which is part of Cypress County Emergency Services," said Dowling.
The 25 members of Cypress County Fire Department completed an online course prior to the 2-day in person segment, which featured the use of the GrainSafe trailer, which mimics the conditions inside of a grain bin or silo to allow for practical application of learned rescue techniques.
"Each in small groups of five, each of the fire members were able to participate in setting up the coffer dam, securing the victim with the harness, and extracting the victim out of the grain, and then we're able to sort of simulate being the victim themselves. We had a very successful training session, you know, I think it was a good set of skills that our members are able to take with them," said Dowling. "And of course, being a rural municipality. And, you know, being that, you know, this type of situation is probably, while it's not frequent, fortunately, it's, you know, it's not the type of rescue that we frequently have to perform. But it is a rescue that may be called upon to perform."
"I think it was good that they got hands-on experience. I appreciated the fact that, what it's like to be actually submersed in the grain themselves, and especially, you know, doing this in a controlled environment where, you know, it's better, but even so it gives them a bit of a sense of what it's like. And I think when the rescuers can kind of have some empathy or understanding of what it's like for the victim, that helps them in terms of how they are able to interact and try to keep the victim calm," said Dowling. "It was strongly received, I think in the future, we'll have another training course like this, there's certainly the overwhelming interest from our fire members to want to conduct the training."
Cypress County Council, as part of the 2022 budget, has approved the purchase of the specialized equipment required to perform these grain rescues, including the coffer dam which is used to prevent more grain from pouring over the victim, a pencil augur to extract the grain away from them, and additional high angle rescue equipment such as winches and harnesses.
This level of success and satisfaction isn't uncommon among participants in the course, said Gobeil.
"We've got awesome feedback from our participants, multiple training requests for a second or even third round of training for locations that have already received training. So, you know, we do keep the course at a fairly basic awareness level. But it's the foundation for these departments receiving this training, to create more in depth processes internally, based on their own training levels," said Gobeil "As you can imagine, you know, a volunteer Rural Fire Department, quite often has a limited budget, and, you know, nothing but great intentions. But with that limited budget often comes limited levels of training. So we want to keep it at a basic level, and have it at something that they can expand, expand on internally."
There have already been successful rescues attributed to the content of the course, and CASA plans to expand the sessions beyond the prairies, where most of the courses have taken place, in the future.
"It's something we're super proud of. You know, we're proud of every training session that we deliver, of course, as well. But knowing that there is a difference being made, really was encouraging as well," said Gobeil.