Kodiaks basketball, volleyball begin new semester
Posted on 13 January 2022 by Ryan Dahlman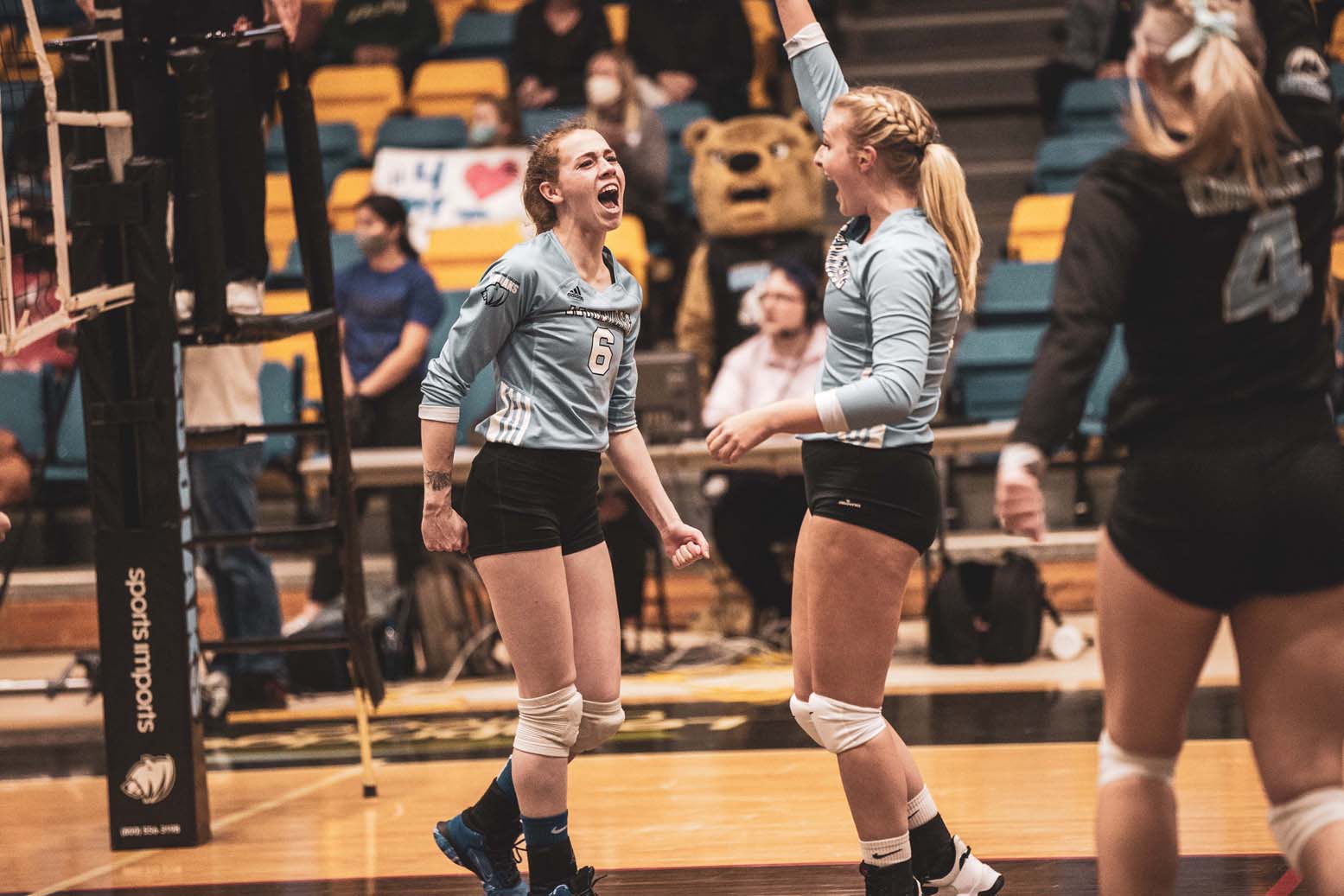 Aideena Wickstrom WVB
After a lengthy holiday break, the Lethbridge College Kodiaks basketball and volleyball teams are ready to resume Alberta Colleges Athletic Conference (ACAC) play this weekend. 
The action kicks off Friday night as Kodiaks volleyball hosts the SAIT Trojans at the Val Matteotti Gym. Basketball then takes centre stage on Saturday night, with the Kodiaks taking on their SAIT rivals.
With the safety and wellbeing of student-athletes and the community in mind, fans will not be permitted at Kodiaks home games this weekend. Fans are encouraged to stream the games live on ACACTV.ca. Fan attendance at Kodiaks home games will be re-evaluated on a weekly basis.
Both sports had originally been scheduled to play a home-and-home series with the Trojans, however all matches at SAIT this weekend have been postponed. Those matches have been rescheduled for later in February.
Volleyball
MEN'S
Kodiaks (4-2) vs SAIT Trojans (4-4)
6 p.m. Friday at Val Matteotti Gymnasium
The Kodiaks men are riding a four-game winning streak into the new semester. The team is finding its stride on both sides of the net and has frustrated opposing offenses of late. The Kodiaks lead the ACAC with an impressive 3.16 blocks per set.
Nolan Moes (second year, Renewable Resource Management, Barrhead) has been a force at the service line, powering his way to 12 service aces in six games. Jackson Gaehring (second year, Civil Engineering Technology, Lethbridge) will also look to continue his strong play as he leads the team with 48 kills. Jeremiah Bohnert (third year, Engineering Design Technology, Lethbridge) leads the conference with 1.1 blocks per set.
Scouting the opposition: Despite sporting a .500 record, the Trojans have shown they can be a dangerous opponent on any given night. SAIT ended 2021 on a high note by defeating south division leading Red Deer Polytechnic in its last outing.
WOMEN'S
Kodiaks (4-2) vs SAIT Trojans (2-6)
8 p.m. Friday at Val Matteotti Gymnasium
The Kodiaks women are also riding a four-game winning streak, winning 11 straight sets in the process. They will look to continue their strong overall play and continue their acescent up the ACAC south division standings.
Jamie Brown (fourth year, Exercise Science, Fort Macleod) has given the team veteran leadership and leads the team with 54 kills. Setter Johanna Dixon (second year, General Studies, Calgary) is averaging 7.74 assists per set, fifth most in the conference. Rookie Eryka Woods (first year, General Studies, Lethbridge) has been a wall at the net, delivering 11 blocks through the opening six games of the season.
Scouting the opposition: The Trojans are looking to play themselves back into playoff contention in the second half. Second year outside hitter Leah Serlin leads the team with 68 kills.
Basketball
MEN'S
Kodiaks (4-2) vs SAIT Trojans College (5-1)
6 p.m. Saturday at Val Matteotti Gymnasium
The Kodiaks men will be keen to bounce back after ending the opening semester with a disappointing loss to Olds College. Still, their 4-2 record has put them in good position as they look to separate themselves in the ultra-competitive ACAC south division.
Veteran guard Orin Porter Jr. (fifth year, Computer Information Technology, Nevada) has led the offence with 16.5 points per game. Paycen Blackmore (first year, Business Administration Accounting, Magrath) has impressed offensively in his rookie season, with a 61.5 FG% that is second best in the conference.
Scouting the opposition: A strong SAIT side will once again be gearing up for another run at an ACAC championship. The Kodiaks will have to keep an eye on guard Marcus Masters, who is shooting 47.4% from beyond the arc so far this season.
WOMEN'S
Kodiaks (5-1) vs SAIT Trojans (6-0)
8 p.m. Saturday at Val Matteotti Gymnasium
The Kodiaks have turned heads across the conference after a dynamic 5-1 start to the season. Saturday's matchup against the Trojans will be a highly anticipated showdown, as the Kodiaks can earn a share of first place in the ACAC south division with a victory.
The dynamic duo of Kirsten Barwegen (fourth year, Open Studies, Lethbridge) and Courtney Deemter (first year, Nursing, Calgary) carried the Kodiaks offense during the opening semester. The cousins currently both rank in the top five in ACAC scoring per game, with Deemter averaging 19.5 PPG and Barwegen averaging 17.8 PPG. Barwegen is also fourth in the conference in rebounding, pulling down an average of 10 boards per game.
Scouting the opposition: SAIT has rattled off six straight wins to start the season and will be a great measuring stick for the Kodiaks. The Trojans are led by first year guard Ava Kearl, who is averaging 12.7 PPG.
ACACTV introduces pay per view – In an effort to provide the best possible streaming experience for its fans, the ACAC has introduced ACACTV pay per view this season. A Winter Access pass is now available for $12.99 and will allow Kodiaks fans to access livestreams of every Kodiaks basketball and volleyball game through the remainder of the regular season and playoffs.
Learn more about the Kodiaks at gokodiaks.ca and follow along all season on Twitter, Instagram and Facebook. High-quality photos are available to download from the Kodiaks Flickr account.