Swift Current Museum unveils new banners to honour veterans during Remembrance Week
Posted on 2 November 2021 by Matthew Liebenberg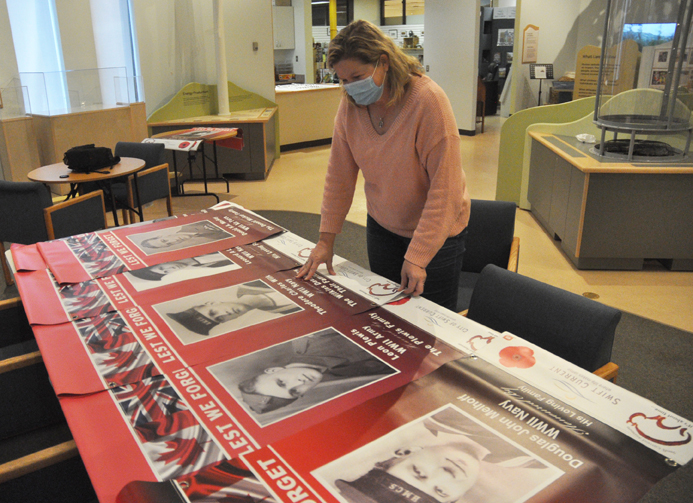 Corla Rokochy of the Swift Current Museum looks at the six new banners added to the Honour our Veterans Banner Program in 2021.
By Matthew Liebenberg
Several new banners in honour of veterans have been added to the existing banners on display in downtown Swift Current during Remembrance Week.
The Swift Current Museum initiated the Honour our Veterans Banner Program in 2016 to give recognition to veterans in a meaningful and public way.
Corla Rokochy, the visitor services attendant and Main Street Swift Current coordinator at the museum, said there are six new banners as well as 35 banners from previous years. They have been installed on lamp posts in Memorial Park and the surrounding sidewalks for this year's Remembrance Week.
"It's a legacy project that the museum came up with prior to the 2016 installation of the banners," she explained. "They just wanted to make sure that we were remembering and paying tribute to those veterans who fought for our country and for our freedoms in the past, and any active service members can be nominated as well."
Similar banner programs have been established in communities across Canada, and the Swift Current program was among the first in Saskatchewan.
"It's a really well-respected program and people really enjoy seeing their family members honoured in this way," she said. "It's very important to them to pay tribute to members of their family that gave such a sacrifice."
Each full colour, double-sided banner honours a specific service person with a connection to the Swift Current area. The details on a banner include the name and photograph of the person being honoured, the war or era when they served, their branch of service, and the name of the sponsor.
Banners can be sponsored by family, friends or local businesses at a cost of $150 per banner. It will be displayed for three consecutive years during the Remembrance Day period, and thereafter a sponsor can renew the sponsorship for another three years or receive the banner as a keepsake.
The return of banners to sponsors help to create space for new banners, because there are not enough lamp posts in and around Memorial Park for all the banners created since 2016.
"We're actually running out of spots, it's so popular," she said. "So that's very good to see that there's a lot of response and we'll continue doing it as long as there's people that want to nominate their family members."
The video of last year's banner unveiling event became one of the most viewed videos on the Swift Current Museum YouTube channel.
"We sent it to any family members that couldn't make it here and then they must have forwarded it on to other family members," she said. "It's been viewed a lot of times."
The unveiling of this year's six new banners took place at the museum on Nov. 1, and a video of this event will also be posted online for people to view.
For the family of Doug Melhoff the banner is a fitting way to honour someone near and dear to their heart. Lindsay Gates said her grandfather, who served in the Royal Canadian Navy during the Second World War, was a very special person.
"I'm so honoured that we get to participate in this program to honour not only Doug, but all the other vets," she said. "Anything that we can do to remember and honour them is so important, especially for the younger generation. I have two young boys, and we talk about grandpa all the time, and what he and others like him did for our country."
One of the things she remembers most about her grandfather was how proud he was to have served the country.
"We went to all Remembrance Day ceremonies," she recalled. "He was very proud. He always had his gear and his medals on and then we would go down and have a beer at the Legion after."
He was a radar operator on the HMCS Runnymede, a frigate that escorted supply and troop ships across the Atlantic. He rarely spoke about the more serious aspects of his war experience and mostly told more lighthearted stories.
"One of the stories that I remember him talking about was how packed they were on some of these ships," she recalled. "He would work 12 hour shifts and he would share boots and a bed with another guy. At the shift change you'd give the bed to the other guy and he'd give you the boots and off you go."
His duties as a sailor also included helping out with work in the ship's kitchen, which he referred to as kitchen patrol or KP.
"You could definitely tell by his potato peeling skills that he did his fair share of KP duty," she said. "He could peel potatoes like no other."
The family still have to decide where to keep the banner when it is returned to them after three years. Gates hopes the banner can be added to the other mementos of her grandfather at the family cottage, which he built in the late 1960s at Lac Pelletier.
The family of Leon Plewis, who served in the Canadian Army during the Second World War, felt a banner will be a very appropriate way to honour him.
"My dad was a very, very proud veteran," Jim Plewis said. "He belonged to the Legion basically since he left the Army after World War Two. He was active in Legion activities and was very proud of his service for his country. … So we just decided that it's nice to remember him that way, as he always fondly talked of his service for the country."
The family made the decision earlier this year to honour him in this way after they discovered some items related to his service in the war.
"We were moving some things and found some old memorabilia that none of us had really ever seen before," Jim recalled. "I remembered seeing all the banners for Remembrance Day of all the old veterans and I knew quite a few of them, and I thought our family would be really honoured to have his name up there, as he served his country as well, and so we just decided to do that this year."
The memorabilia included an Army identification card, his discharge papers, and the certifications he completed for different types of weapons.
"It actually even had his last will and testament that the soldiers wrote prior to disembarking to go overseas," he said. "So it's kind of neat to find all that stuff."
Jim noted his father was proud of his service, but he never talked much about those war years. He decided to enlist when military recruiters visited the school in Pennant, where he grew up.
"When they came along to Pennant School and looking for volunteers to enlist, he jumped on the chance and left Grade 12," he said. "He enlisted in the Army and went overseas. … I'm not sure if he actually served in Holland, but he went back several times for veteran tours in Holland."
Below are details about the six veterans honoured by the new banners.
Ray Green: He was born on the family homestead north of Portreeve on Nov. 1, 1919. He was a 19-year-old farm boy when the Second World War started in 1939. He enlisted at Regina on June 26, 1940 and became a member of the 8th Canadian Reconnaissance Regiment. He received training in England and Scotland as a driver-mechanic, and he drove a supply truck during the war. The 8th Recce embarked a month after D-Day and immediately went to the frontline. They were involved in intense fighting during their advance through France, Belgium, Holland and into Germany. He returned to Canada after the war and was followed by his war bride, Mary. He initially farmed with his dad, then on his own, and thereafter with his sons. He described his war experience to a friend as 90 per cent fun and 10 per cent pure hell. His family is very proud of his service.
Leonard Anthony Leier: He was born in Regina and served on HMSC Owen Sound from 1940-1944. He came to Swift Current in 1946, where he met and married May Schofield. They raised six children. He owned and operated Arlen Texaco for many years. He was active in the community through the Knights of Columbus, the Catholic School Board and Swift Current Lions Club. His family is proud and honoured to unveil this banner in his remembrance.
Donald H.A. Mackay: He was born and raised on a farm near Beverley. He enlisted with the Royal Canadian Air Force in January 1941, initially as an aero engine mechanic. He transferred to pilot training and received his wings in 1943. He completed more training in England and Egypt. He was assigned to the City of Windsor Squadron No. 417 in Italy, where he flew Spitfires. He attained the rank of flying officer and received the Distinguished Flying Cross. His brother Gordon served as a wireless air gunner during the war. They took over the family farm after the war. Donald completed the vocational agriculture program with the University of Saskatchewan in 1948. He married and had five children. His sons still farm some of the original land. He was a member of the Swift Current Legion and an active community member, serving on various boards, as a 4-H club leader, and as a Saskatchewan Wheat Pool delegate. His war service was an important part of his life and his family has always been proud of his contribution.
Douglas John Melhoff: He was born in Bateman on May 25, 1925 and went to school in Swift Current. He enlisted in the Royal Canadian Navy on his 18th birthday and spent several years on the frigate HMCS Runnymede, which escorted supply and troop ships across the Atlantic during the Second World War. He joined his father's growing business, Melhoff Electric, after the war. He became a journeyman electrician and helped to build the business. He married a nurse, Lorraine (Lori) Thorarinson, and they raised four children in Swift Current. He was an aircraft pilot and a great craftsman. He constructed the family cottage at Lac Pelletier, which is still a gathering place for his extended family. He passed away on April 14, 2014 at the age of 88.
Leon Plewis: He was born on Feb. 6, 1926 and raised in Pennant. He left Grade 12 to enlist in the Canadian Army during the Second World War. He married Margaret "Marnie" Hughes in 1947 and they raised three children. He was a certified mechanic and he worked for his father, who owned Standard Motors. Leon eventually co-owned Standard Motors with his brother Morris. The company was sold to Leon's son Jim in 1984. Leon was an active community member. He served on various boards and he was a member of different organizations, including the Masonic Lodge #26, the Shrine Club, and the Legion Branch #56. He passed away on Nov. 26, 2012 at the age of 86 years.
Theodore Charles Wilkins: He served in the Second World War after enlisting at the HMCS Queens in Regina as an ordinary seaman on April 1, 1943. He received training in Regina and Esquimalt, B.C. He was drafted to HMCS Protector in Sydney, Nova Scotia during 1943, where he joined his first ship, the minesweeper HMCS Drummondville. He was in battle off the Normandy coast on D-day and during this time he was promoted to acting able seaman. The last ship he sailed on was another minesweeper, the HMCS New Liskeard. He was discharged on Nov. 7, 1945 at HMCS Queen in Regina. He always regretted leaving the navy. He moved with his family to Success in 1953 and became a grain buyer with McCabe Grain. He was promoted to superintendent in 1965 and moved to Swift Current and then to Elrose in 1972. He moved back to Swift Current in 1978 as a superintendent for the United Grain Growers, where he worked until retirement. He passed away in 2006.