Busy southwest high school teams, Swift Current teams do well
Posted on 25 October 2021 by Contributed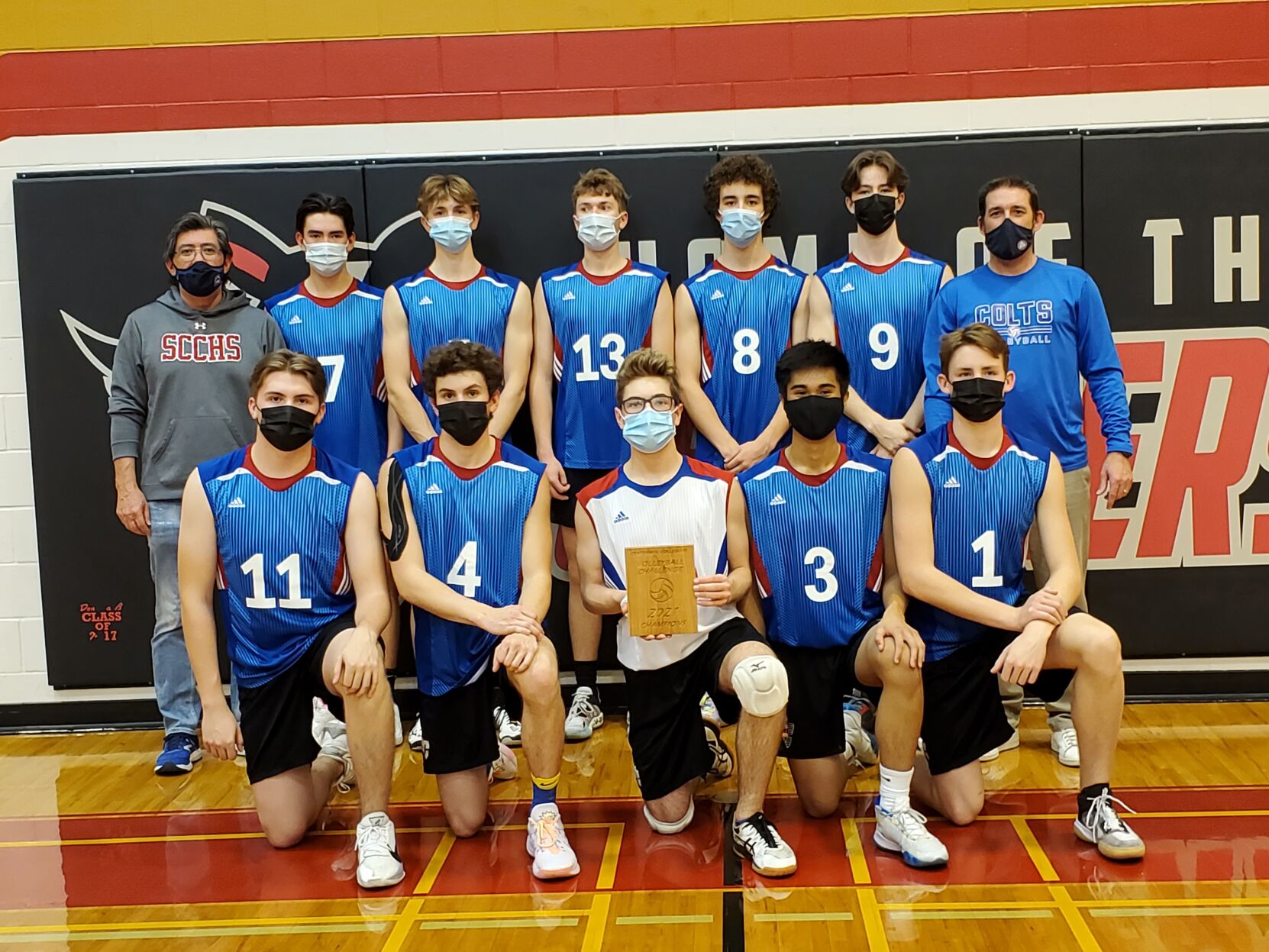 Swift Current senior boys celebrate fifth consecutive tournament win. 
Our fall sports are starting to wind down.  Plans are in place for SWAC playoffs for juniors and SHSAA playoffs for seniors.  Volleyball senior SWAC league competitions will be completed this week and junior SWAC playoffs will also start this week.
Soccer provincial regional playoffs for both the Arden and Colt soccer teams began on October 22 and 23rd.  The Ardens (ranked #1 in the regional tournament) competed in Yorkton and defeated Yorkton Regional High in the final (4-0).  The SCCHS girls' soccer team will now compete in SHSAA Provincial competition on October 29/20 in Prince Albert.  The Comp Colts were in Weyburn for Regionals.  They were the #4 ranked team and came up short against the #1 ranked Yorkton Regional High team, losing 9-0.  The Colts soccer season ends with that loss.
In 12-man football, the SCCHS Colts had one final league game on October 23 in Estevan.  The Colts defeated Estevan 23-6.  The SC football team won't make the provincial playoff rounds, but will be on the road Saturday, Oct 30 to play Moose Jaw Central in the league's 3rd place game.
9-man football playoffs began on the October 22 weekend.  Shaunavon traveled to Indian Head and lost 31-14 to the top ranked team.   Maple Creek was in Lumsden and came up on the losing end of a 27-7 score.  All of SWAC's 9-man football teams have been eliminated from SHSAA playoffs and their seasons are done.
Junior SWAC volleyball playoff schedules have been developed. The first round of playoffs will be completed this week.  The semifinals run on Saturday, November 6 and the SWAC Junior Championship final is on Tuesday, November 9. 
SWAC Senior Volleyball Leagues continue into the final week of league play.  We've had quite a few cancellations, so we are in the process of trying to make up those games this week.  The format for the league playoffs has been revised.  Semifinals are on Tuesday, Nov 2 (at multiple sites) and the league final for boys and girls is on Wednesday, Nov 3 (two sites).
SHSAA Provincial playoffs for our senior volleyball teams are coming up fast.  All high school teams in the province are placed in a category (1A-5A) according to gr 10-12 school enrollment (eg. smaller schools are 1A , SCCHS is considered 5A). Teams compete at conference level then, if they qualify, regionals and then the Provincial Championships. 
All high school volleyball teams are assigned to an SHSAA Conference playoff.  The 1 – 4A girls participate in conferences on the November 5/6 weekend and the boys play November 12/13 weekend.  Shaunavon boys and SCCHS Arden/Colt volleyball teams advance straight to their regional playoffs.  
 According to Darren Lehmann: "The Sr. Colts keep their winning streak going with another tournament win this past weekend in Saskatoon at the ten-team Centennial Volleyball Challenge.  This weekend's win makes it five consecutive tournaments that the Colts have won.  On Friday in pool play the Colts were 3-1 and won pool B with wins over P.A Carlton (25-19, 25-22), Saskatoon Holy Cross (25-22, 25-19), and Saskatoon Centennial (25-18, 25-14) and a split with Meadow Lake (26-24, 19-25).  On Saturday the Colts defeated Saskatoon Aden Bowman (25-9, 25-10) in the quarter finals and Saskatoon Centennial (25-20, 25-18) in the semis.  In the final the Colts faced off against Saskatoon St. Joe's and came out on top with scores of (25-27, 25-14, 15-10).  The Colts will be in action again Oct 29th in Regina."
On November 5/6, Hazlet girls will host one of the SHSAA 1A conference playoffs and Maple Creek girls will host a 3A conference tournament.  Frontier boys will host a 1A boys conference tournament on November 12/13 weekend.  Regional sites/hosts are determined by who advances.
Swift Current senior boys celebrate fifth consecutive tournament win. 
COntributed by Darren Lehmann