Paralympian swimmer appreciates support from southwest Saskatchewan
Posted on 22 October 2021 by Matthew Liebenberg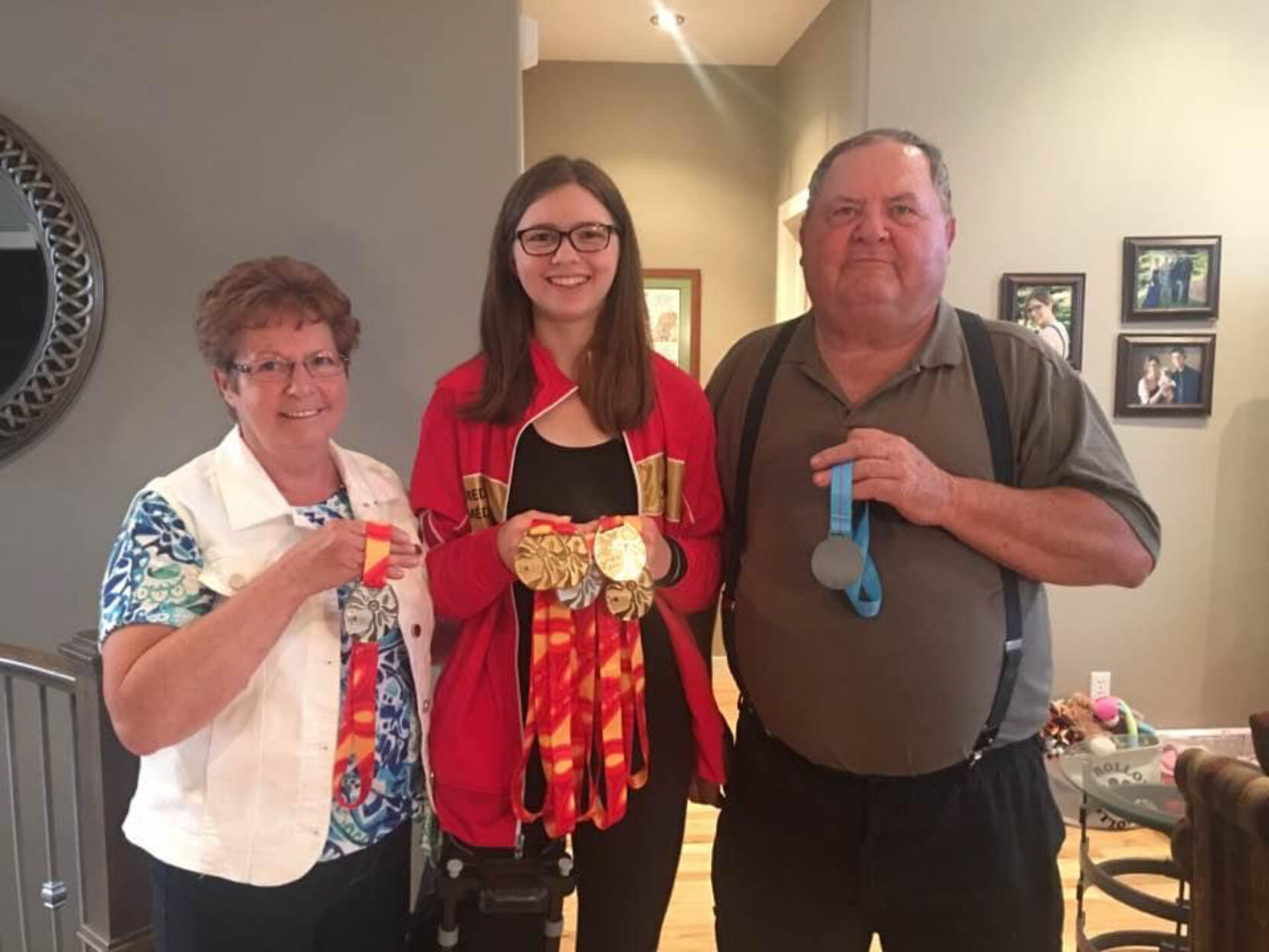 Paralympian swimmer Shelby Newkirk with two of her greatest supporters, grandparents Carol and Wayne Newkirk from Piapot.
Paralympian swimmer Shelby Newkirk appreciates the support from family and supporters in southwest Saskatchewan while she recently competed in her first Paralympic Games at Tokyo 2020.
Two of her greatest supporters are her grandparents Carol and Wayne Newkirk from Piapot, and through them many other area residents have become aware of her achievements as a swimmer.
"I'll get messages on Instagram or on Facebook, saying I met your papa and he was telling us about you or I met your nana and she was telling us about you," she said. "I think it's just so cool that I have their support in such a strong way and they always tell me how proud they are of me. Their support has meant everything to me."
Her hometown is Saskatoon, where she is currently an education student at the University of Saskatchewan, but she has strong family connections to the southwest.
"My nana and papa still live in Piapot, and that's where my dad and his siblings grew up as well," she said. "So even though I didn't grow up on the farm, I always loved going back and visiting."
She lived with her family for a while in Manitoba, but was glad to move back to her home province a few years ago.
"The prairies are definitely where my heart belongs and I'm really glad to be back and so close to family and to be able to see them all the time now," she said. "I definitely have so many fond memories from all over Saskatchewan and I'm definitely very proud to be from here."
Family and friends play an important role in helping her to deal with the stress of competitive swimming on the international level.
"I really rely on my support network around me," she said. "My family and friends. I really rely on just reaching out to them when I need to and I'm just kind of working through it with them."
She is 25 years old and has been swimming for the past decade. She set a goal in 2015 to compete at the Tokyo 2020 Paralympics.
"It was absolutely incredible," she said about the experience. "This has been a goal I've been working on for 10 years. I have quite a few friends who have competed at the Olympic and Paralympic Games, and I always heard the stories and I knew this year was going to be a little bit different because of the pandemic, but once I got there, I just realized how truly incredible it was just to be in a village with all these other incredible athletes from around the world."
She competed in a variety of sports while growing up, from volleyball and basketball to soccer, dance and gymnastics.
"Pretty much everything you can think of other than swimming," she recalled. "I did swimming here and there and I did really like the water, but it wasn't actually until I was 13 and I was diagnosed with dystonia."
Dystonia is a neurological movement disorder that influences a person's movement, balance and coordination. It affects all four her limbs and she lost the use of her right foot.
"I started losing mobility and losing my ability to do all these other sports I've grown up loving," she said. "It was actually just by chance that I met my first coach in Winnipeg, and she said that she coached a team for people with disabilities. I decided to come out and try it, and it was the first time in a long time where I could get into the water and just leave behind my mobility devices and it was just me and I just felt a sense of freedom. I was able to push myself and really compete and really feel that competitive fire again, and I just fell in love with the sport and haven't looked back since."
She has broken 17 Canadian para-swimming records, including most recently three Canadian records in the three events she competed in at the Tokyo 2021 Paralympics.
She broke world records in 2017 and 2018 in the 50m and 100m backstroke, and was named the Swimming Canada Female Para Swimmer of the Year in both years. She was Saskatchewan's 2018 Female Athlete of the Year. She won silver in the 100m backstroke S7 event at the London 2019 World Para Swimming Championships, which resulted in her selection as a member of Canada's Paralympics team for Tokyo 2020.
The Paralympics Games was postponed for a year due to the COVID-19 pandemic, and she was one of 19 Canadian swimmers who competed this past summer from Aug. 25 to Sept. 3 at the Tokyo Aquatics Centre.
She set three new Canadian records while competing in the 50m freestyle S6, 100m freestyle S7, and the 100m backstroke S6 events at the Paralympics. She nearly won a medal in her first Paralympics when she finished in fourth place, less than a second behind the bronze medallist.
"I was definitely a little disappointed at first, knowing that I was so close to getting on the podium in Tokyo, but I had to take a step back and realized that this is my first Paralympic Games and to have gotten that close is definitely still something that I should be proud of," she said. "I knew hitting that wall at the end of that race that I put everything into that race that I could have. I had nothing left to give, and I swam with all my heart, with everything I had, and so that's definitely something that I'm proud of for that race."
Her time in the 100m S6 backstroke event was just shy of a world record time, and all three medallists in this race swam faster than the world record. 
"So it was definitely a really fast race and really exciting to be a part of," she said. "It's very competitive and for anybody that hasn't watched parasport or hasn't watched Paralympic racing before, I definitely encourage them to, because it's so amazing. It really speaks to athleticism and some of the sports are so fast, and it's really cool to see all these times and all these records being broken."
From personal experience she knows that public awareness about the Paralympic movement has increased in recent years, because people will now understand what it means when she tells them she is a Paralympian.
"There's definitely a long way to go before people do see it as a true equal to the Olympics, but I think it's really cool when I'm able to show people that there's more to me than just the disability," she said. "I think a lot of people see my wheelchair first and they just kind of set these expectations of what they think I can do based on that, and I like being able to kind of prove them wrong and be like I have a world record, I have 17 Canadian records. I can do all these awesome things and I'm in a wheelchair."
She took a break from training after returning from Tokyo, but she has been back in the water and focusing on training routines since early October. She is preparing for the 2022 World Para Swimming Championships, which will take place next summer in Portugal.
"My parents have already booked their flights and they're very excited to hopefully watch me swim again," she said. "And then after that I'll be working towards Paris in 2024 for the next Paralympics Games."
In the meantime, she is also focusing on her two small businesses and her studies. She loves to crochet and she sells cute animal character and pompom hats through her one business, Crafty Prairie Girl. She designs various functional items for people with disabilities for her other business, Accessible Life.
She is currently completing online practicums for her education degree, for which she will have a major in physical education and a minor in arts education.
"My plan isn't actually to work in a school full-time," she said. "I more want to do consulting and stuff to help make schools more accessible for students, because I know growing up when it came to gym and all these kind of things, they didn't always know how to adapt things for me or what I needed in order to be able to succeed as a person with a disability. So I really want to be able to advocate and to consult and to help schools adapt to student needs and definitely try to get more para sports in schools as well so that students can learn more about the Paralympics and learn about all the great opportunities that come with it." 
Paralympian swimmer Shelby Newkirk with two of her greatest supporters, grandparents Carol and Wayne Newkirk from Piapot.