Pandemic hits Swift Current Broncos with a financial loss
Posted on 6 October 2021 by Matthew Liebenberg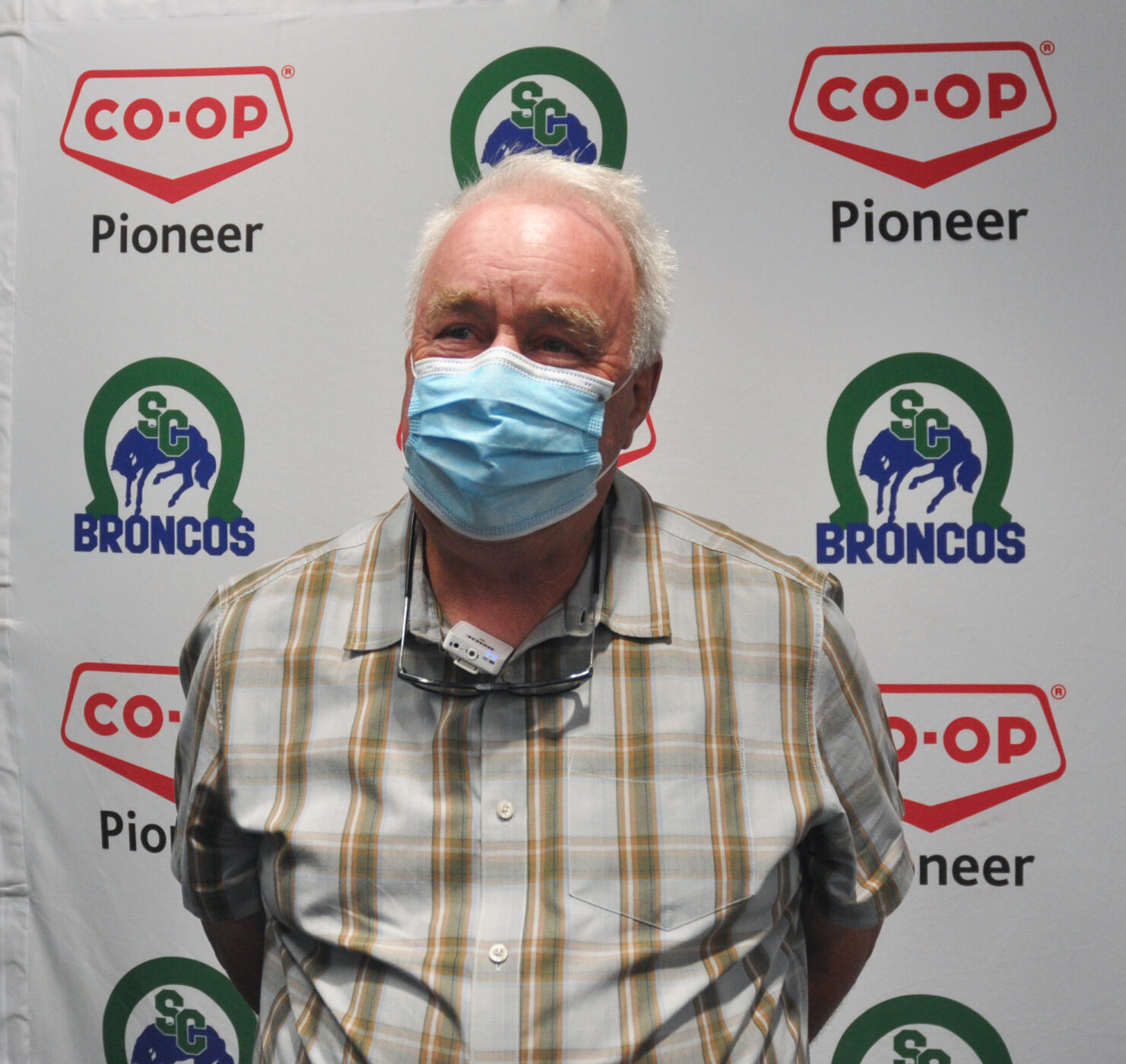 Al Stewart, who is stepping down as Broncos governor, speaks to media after the club\'s annual general meeting, Sept. 28.
The operation of a hockey team during a global pandemic comes with a lot of uncertainty and challenges, but Swift Current Broncos Board Chair Trent McCleary sounded optimistic when he spoke to media after the organization's annual general meeting, Sept. 28.
"We're announcing a loss of just over $129,000, which we're very proud about," he said. "We did lots of cost cutting and there were layoffs, but we're here to play another day. And now going forward it's the support of the fans, with restrictions, to still come to the building, to still enjoy the game. …We have a good cash position right now to get us through the next wave of pandemic. Financially, we're not going to be able to go into a full building. We don't know when that's going to be, but we do have the resources to withstand that and to get the year started anyways."
The organization's main focus during the 2020/21 financial year was to cope with the impact of the COVID-19 pandemic, which wiped out the club's primary revenue-generating opportunities and therefore required substantial cost control.
It was therefore a measure of the success of these efforts that the club was able to announce a net loss of $129,968 for the past financial year. This was achieved through careful management of expenses and COVID-19 relief funding from both the federal and provincial government.
"We were very, very fortunate that our partners have supported us the way they have," he said. "In the last year the provincial government came through. We can't say enough about Everett Hindley, what him and his government have done to help us out. Federally, with the wage subsidy. Locally, just with the sponsors, people leaving their money here. Whether it be season tickets or sponsorships, we wouldn't be able to be where we are without that support. As you know, it's been rough for everybody, but they've allowed us to have an opportunity to go forward."
Several other factors helped the ensure the club's financial stability during the past year. There was income from the Hockey Harvest Lottery, which was a joint initiative between all five Saskatchewan teams. There was income from limited retail operations as well as generous donations from season ticket holders, corporate sponsors, and the community.
The Broncos were still able to provide educational support to former players and the club paid $84,000 during the 2020/21 financial year for this purpose.
"It's definitely been tough, because everybody is strained," McCleary said. "The community has done what they can, and they continue to support us, and it's been fantastic. We don't survive unless we have support. So if the support is enough, then we can continue on. The good thing about it is there's going to be support, but there's also going to be a product on the ice."
He was looking forward to the start of the new hockey season a few days after the annual general meeting. Last year's limited season was played in the Regina hub, and the new season will be an opportunity to play in front of a home crowd again.
"The fans want to see hockey and they deserve to see hockey, and we're going to provide that," he said. "There are procedures in place now and please everybody has patience coming into the building, because there are checks and balances and things like that. So it's going to be different, but there will be a hockey game on the ice."
He felt an important lesson from last year's 24-game season in the Regina hub was the need to follow rules and protocols, because it worked. There were no COVID-19 cases from any of the teams in the hub, because they stuck to the procedures provided by the Saskatchewan Health Authority. He emphasized their goal is to follow these rules in the new season to keep their players, staff, stakeholders and fans safe.
"It's the new reality that we have," he said. "We're pivoting, we're rolling with the punches, however you want to say it. We'll do what we have to do to play hockey."
It was a significant expense for the team to play 24 games in the Regina hub, but it provided an opportunity to players to gain game experience in a competitive and safe environment. The team's record in the hub was 6-16-2 and the focus was on the development of young players.
"There's a maturation process a little bit of our younger players just getting used to playing against older players," Broncos Head Coach Dean Brockman said. "This was their opportunity to play against older guys and understand how hard it can be. So that helps those players go forward with and then that gives the younger guys that are coming in that didn't have that experience some knowledge of what has to happen on a daily basis."
He felt the additional attention being given to protocols to keep players safe against COVID-19 actually fits in well with the role that coaching staff already need to play.
"Part of a coaching role I believe is looking after your players in good times and in bad, and this isn't a perfect scenario," he said. "It doesn't affect your ability to coach. I think it probably heightens your interest in what they're doing on a daily basis, whether they're going to be in the public or not in the public. We had to have restrictions in place with our team so that as COVID goes a little bit crazy we just want to make sure we're taking all the precautions and doing all the things that we can in order to play. For us it's care and concern, and just making sure that guys are doing what they need to be doing in order to play."
He indicated there is a lot of excitement in the dressing room for the new season. The Broncos lost three of four games in the preseason, but the third game was an overtime loss and the final game was a decisive 8-2 win against the Medicine Hat Tigers.
"We've taken the philosophy of getting better every day and I thought we did throughout the preseason," he said. "It gives us confidence in knowing that we're going to score some goals. Our young guys are still adapting to situations daily, especially with COVID, but it just gave us some confidence and then all of a sudden you win a game and your practices are that much better and the confidence is there."
Nathan MacDonald, the Broncos executive vice president of business operations, said the club has decent financial reserves to deal with the ongoing uncertainty of the pandemic.
"We have a pretty healthy balance sheet, healthier than we thought it would be at the end of the year coming out of this COVID year," he mentioned. "We're in an OK position going into this year. Obviously, this year is going to be a challenge again with COVID still in our communities. … We don't want to dip into those reserves, and we were able to avoid doing that through this last year and hopefully we can again avoid doing that going into the year ahead too."
Season ticket sales have been down and it is about 60-70 per cent of what it was in a regular year, but he noted this is a league wide issue. Nevertheless, he felt positive the return of games to home ice in the new season will be an overall benefit to the club.
"I think people are just waiting to see what their comfort level is going into the year and we totally understand that," he said. "The one thing we're excited for is our young, exciting team is about to hit the ice and fans are going to get a glimpse of the future of the Broncos there. They're now playing in front of fans and I think that will help invigorate season tickets once people get used to the measures and they're comfortable sitting at a public event next to strangers."
The Broncos board of directors and membership elected two new board members during the annual general meeting. Juan Cabrales and Trevor Marion are joining the board and the two outgoing board members are Steve Kritzer and Ryan Plewis.
The club announced that long-time Broncos Governor Al Stewart is stepping down from this role. Liam Choo-Foo will be taking over as the Broncos governor and Stewart will move into the alternate governor role.
According to Stewart he was the Broncos governor for about 15 years, and he expressed appreciation towards the club for providing him with that opportunity.
"It was a very rewarding," he said after the meeting. "If you ever had to sit on a board, what a great board to sit on, because the hockey is so exciting."
He explained the role of the governor is to represent the hockey team at the league level and then to represent the league back at the club level. 
"It's an incredibly diverse group of people who own hockey teams or community-owned teams, and so their interests don't necessarily aligns with yours at times," he said. "So you just have to make sure that they understand that when you make a decision like that it can have a profound impact on a team like the Swift Current Broncos. And by and large, I think most of them understand that and you just have to remind them once in a while that that could be very damaging."
Choo-Foo has been accompanying Stewart to these league meetings for about four years and he is therefore familiar with the role he will take on.
"He brings a level of expertise in many of the areas that we find ourselves talking about all the time," Stewart said about Choo-Foo. "That was one of the reasons that I actually recruited him to come onto the board to bring that level of expertise and governance and strategic planning and that type of thing. So he's going to be just fine."
Al Stewart, who is stepping down as Broncos governor, speaks to media after the club's annual general meeting, Sept. 28.