COVID-19 protocols now in place for WHL Broncos
Posted on 29 September 2021 by Contributed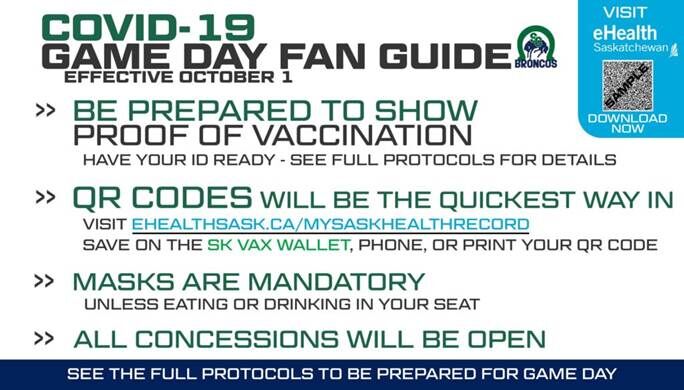 Broncos release protocol for games
Effective October 1 — proof of Covid-19 immunization required at all Swift Current Broncos' Western Hockey League games.
As per Saskatchewan Public Health orders, all attendees 12 years of age or older entering a Broncos game must be fully immunized and present proof of full immunization and government issued photo ID to enter the facility. Fully immunized means 14-days after receiving:
•the second of two doses of an mRNA vaccine (Pfizer, Moderna) or AstraZeneca/COVISHIELD (all interchangeable between the two doses), or
•1 dose of Janssen (Johnson & Johnson) vaccine.
Forms of acceptable proof of vaccination
•QR Code Vaccine Certificate — The QR code vaccine certificate will be the fastest method of entering the facility.
â – ¦A screenshot, a digital version saved to your phone or the SK Vax Wallet (Apple App or Google Play), or a printed copy, will be accepted forms of the QR Code
â – ¦Visit ehealthsask.ca/MySaskHealthRecord to download the QR Code vaccine certificate
â – ¦Delete or destroy QR Codes saved before September 28th, as these will no longer be valid.
•A screenshot saved to your phone, or a printed copy of your MySaskHealthRecord vaccine certificate without a QR code, or other provincial health vaccine certificate.
•Wallet cards received at time of immunization. If you have two separate wallet cards for each dose, you must bring both cards with you.
â – ¦Wallet cards will be the slowest method of entering the facility and are not recommended.
•Examples of MySaskHealthRecord vaccine certificate without a QR code and Wallet Cards are shown here.
•Children aged 11 and under are able to attend with an adult that has presented valid proof of immunization that matches their photo ID provided. Children aged 11 and under are not required to provide photo ID. There is a limit of two children aged 11 and under per adult if the children are not with their legal guardian.
Identification Requirements
•Anyone 18 years of age and older must present valid government issued ID with their proof of vaccination.
•Youth aged 12 to 17 will also need to show ID unless accompanied by an adult with proof of vaccination and ID.
•Youth aged 12 to 17 without an adult who do not have photo identification will be allowed to present other forms of government issued identification, such as a birth certificate or health services card.
Broncos Staff and Volunteers are required by the Saskatchewan Public Health Order to scan the QR code, or verify valid proof of immunization and will only allow entry following a valid result that matches the photo ID provided. The Broncos do not have access to your medical records and will be unable to resolve any disputes. We suggest downloading the Saskatchewan Vaccine Verifier app (SK Vax Verifier) (which will be free from Google Play or Apple App stores) and practice scanning your own card prior to attending. For further assistance with your proof of vaccination documentation, please visit ehealthsask.ca/MySaskHealthRecord.
Mandatory Masking
•Mask will be required when entering, exiting, moving around the facility, and when seated, except for when eating and drinking while seated or in your allocated standing locating for standing only tickets.
•Eating and drinking in the lobby or concourse areas is prohibited.
•Please respect those around you and follow the masking protocols at all times.
Concessions, beer rooms and suite service will be fully opened
•No outside food or beverages will be allowed in the facility.
Procedure For Entering
Verification will take place inside the doors of the iPlex at all 3 main entrances, prior to accessing the ticket scanners.
•Main Entrance (SW) — Both QR Codes and Other Proof of Vaccination accepted
•Upper Main Entrance (NW) — Both QR Codes and Other Proof of Vaccination accepted
•Season Ticket Doors (NE) — QR Codes ONLY will be accepted
Gates to the game will open one hour before puck drop. Fans are encouraged to arrive at the iPlex as early as possible to get into the arena as quick as possible.
•No initial entry after the beginning of the third period
•Re Entry stamps will available to attendees who go outside, and will be valid for proof of immunization when they come back in.
Proof of Negative Tests
The Broncos' committee of team doctors are deeply invested in the health and safety of our community and our players, and it is at their insistence that at this time proof of negative a Covid-19 test within the last 72 hours will only be acceptable as a replacement for a proof of immunization if the attendee has a Valid Medical Reason for exemption from the Covid-19 vaccination that has been verified by the Department Lead for Family Medicine of SW Saskatchewan. More Details on this process will be announced as soon as possible.
Types of approved tests will be discussed with those who qualify for the exemption due to a Valid Medical Reason.
Broncos release protocol for games