SWAC Sports are in full swing
Posted on 27 September 2021 by Contributed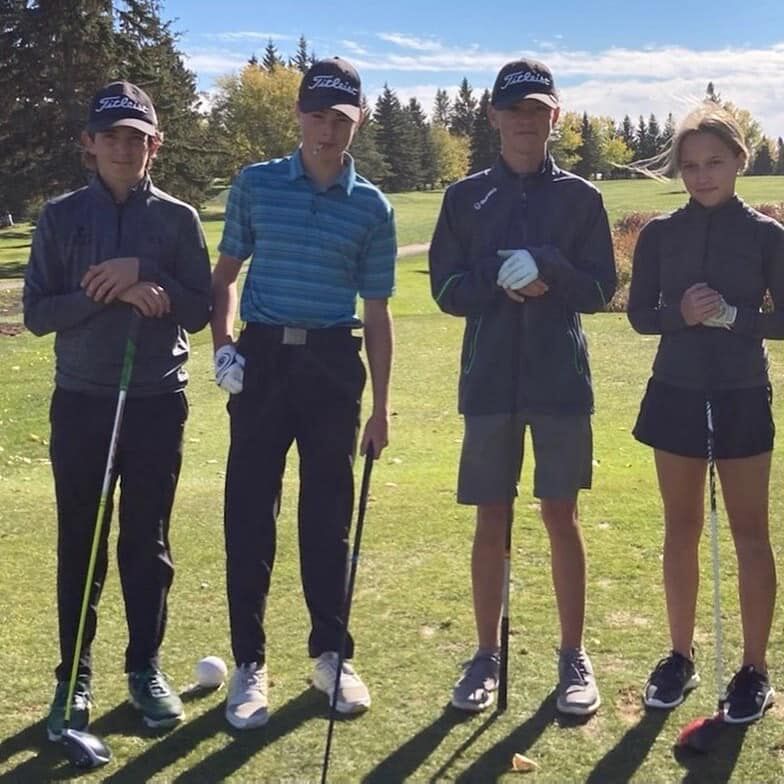 Provincial golfers from Swift Current (from left: Cashton Carleton, Makstr McIntrye, Ayden Ross, Ashlynn Meyer).
The SHSAA (Sask High School Athletic Association) held its first major event in over 19 months. 
This past weekend Rosthern hosted the Provincial High School golf championship Golfers from across the province took part in two rounds of 18 holes over two days.  Top SWAC finisher was Cashton Carleton, from Frontier, finishing 8th place overall! Awesome finish!! Makstr McIntrye (SC) placed 15th and Ayden Ross (SC) was 30th.  
Ashlynn Meyer (SC) was 23rd in the female competition.  She improved her second-round score by 11 strokes!  It must be noted that the four SWAC golfers who attended were all in gr 9 or gr 10, so there is a lot to look forward to in future championships. 
The SCCHS Colts 12-man football team was in tough against the strongest team in the league on Saturday. Moose Jaw Central defeated the Colts 51-14.  That is the first loss for the SC team this season.  The Colts return to their home field on Saturday, October 2 to take on Yorkton.
 The soccer Ardens moved to 6-0 in league play when they defeated Moose Jaw Central on Saturday. Earlier in the week, they defeated Weyburn.  The Ardens are back at home on Wednesday, Sept 29 to take on Moose Jaw Peacock.  The girls have all but clinched the bye of the first round of the playoffs.  If they get the bye, the Ardens will have to wait to see who they'll play in the semifinals on Tuesday, Oct 12.
The SCCHS Colt soccer team hosted Moose Jaw Peacock on Saturday.  Down 4-1 with 17 minutes left in the game, the Colts stormed back with three goals to tie.  The tying goal came with 1 minute left in the game.  
The next soccer game on Monday, September 27 on Irwin Field to play their postponed match against Moose Jaw Central.  The Colts will also be in action against Yorkton Regional in Regina on Wednesday, Sept 29.   Saturday, Oct 2 is the last league game before playoffs.  They'll be in Moose Jaw to play Weyburn.
  9-man league football games continued Friday, Sept 24.  Shaunavon had only 14 players dressed for their game in Notre Dame, and that is very tough in the 9-man game.  Shaunavon was leading at the end of the 3rd quarter but ran out of steam and lost 27-7.  Gull Lake and Maple Creek battled it out "under the lights" at Lion Field Friday evening. Hometown Gull Lake came away with 18-6 victory.  
There is a quick turnaround for two of our 9-man football teams, with Maple Creek hosting Shaunavon (this is a makeup game) MC vs Shaunavon Tuesday Night Lights football game scheduled for tomorrow (September 28) has been postponed until Tuesday, October 12. Time TBD.  
Friday, October 1st league games will have Lumsden in Maple Creek and Gull Lake in Shaunavon.
SWAC Senior Volleyball Leagues continue into the second week of play.  Start times for matches are dependent on travel distance.  Limited spectators pass cards (2 per participating athlete) for both teams are allowed in advance.
Girls play Tuesday, Sept 28 (host sites: Shaunavon, Hazlet, Ponteix)
Boys play Wednesday, Sept 29 (host sites: Shaunavon, Swift Current, Ponteix).
Follow SWACSports on Facebook, Twitter, and Instagram.  As teams send me pictures and updates, it will go out on our social media platforms.
Provincial golfers from Swift Current (from left: Cashton Carleton, Makstr McIntrye, Ayden Ross, Ashlynn Meyer).