Swift Current pickleball players enjoying upgraded facilities
Posted on 21 September 2021 by Matthew Liebenberg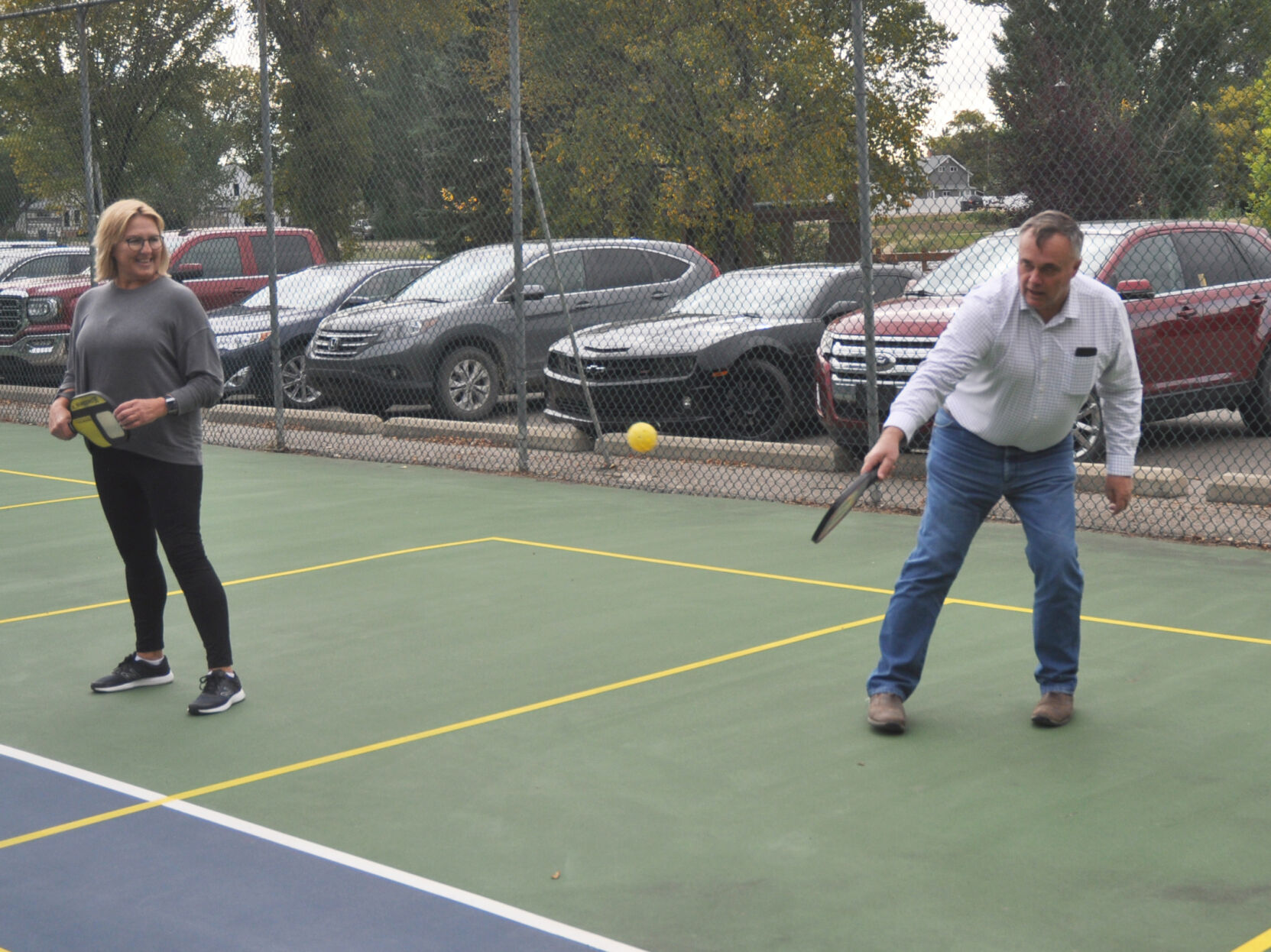 Mayor Al Bridal used the opportunity to try out pickleball after the official ribbon cutting ceremony, Sept. 14.
Pickleball players in Swift Current can now enjoy the game at a single outdoor location at Riverside Park.
The sound of paddles hitting perforated plastic balls were interrupted for the ribbon cutting ceremony to officially open the six pickleball courts, Sept. 14.
Mayor Al Bridal brought greetings on behalf of the City of Swift Current and then participated in the ribbon cutting with Swift Current Pickleball Club President Sue Johnston. Thereafter Bridal tried out the game by joining players on court.
"It's always a pleasure to participate in the opening of a new or updated recreational facility that our citizens can enjoy, and pickleball has certainly become one of the more popular sports," he said during the ceremony.
He thanked the City's Community Services Division for doing the work to provide this space for local pickleball players.
"Our community boasts the most parks and green space per capita in Saskatchewan and we make every effort to be responsive to the sport, recreational and cultural needs of our residents," he said.
Until now pickleball players were using tennis courts at Riverside Park and Westside Park for their games. The City added the lines for pickleball to the existing tennis courts several years ago, and six pickleball courts were available at these two locations.
Recently the City converted the one tennis court area in Riverside Park to be only for pickleball use with six courts available to players. Johnston said it was pretty exciting for all the players to have this single outdoor location.
""This is really important, because we've been gathering as a club for quite a few years and playing on the combination tennis courts and pickleball courts," she mentioned. "The nets that are for tennis are a little bit different. They're flat across, whereas pickleball has a different height in the middle. So these are actual pickleball nets. So that's a substantial difference. And these are actual court sizes, which we have on the other ones, but this is just so expanded, so nice, just for pickleball."
She thanked the City on behalf of the club and its members for allowing them to have this area for pickleball courts.
"So we really appreciate that the City saw the growth of pickleball within Swift Current and did this for all the people of Swift Current," she said.
She noted that the pickleball courts have been used by many residents in the city due to the growing interest in the sport.
"It's kind of neat that we drive by and see families and young people and a variety of people out here at different times, and it's just really exciting," she said.
The club's indoor season is scheduled to start in early October at the Lt. Colonel Clifton Centre. The club had over 90 members last year.
The club became affiliated with Pickleball Saskatchewan and Pickleball Canada in October 2020. This means club members will be required to also join those two organizations as individual members, and around 43 members have already done that.
"They're really trying to get more affiliated clubs underneath the blanket of pickleball, because then it really promotes the sport," she explained. "And it offers an opportunity for people to also have insurance, which is nice. Like if you have injuries if you're playing pickleball and are part of an affiliated club and part of Pickleball Canada, then you have the opportunity for that too. But I think the biggest thing is to be recognized as a club."
For more information about the Swift Current Pickleball Club, send a message through the club's Facebook page or send an e-mail to pickleballswiftcurrent@gmail.com
Mayor Al Bridal used the opportunity to try out pickleball after the official ribbon cutting ceremony, Sept. 14.