Gull Lake enjoys rare opportunity to practise on Mosaic turf
Posted on 7 September 2021 by Contributed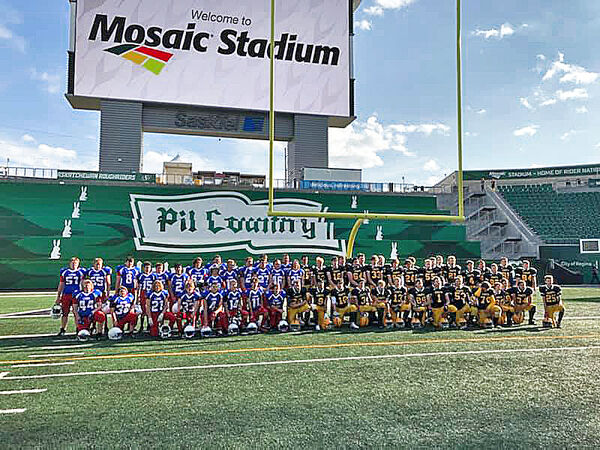 Football practice extra special for Gull Lake Sept. 3
In late June David Rogers, head coach of the Melfort Comets, contacted us about having a two-hour joint practice/controlled scrimmage at Mosaic Stadium in Regina on September 3. We jumped at the chance to have a tune up/practice game against a seasoned 9-man program like David has in Melfort. 
When the day rolled around, we loaded the bus at 10:30 and rolled into Regina at 1:30ish. It took some time to actually get into our dressing room (as the door was "red", but a quick call to the staff had them turning "green" in short order) but the Lions were ready to hit the stadium turf at 3:00 for a 20-minute warm-up and indy session before joining the Comets for some joint workouts. 
We broke the teams up into lineman, DBs/linebackers, receivers/running backs for around 20 minutes of drills before setting up our scrimmage. Since Melfort had 37 players dressed, they wanted to have two "mini games" going. Since we only brought 23 players it was a bit tough to play two 9-man sessions, so we agreed to have a the "starters" play 9-man while the young guns played some 6-man on the opposite end.
Passes were caught, tackles were made, and lessons were learned, but the best thing about the day were the smiling faces, as the young athletes from both programs got to play some football on the same field as the Saskatchewan Roughriders. Many parents and friends were in the stands making this a true day to remember for everyone involved.
Football practice extra special for Gull Lake Sept. 3Photo contributed