Swift Current's Wall commits to Kodiaks
Posted on 29 June 2021 by adminis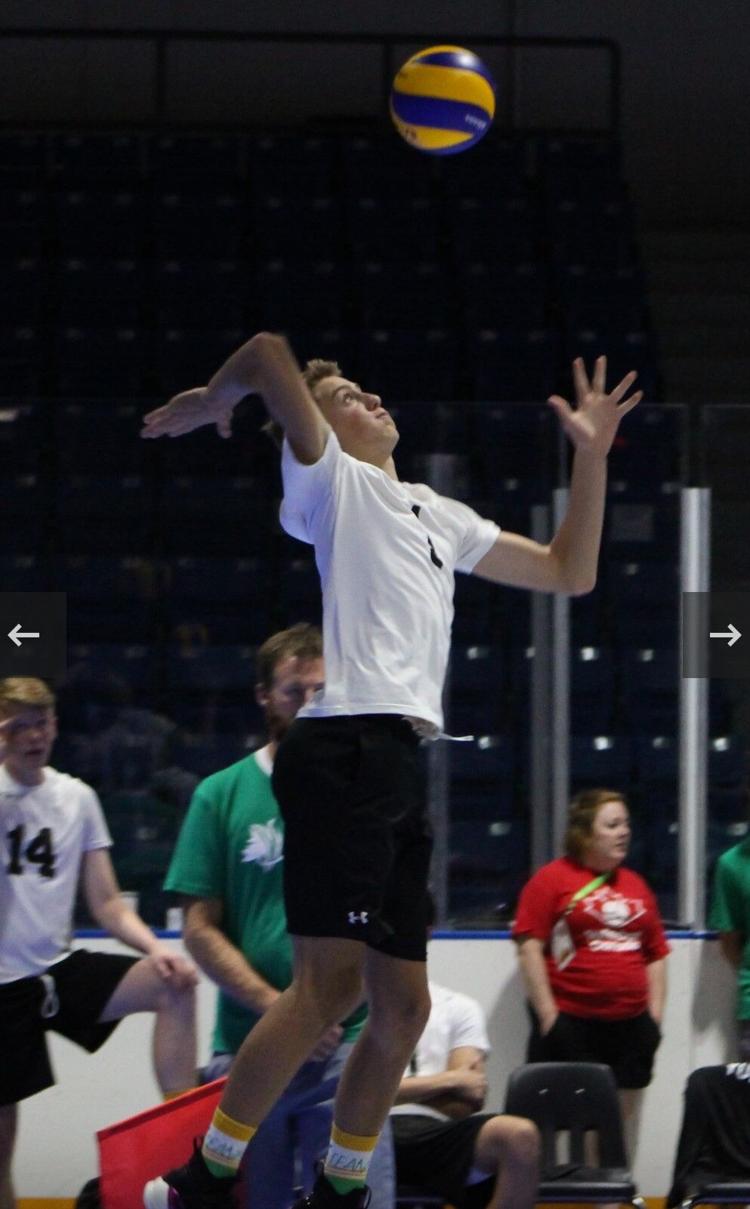 The Lethbridge College men's volleyball program is excited to announce the commitment of Shaye Wall for the 2021-22 season. Wall joins the Kodiaks from Swift Current, where he was a three-year member of the Swift Current Composite Colts, as well as the Jr. Sundogs club system.
Wall is another Kodiaks recruit already ripe with plenty of high-level experience, including a long history of competing with Saskatchewan provincial teams. He recently represented his home province at the 2019 Canada Cup in Halifax and the 2019 Western Canada Summer Games.
"We are thrilled to add an athlete like Shaye to our program," says Kodiaks head coach Greg Gibos. "Shaye is an incredibly driven athlete who puts the work in at the practice gym as well as the weight room. One of his biggest attributes is his ability to make others around him better. We want athletes that truly love volleyball and the process of getting better. I know Shaye will do this every day at Lethbridge College."
As a dynamic outside attacker, Wall gives Gibos another versatile athlete with loads of future potential.
"He's six-foot-three and continuing to grow while still increasing his strength and leaping ability," says Gibos. "He's already touching over 11 inches on his spike approach and I know he's going to keep striving to make that number higher. Being a member of Team Saskatchewan from such a young age shows that he's been consistently one of the premier athletes from that province. You don't see too many athletes who are the complete package like Shaye."
Asked about joining the Kodiaks, Wall echoed his coach's excitement and believes Lethbridge College is a perfect fit for him both academically and on the court.
"Signing with Lethbridge really is a dream come true," says Wall. "The Environmental Sciences programs have a great reputation. The Kodiaks volleyball program has been one of the most successful in the [Alberta College's Athletic Conference] recently, so I'm just happy to be joining such a high-level program."
The Kodiaks reputation for developing elite volleyball athletes was not lost on Wall, especially as he pushes to earn a Team Saskatchewan roster spot for the 2022 Canada Games in Niagara, Ont.
"The Kodiaks have a reputation for being a positive environment to learn and grow in, and this is something that I want to be a part of," says Wall. "I want to help the Kodiaks get back to another national championship and have a lot of fun while achieving these goals. I take a lot of pride in being able to read the play and defend against opponent's attackers. This opportunity has me motivated to be the hardest working athlete each day and I'm hoping to push my teammates to become better."
Wall will be making the move to Lethbridge but has strong roots in his hometown of Swift Current.
"My dad is a huge motivating factor to me," says Wall. "He's my biggest influence and I'm excited to make him proud while becoming a Kodiak. When I was young, he was the one to push me to chase my athletic goals. I know he instilled the work ethic that I have, and I'm thankful for everything he provided me growing up."
Wall will join a talented group of current Kodiaks on the outside position, including former Team Saskatchewan athletes Clay Thierman and Adam Revet. The group will look to lead the Kodiaks alongside several key returning athletes.
When not on the volleyball court, Shaye enjoys the outdoors and bow hunting – something that attracted him to the college's Renewable Resource Management program. After completing his diploma, he currently plans to pursue the college's Bachelor of Ecosystem Management degree program.
"Academically, he's another really strong student and it's a big bonus that he can earn a bachelor's degree while attending our institution," says Gibos. "Our priority is for athletes to achieve their academic goals, and this is a perfect fit for Shaye and for us."
Kodiaks ready to roar next season
The Alberta Colleges Athletic Conference (ACAC) has been granted approval to draft schedules and commence preparations for the delivery of a 2021-22 post-secondary athletics season. Further information will be announced as planning evolves.