Exciting summer ahead at Elmwood Golf Club
Posted on 23 March 2021 by Contributed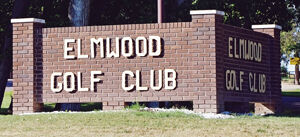 Elmwood should be busy
As a sport with 'social distancing' a natural part of the game, golf provided a great reprieve last summer for individuals and families looking for recreational and social opportunities within the safety guidelines implemented due to the COVID-19 pandemic.  
As spring nears, golf will continue to provide a great opportunity for social and recreational reprieve from the lingering restrictions due to COVID-19. 
The Elmwood Golf Club in Swift Current is very excited about the 2021 season and some of the exciting changes for the members and guests of the golf course and restaurant.  
Mike McEvay arrived on March 1st as the new General Manager coming from Myrtle Point Golf Club in Powell River BC.  Mike has been working in the golf industry in Alberta and BC since 2005 and is a CPGA professional.  
McEvay, and his wife Jessica are excited to call Swift Current home and as avid sports fans, are looking forward to cheering on the Broncos and 57's.  
"I'm really looking forward to working with our team at Elmwood and meeting members and community partners.  I know the board and staff have been working very hard and we'll be doing all we can to ensure a great golf season," said McEvay. 
In conjunction with the 100th anniversary in 2019, Elmwood completed an extensive course renovation and residential development in partnership with the City of Swift Current.  
Over the winter, the staff and board have undertaken an extensive fundraising effort in order to provide additional upgrades and to improve the golfing experience for members and guests.  The results of this fundraising effort include:
 ï'·A new fleet of EZGO rental carts with upgraded seats and a new beverage cart.
 ï'·New pavement on cart paths, including the entire front 9 and additional holes on the back.  This will be a significant upgrade to the recycled asphalt that has been used, especially on the holes with elevation changes.  Fundraising efforts will continue to complete the remaining cart paths.
 ï'·On course washrooms at the SnackShack will be renovated.  
 ï'·New options for food and drinks both on the course in the restaurant.  
"There is a lot of excitement at Elmwood with the renovation project complete and now many more improvements that we know are important to golfers.  Sponsors have been fantastic to help out, whether it's local businesses or families with a special connection to the course, providing the funds and even some labor to move forward with these critical improvements," said board president Jerrod Schafer.  
Schafer continued, "New golf carts, cart paths, extensive clubhouse cleaning and on course washrooms are really going to improve the experience at Elmwood.  I want to thank our board, staff and volunteers for all their hard work and our members and guests who diligently support Elmwood.  Not only do we have a great golf course, but we offer a great experience in the restaurant complemented by the best view in the city.  We are really committed to improving the club and look forward to seeing everyone at the course this summer".  
To secure your membership for the upcoming season call Elmwood at 306-778-GOLF (4653).  
Elmwood should be busy