RCMP addresses concerns over hospital protest action during council meeting; discuss PACT worker
Posted on 29 September 2021 by Matthew Liebenberg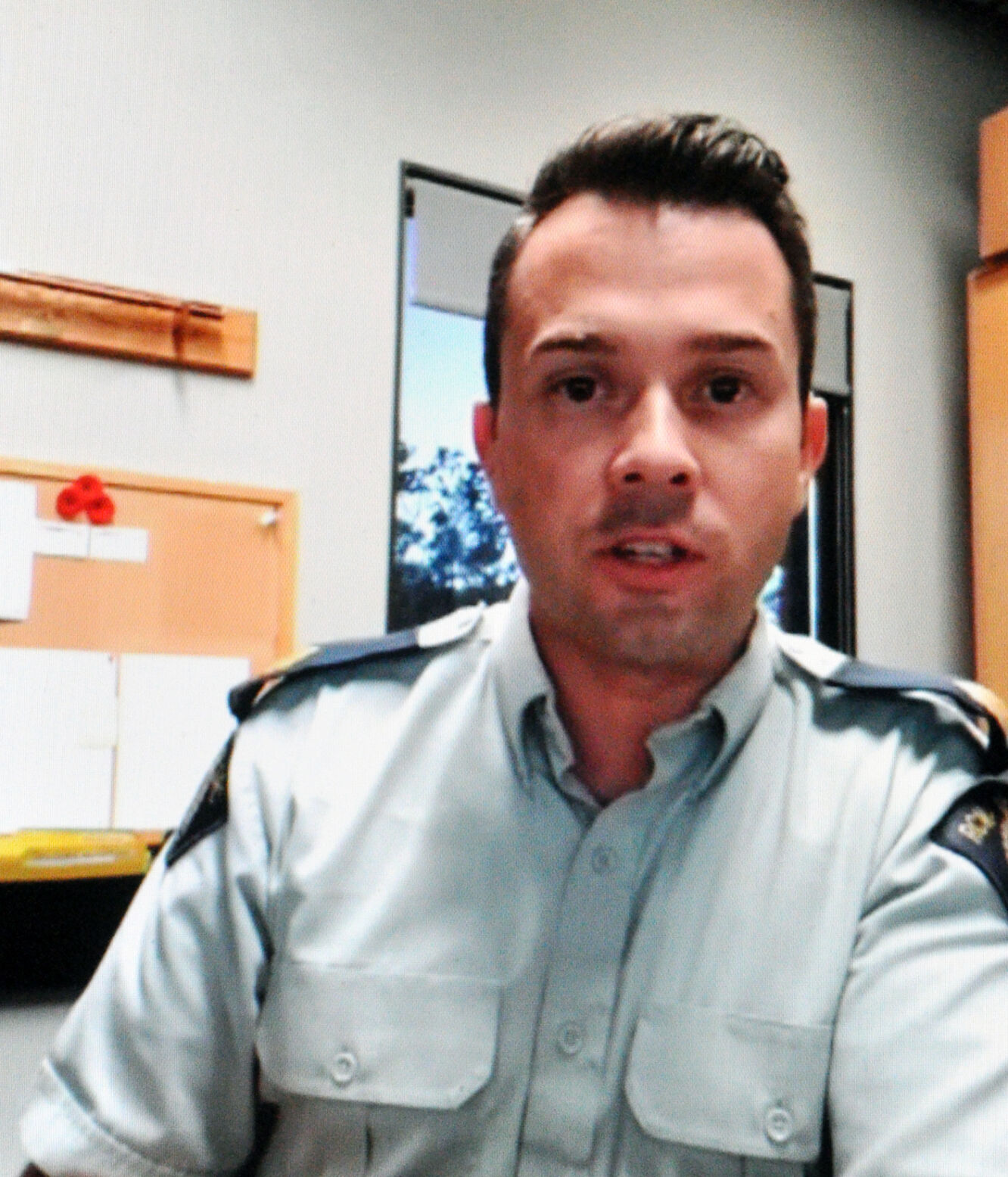 Staff Sgt. Evan Gordon speaks during his presentation via video conference to a regular City of Swift Current council meeting, Sept. 20.
RCMP officers from the Swift Current detachment have started doing regular patrols past the Cypress Regional Hospital as a result of concerns about protest action that targeted healthcare workers.
The matter of protest action at the hospital was discussed during a regular City of Swift Current council meeting, Sept. 20.
Staff Sgt. Evan Gordon, the commanding officer of the Swift Current municipal RCMP detachment, referred to the issue during his presentation of the quarterly community policing report via video conference.
He discussed the issue earlier in the day with Mayor Al Bridal and his purpose was also to address a concern raised a few days earlier by Councillor Ryan Switzer on social media.
Switzer sent a tweet on his Twitter account on Sept. 18 in which he mentioned that he and Councillor Ryan Plewis have heard of people protesting and harassing staff at the Cypress Regional Hospital, and the RCMP will be asked how to deal with this.
Staff Sgt. Gordon said it appeared as if this protest action at the hospital was a one-time event, but he has not been able to confirm that.
"As a result of this information being brought forward to us, we've reached out to the health region and have also been making regular patrols past the hospital to make sure that staff there feel safe, and if there are protests forming that those people understand there are laws that they have to abide by, should they wish to engage in their charter right of peaceful protest or peaceful assembly," he said.
He emphasized the RCMP's goal will be to ensure that any protest action takes place in an appropriate manner.
"I believe that as of right now it's a one-time event, but we certainly are looking to make sure that what was reported doesn't continue and as I said, if there is peaceful assembly, that it remains that — peaceful, respectful, and does not push the limits of what those folks are allowed to do," he said.
Councillor Switzer expressed appreciation towards the RCMP for taking additional steps to address the concerns that were raised.
"Thank you to you and your team for the extra time spend patrolling the hospital area," he said. "I know that a lot of the healthcare workers there greatly appreciate that."
Staff Sgt. Gordon also spoke about the number of offences reported or committed in the community during the three-month period from June to August. He noted the increase in calls for service were mostly alcohol related. The nicer weather during the summer months and the loosening of COVID-19 restrictions were most likely contributing factors.
"We've predicted that we'll likely see a bit of an increase in those areas and we did in areas such as impaired driving and Liquor Act offences," he said. "Offences such as impaired driving and Liquor Act offences were up compared to the previous quarter, however still very much in line with the three-year average for this time period. Other offences such as mischiefs, break and enters also were up, again likely due to good weather, lengthening daylight hours, people being out and about a little bit more, but again in line with previous years and previous quarters."
The increase in impaired driving and liquor offences resulted in a higher number of reported offences compared to the previous quarter. Three impaired drivers were prosecuted in the March to May period, but for the June to August period it increased to 10 prosecutions.
"Distracted driving tickets also was a focus again," he said. "The last quarter I believe there were 19 tickets issued. This quarter 28 tickets issued for that, as well as 13 warnings. We are still utilizing a bit of an education approach. However, this legislation has been in effect for quite a few years now and I think we're at a point where enforcement is required to ensure the safety of our roads."
The RCMP executed three drug-related search warrants in Swift Current during the June to August period, which resulted in the seizure of different quantities of methamphetamine and fentanyl.
"Several individuals are facing possession for the purpose of trafficking charges as well as simple possession charges stemming from those search warrants as well as several drug investigations that resulted," he said.
The RCMP presentation to the council meeting was scheduled to include the Swift Current detachment's recently appointed Police and Crisis Team (PACT) worker Karla Rempel, but she was on a call during a very busy day. Her presentation will therefore take place at a future council meeting.
Staff Sgt. Gordon used the opportunity to provide some details about the PACT position to council members.
Rempel is a social worker employed through the Saskatchewan Health Authority. She specializes in mental health support and she started working at the detachment on Aug. 31.
Most of her work since then has been with the Swift Current detachment, but she also responded to a call in the Maple Creek area.
"The majority of the work she does with us is in initial response," he explained. "She's able to attend calls with us once we've determined the scene is safe for Karla to come in. She's able to talk to people right then and there, and the goal is to divert people in mental health crisis away from not only our facility, but also from longer stays in the hospital emergency room, waiting to be seen by a physician. In some cases, Karla can conduct an assessment or conduct an evaluation of that person on scene and determine what services would best benefit that person."
She completed the RCMP security clearance process and hands-on training with an existing PACT unit in North Battleford before starting in her role at the Swift Current detachment. She will also accompany officers on calls that are not mental health related, and she has already attended to calls related to domestic disturbances and substance abuse.
"We make sure that Karla is involved in every file that we believe could involve some form of mental health, some sort of substance abuse issues, as well as some files that we believe she can be helpful down the road with the referral process, helping people get into different programs through Social Services through that umbrella as well," he said. "She's not just pigeonholed to one particular call type. … If someone is in crisis, there's a pretty good chance that there is a mental health component to it that Karla can help with."
Staff Sgt. Evan Gordon speaks during his presentation via video conference to a regular City of Swift Current council meeting, Sept. 20.