Business chamber announces SCBEX award finalists
Posted on 29 September 2021 by Matthew Liebenberg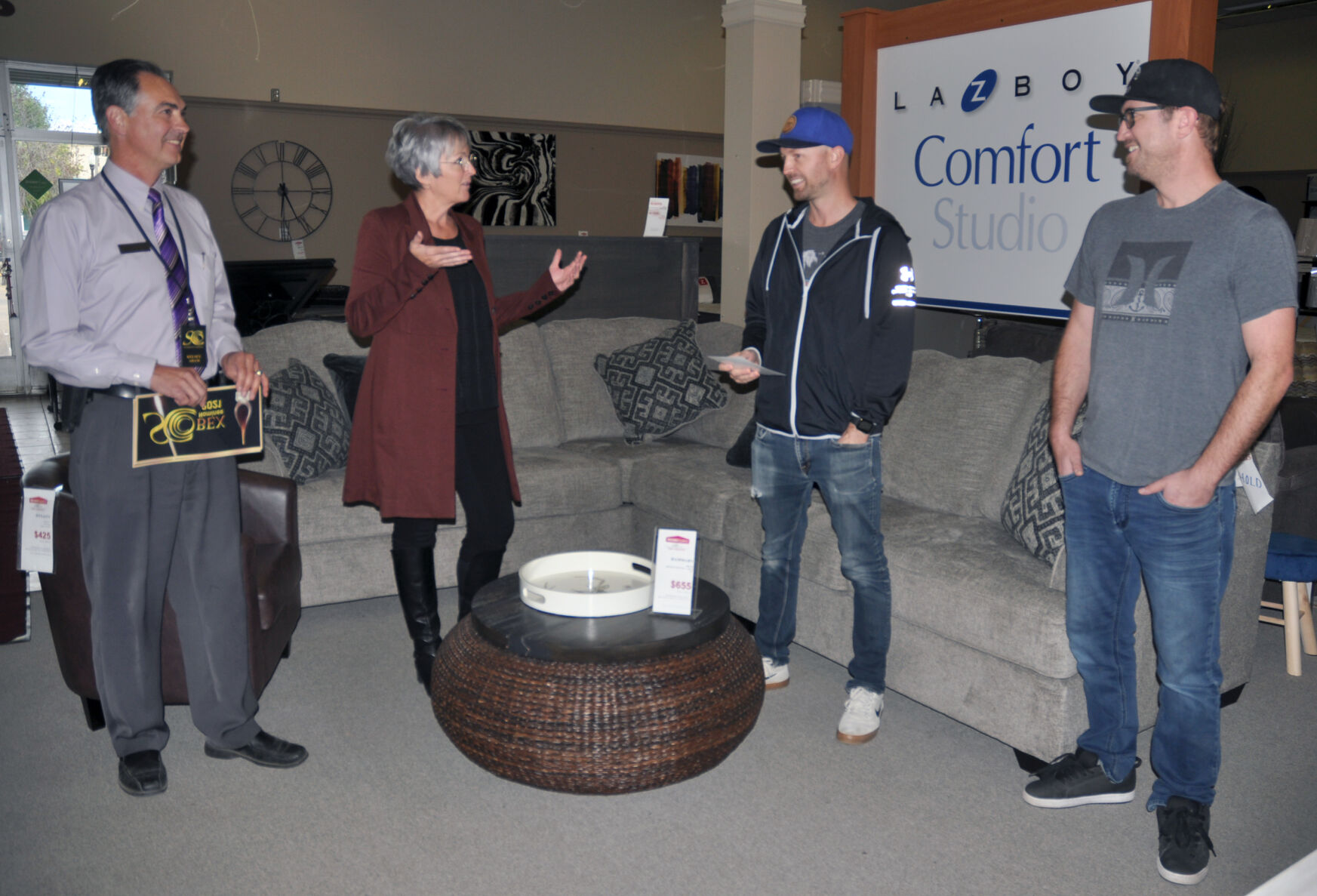 Voth's BrandSource is the 2021 SCBEX Hall of Fame inductee. Pictured during the Sept. 16 announcement, from left to right, Swift Current & District Chamber of Commerce board member Kelsey Adam and CEO Karla Wiens with Voth\'s BrandSource owner-operators Mark and Thom Voth
The exciting annual process to recognize business excellence in Swift Current reached an important stage with the announcement of finalists.
Swift Current & District Chamber of Commerce CEO Karla Wiens revealed the three finalists in eight award categories during the virtual Big Reveal event, Sept. 16.
The winner in each category will be announced at the 23rd annual SCBEX Spirit of Swift Current Business Excellence awards ceremony, Oct. 29.
According to Wiens the chamber received 121 individual nominations in the eight award categories for the 2021 SCBEX awards. 
"Our selection committee is comprised of last year's 10 SCBEX award recipients and they certainly had another tough job this year," she said.
She appreciated the good response to the nomination process and the many nominations received in each award category.
"I'm very pleased with the number of nominations, and all our nominees and finalists should be very proud of this recognition by their peers and the community as a whole," she said.
This recognition is perhaps even more relevant now due to the challenges that organizations have faced during the past 18 months as a result of the pandemic.
"We all had a tough go over the last 18 months, but resilience and positive attitude to stay the course and get through this is truly admirable and people want to recognize that, which is very heartwarming for our community," she said. "Southwest Saskatchewan has always been very good at supporting each other."
It will now be the task of the Swift Current & District Chamber of Commerce board members to vote individually on the finalists in each award category to determine the winners, which will be revealed during the upcoming awards night.
The recipients of two additional business awards were already announced on Sept. 16. Voth's BrandSource is the 2021 SCBEX Hall of Fame inductee and Pharmasave Swift Current is the recipient of the 2021 SCBEX Member Business of the Year award.
The process to select the winners in these two categories are different than for the other eight categories. The chamber's board of directors considered several candidates in each category and the winning business was then selected through a secret ballot vote.
Wiens and board director Kelsey Adam made a surprise visit to the winners in these two categories on Sept. 16 to announce the decision.
"Voth's BrandSource has gone through different names and locations, but they are and have been a well-known face of the community and supporters of southwest Saskatchewan for many, many years since the fifties," Wiens said. "So we're very pleased to present this award. The criteria for Hall of Fame are they have to be chamber members and in operation for 20 years plus."
Owner-operators Mark and Thom Voth received the good news that their business will be formally presented with this award at the upcoming ceremony.
"Obviously we're extremely honoured," Mark said. "When she told me she was coming in today, I kind of thought maybe it's a nomination. We've been nominated a few times in the past. So that's what I was expecting, but to receive this is an honour that I never would have expected. So obviously we're shocked and surprised, and very honoured."
The Voth's family store was originally started around 1954 in Herbert as a general store. It sold hardware and Thom noted there was also a plumbing and heating shop. 
"It points to the type of business that our grandpa, our dad, our uncle over the years have built, and we're proud to be a part of it," he said.
The family business expanded and eventually a store was established in Swift Current, while the focus shifted to electronics and appliances. The business moved to its present location in 2000 and also expanded into furniture.
"Obviously we have to thank our dad for most of the decisions," Mark said. "He was the guy who was the brainchild behind coming to Swift Current and also moving down to this store. So Thom and I haven't had to take some of the risk that he's taken. So we have him to thank for a lot of what goes on or a lot of the base of what we've done around here. We do try to be a one-stop shop for anyone that's moving to Swift Current or buying a new house or building a new house."
The Member Business of the Year award will be presented to Pharmasave Swift Current in recognition of its ongoing contribution to the community. Wiens noted the company has expanded and diversified over the years. Customers can receive healthcare advice, pick up prescriptions, shop for jewelry, visit the coffee shop, and use many other services offered.
"And this last 18 months the support and advice and reassurance that the staff at Pharmasave has given to many citizens of our community is heartwarming and very much appreciated," she said.
Jahnaya Mann, the pharmacist and the director of pharmacy for Rubicon Pharmacies, said it was pretty exciting to receive this award.
"I feel like there's so many people that have come together to make this happen," she mentioned. "Our team is so huge. It seems like every year it gets bigger and bigger and bigger, and it takes a multitude of people to be successful at this and over the year's we've been so fortunate to have just a gifted group of people."
The current Pharmasave in Swift Current traces its origins to the establishment of Heeg's Plaza Drugs by Ron Heeg in 1964. Al Chilton joined him in 1970 and became a partner.
"So it's wonderful to see the legacy of this store continuing," Mann said. "It started out with the Heeg's and the Chilton's who built just such a fantastic customer service-based business, focused completely on taking care of the community that takes care of us. This is really overwhelming. We honestly didn't expect this at all and are completely humbled by this award. It means a lot to us."
She felt the company's focus on relationships is an important reason for its ongoing success after nearly 60 years.
"We focus on building those tight, tight relationships with our patients," she said. "We believe in treating them just like they're friends and family to us. … Our company in general has a focus on delivering premium care and so we have very high standards."
The 23rd annual SCBEX awards night at the Living Sky Casino Event Centre on Oct. 29 will be a more intimate celebration. There will be a smaller audience than previously and proceedings will be livestreamed to allow the entire community to be part of the celebration of business excellence.
The event will follow all public health guidelines, and under current government requirements for public events this will mean proof of vaccination or a negative COVID-19 test for entrance.
"We want to ensure that people feel safe and comfortable when they're attending this gala," Wiens said. "Normally we can fit 250-ish people in there, and normally it is a packed event. This year we will have a maximum of 150 to allow for physical distancing between tables."
Last year's awards ceremony was a completely virtual event. She felt there are clear benefits to this year's combined in-person and virtual formats.
"I'm very much looking forward to having a virtual component, because we had thousands of viewers tune in," she said. "While the live attendees are having dinner, we're going to have the pre-show going on, which will have celebrity greetings, different trivia challenges going on, photo contests. It will be a live wall similar to what we had last year, where people can submit pictures and comments and jokes and whatever they happened to want to do, and then it will be such a treat to present the actual awards to the recipients that evening."
Below are the three finalists in each award category that were announced during the virtual Big Reveal event, Sept. 16.
Start-up/New Business of the Year: Embrace Change Hair Salon, Thoosa Therapy, Urban Cellars.
Home based Business of the Year: Linn's Hair Shop, Surround Sound Music, Flat Top Cattle Co.
Small Business of the Year: Elmwood Grocery, Wildflower Florists, Edward Jones — Michel Cyrenne.
Medium Business of the Year: Optical Image, Nightjar Diner Co., Speedy Creek Home & Yard Maintenance.
Large Business of the Year: Plewis Automotive Group, Shoppers Drug Mart, Natural Wonders Early Learning Centre.
Employer of Person(s) with Disabilities: Home Inn & Suites, Canadian Tire, ServiceMaster Clean.
Not-for-Profit of the Year: Southwest Newcomer Welcome Centre, Southwest Sask Pride, SPCA.
Citizen of the Year: Devon Oman, Amanda Polsfut, Dr. Kevin Wasko.
Voth's BrandSource is the 2021 SCBEX Hall of Fame inductee. Pictured during the Sept. 16 announcement, from left to right, Swift Current & District Chamber of Commerce board member Kelsey Adam and CEO Karla Wiens with Voth's BrandSource owner-operators Mark and Thom Voth
Matthew Liebenberg/Prairie Post