Swift Current duck derby raises funds to make wishes come true for children
Posted on 15 September 2021 by Matthew Liebenberg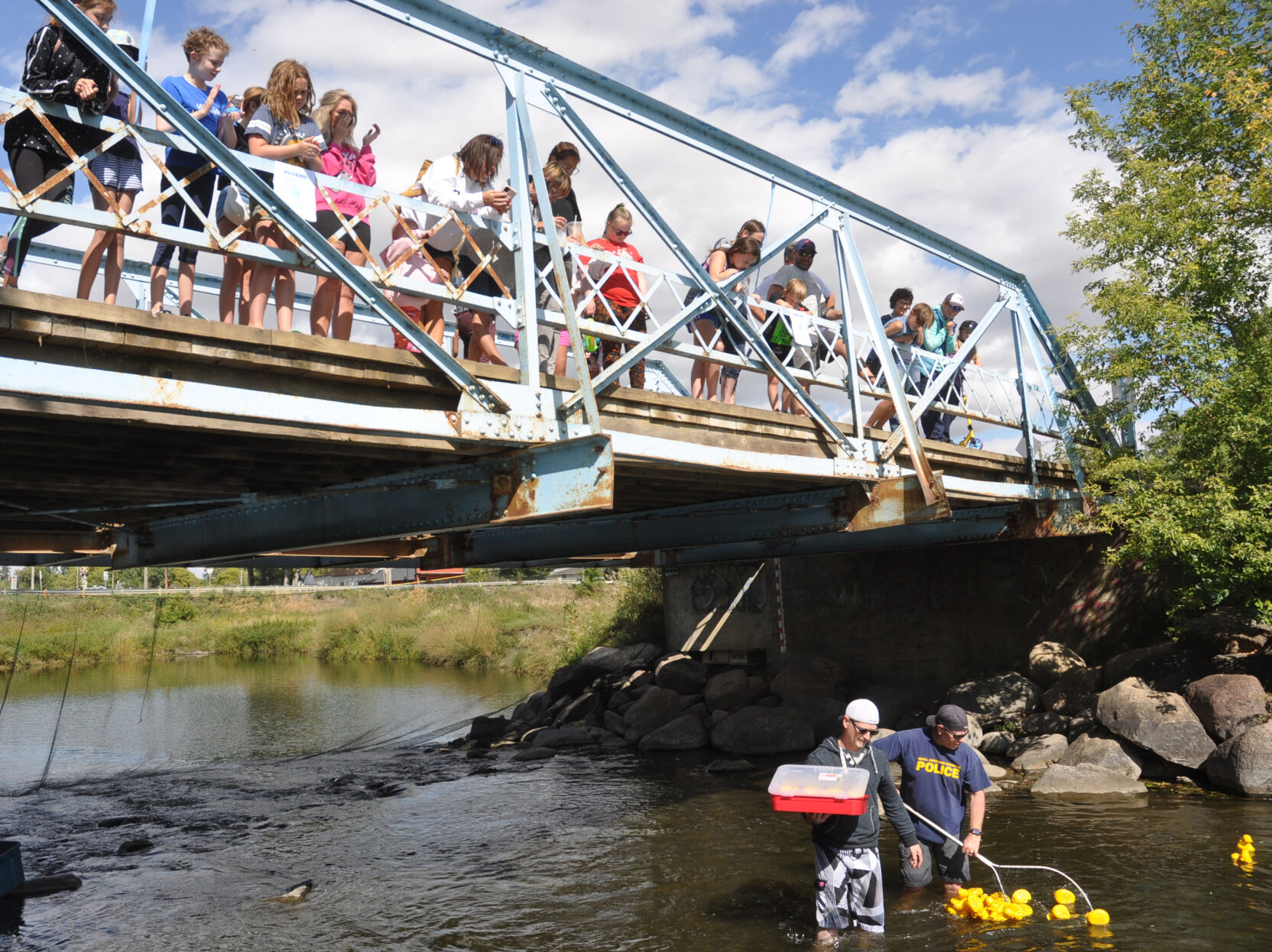 Spectators watch from the historic Lee Lam bridge while volunteers collect plastic ducks from the creek.
A successful duck derby in Swift Current will assist Make-A-Wish Canada to make dreams come true for several children waiting on wishes.
The race of plastic ducks took place along a section of the Swift Current Creek at Riverside Park, Sept. 6.
The duck derby race was organized by the families of Avery Andres (16) and Bella Thomson (7), who are previous wish recipients. They wanted to help other children make their wishes come true.
The Swift Current Fire Department assisted to release a total of 1,380 ducks into the creek. The event raised a total of $34,470 through duck sales, sponsorships, a 50/50 draw, online well wishes card sales, and donations.
Event organizer Andrea Orr, who is Avery's caregiver, was very pleased with the outcome of the fundraiser.
"The support was absolutely phenomenal," she said. "I'm almost speechless by how many people have donated and sponsors have stepped up and given big money and it's just been great to see. It's such a Saskatchewan thing for everyone to come together, but they truly have, and from across the country. So it's been awesome."
Duck derby and 50/50 ticket sales were only open to Saskatchewan residents, but support also came from elsewhere through the online well wishes campaign and private donations.
"That's exciting, just because there were so many people from around the world that could also donate towards the event," she said. "The biggest support we've seen from out of Saskatchewan was just in general donations. There was over $3,000 in just people giving $10 or $15 here and there. That was pretty awesome to see that many people from outside of Saskatchewan without a chance to win a prize or anything just wanting to give back to the girls."
The 50/50 ticket winner received $5,187.50 and there were prizes for the ticket holders of the first 16 ducks that crossed the finish line. The level of support for the event was evident from the number of duck derby ticket sales in just three weeks.
"Because of COVID we only had three weeks to sell," she said. "Our license was backlogged. So I was pretty impressed that we sold that many in three weeks."
There are currently around 230 children in Saskatchewan waiting for wishes. The funds raised through this event will make it possible to grant wishes to at least three children.
The event was a way for the families of Avery and Bella to give back to the organization that granted wishes to their children. Both have been diagnosed with rare medical conditions and they have spent a combined time of nearly 1,700 days in hospital.
Avery's wish of a hot tub in her backyard was granted in Sept. 2019. According to Orr it means a lot to Avery to be able to relax at home in the hot tub.
"I don't think people realize how that can impact not just the wish kid's life, but their family," she said. "We come home from hard days at hospital or from months on end of being in hospital and the first thing Avery wants is her hot tub, just to jump in and relax and know that she's stress free and can just recharge."
For that reason, it is also significant to be able to assist other children through this fundraiser to receive the benefit of a wish.
"And so for us, it meant the world to have that wish and now to be able to give back to other kids who are waiting on wishes, especially since Make-A-Wish has taken such a hit over the last couple of years with COVID," she said. "We just really wanted to give back as much as we could."
Bella received her wish in May, 2021, when Make-A-Wish created a fairy-tale castle and oasis in her backyard.  She enjoys exploring the castle with her brother and it provides her with an escape from the challenges of her medical treatments and hospital visits. Kyla Thomson said the granting of this wish has been a real benefit to her daughter.
"It meant a lot for Bella, because she's currently waiting for a bowel transplant and so having her wish able to come true like it has, means that she can enjoy life like a kid should before she has to go back into hospital again," she said.
They attended the duck derby and Kyla was happy to see how successful the event was. She has spoken to her daughter about why the fundraiser was so important.
"We've been doing a lot of talking and I've been letting her know that we're pretty fortunate to be on the other side of receiving a wish," she said.
A local family, who is still waiting for their 12-year-old daughter's wish to be granted, helped out at the duck derby. Mike Young said his daughter Mikayla is one of the Make-A-Wish recipients in the province. She has been diagnosed with aplastic anemia and she received a bone marrow transplant in December 2020.
"It's huge for us," he said about being able to help out at the duck derby. "Make-A-Wish ends up taking care of 200 plus kids just in Saskatchewan alone. I understand that Mikayla is one in the southwest that's going to be a recipient of some of these monies. We're out here to make sure that all these kids in Saskatchewan are able to be given an opportunity to have their wish granted to them as well."
Mikayla has made three wishes that are all related to her love for Disney. One wish is to visit Disneyland, the second is to visit Disney World, and the third is a Disney cruise.
"So just with all the COVID restrictions though, Make-A-Wish has ended up saying that because it's international travel we're probably looking at a couple of years before we end up getting her wish granted, but this little girl is more than willing to wait to see Minnie and Mickey Mouse," he said.
Spectators watch from the historic Lee Lam bridge while volunteers collect plastic ducks from the creek.