Buffalo Party founding convention to take place in Swift Current
Posted on 30 June 2021 by Matthew Liebenberg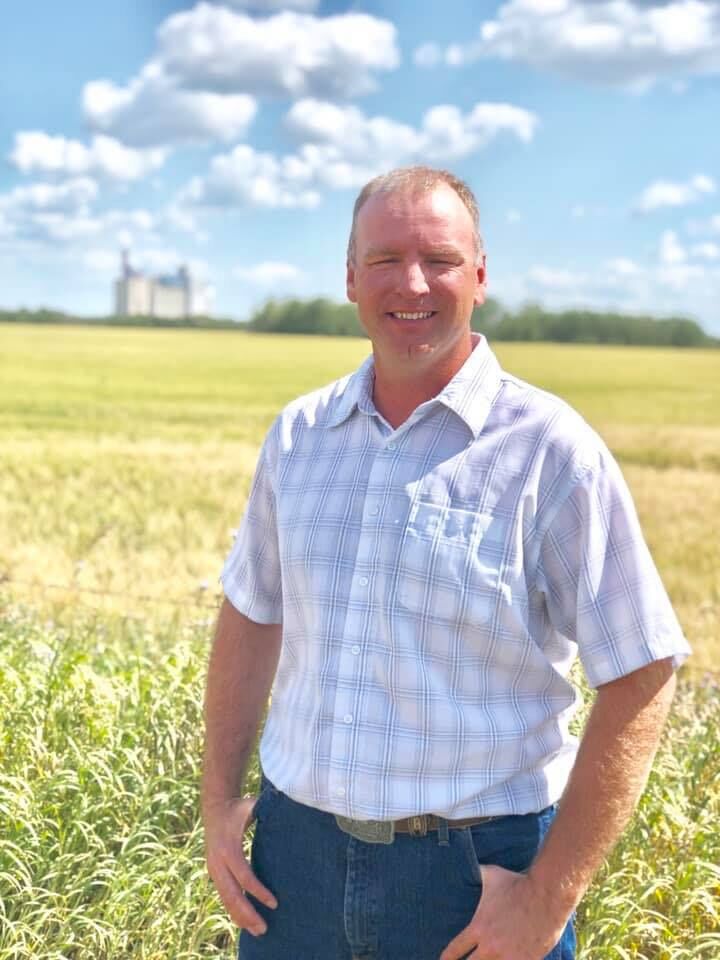 Wade Sira is the interim leader of the Buffalo Party of Saskatchewan.
Saskatchewan's newest political party has picked Swift Current as the location of its founding convention this fall.
The Buffalo Party of Saskatchewan made the announcement during an outdoor meet and greet event at Kinetic Exhibition Park in Swift Current, June 19.
The party's inaugural convention will take place at the Palliser Pavilion from Nov. 5-7. Buffalo Party leader Wade Sira made the announcement during a speech at the party's meet and greet.
He spoke a few days afterwards by telephone with the Prairie Post about the party's decision to select Swift Current as the location for the convention.
"We're very excited to have not just our first convention, but for it to be in Swift Current," he said.
The party wanted to have its convention outside the province's two largest cities, Regina and Saskatoon, which is where political parties will usually have their conventions.
"They may be more centralized for the province, but there's more than just those two cities in this great province, and we feel that we're a grassroots party," he explained. "We're here to represent the people. We're here to be servants of the people, and we do not need to centralize everything anymore. The same as how we would run a province. Decentralize all the governing bodies down in Regina and spread them across the province is our main goal."
He added that the party will continue to have future annual general meetings in different locations across the province.
"So we feel this year will be Swift Current, next year it's going to be another city in another location in the province," he said. "We wish to and we hope to spread this around the province to show people across Saskatchewan that we do represent all of Saskatchewan and not just the two major urban cities."
A key focus of the inaugural convention will be to formally ratify the party's constitution by party members.
"We have seen other political parties, not just in Saskatchewan but across Canada, say one thing in their constitution, but also represent it in a different way," he said. "The Buffalo Party has built in the constitution that it needs to be ratified by our membership. It's accountability by our governing board and also by the caucus members who will represent us in Regina in 2024."
Sira is the interim leader of the Buffalo Party. His intention is to stand as a candidate in a leadership contest, but he does not know if that will be discussed at the convention.
"I told them I do not want to be part of the conversation," he said. "I think they're going to ask a question if they want to have a leadership race or not. I don't know what kind of a question they're going to ask, because I don't want anybody to accuse me or the party of trying to rig an election. I don't want to be a part of that conversation. So I'm staying on the back side of that conversation. I'll wait and see what they do and then I will make my plans from there."
The party's meet and greet in Swift Current was part of the first weekend of a province-wide tour to different communities to raise awareness of this new party. The other weekend stops were in Rosetown and Kindersley. 
"Our main goal for this tour is to get more word out to the people," he said. "There's still people in Saskatchewan that do not know of the Buffalo Party. We're not a big party. We're not one of the top tier parties. We don't have a lot of money like the other parties. We don't have millions in the bank account. So the best way we can get people to understand who we are and what we stand for, is to go out and talk to the people directly. We want to talk to the people to represent them, meet them face to face, and build that relationship with them rather than just elect somebody to sit back and hopefully they're going to be the person we want them to be."
The party's main message during this provincial tour will be that there needs to be a governing party in Saskatchewan that remembers to be civil servants to the electorate.
"We're to represent the people," he said. "We need to have a government that's accountable and a government that's going to uphold the freedoms and the rights of the people of Saskatchewan. … When people are free and the government is smaller, then we end up having a better society all around."
The Buffalo Party of Saskatchewan came into being last summer after party members approved the party's change of name. It was originally established as a political party in March 2020 under the name Wexit Saskatchewan, but a rebranding process took place shortly thereafter.
There was a membership vote on the party's name and the majority was in favour of calling it the Buffalo Party. It is a historic reference to an idea by Sir Frederick Haultain, the first premier of the Northwest Territories. He was in favour of a new province called Buffalo that would have consisted of the present-day Saskatchewan and Alberta.
According to Sira the Buffalo Party's roots in the Wexit movement does not necessarily mean it is in favour of separating from Canada.
"Our plans for the people of Saskatchewan are to be a sovereignist party" he said. "We can be sovereignists within Canada, just like Quebec, or we can be sovereignists outside of Canada. That is up to the people of Saskatchewan. They have the right to referendum. Premier Scott Moe already stated that he will not ever allow a referendum in Saskatchewan. That's not his right to say that. That's the right of the people to decide whether they want it or not. We will give the people that right, because that's their inherent right in the first place."
He added the main goal of the Buffalo Party is to make sure the people of Saskatchewan have a fair deal.
"If people want to stay in Canada, then that's their right to stay in Canada," he said. "Our job as a party is to represent the people of Saskatchewan in the best way possible in confederation then. We need to have an autonomous and sovereignist deal like Quebec. They have full control of everything within their province. That means taxation and there's police force and full immigration. They have control of every entity in their province. We need at least that same deal, and we need to be able to elect our senators within Canada."
The Buffalo Party fielded 17 candidates in the 2020 provincial election and received 2.56 per cent of the overall vote, which placed it third behind the Saskatchewan Party and the Saskatchewan NDP.
"The election was a huge success for us," he said. "We were only three months old as Buffalo Party when we came into the election in 2020. For us to be able to take second in multiple constituencies, I think four constituencies we took second in, and the rest we ended up in third, except I think one or two we ended up in fourth. That is a huge success for our party. … So for a start party to be able to get that kind of vote gave us even more drive that the people of Saskatchewan want change and we are that change."
The Buffalo Party's intention is to have a full field of 61 candidates in the next provincial election in 2024. He believes the party will be successful across the province and not only in rural ridings.
"The silent majority don't want to be silent no more," he said. "The majority of people in Saskatchewan don't want the status quo anymore. They want change and it will change and we will be the change, and we're looking forward to 2024, when we'll win."
Wade Sira is the interim leader of the Buffalo Party of Saskatchewan.