Swift Current RCMP to use a nurse to respond to mental health calls
Posted on 29 June 2021 by adminis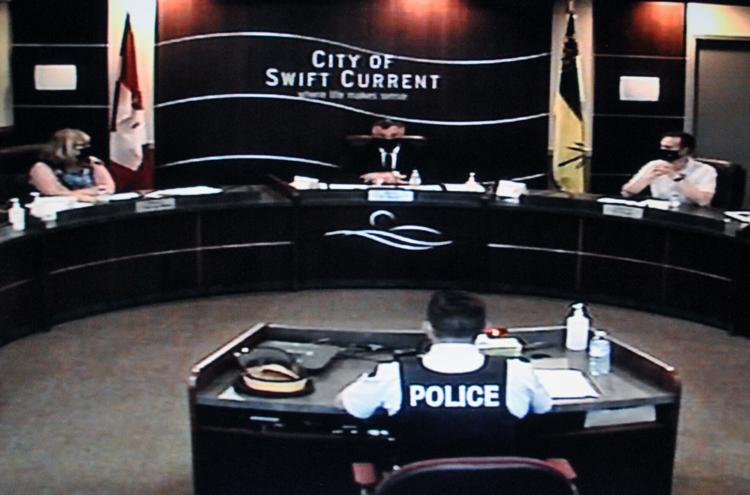 olice officers in Swift Current will soon have the expert assistance of a psychiatric nurse when they respond to calls of individuals experiencing a mental health crisis.
Staff Sgt. Evan Gordon, the commanding officer of the Swift Current municipal RCMP detachment, provided details about the Police and Crisis Team (PACT) nurse during the presentation of the quarterly community policing report at a regular City council meeting, June 14.
"Her purpose will be to work shifts with our regular members and she is going to help us respond to mental health calls," he said.
The nurse has already completed the required security clearance procedures and will be doing some in-house training at the North Battleford RCMP detachment before starting her duties in Swift Current.
"It will be good, because she'll get the RCMP side of things," he said. "There are differences obviously with policies and procedures between the RCMP and municipal agencies, but she's going to get a two-week exposure to it there and then pop right in here."
He was expecting the PACT nurse to start her duties at the Swift Current RCMP detachment before the end of July or in early August.
"I believe that by having this mental health nurse riding with our members we're going to be better equipped to identify some of the signs of mental health or substance abuse and maybe be able to triage them into the help that they need a little bit quicker or more effectively," he said. "And also, to provide some more long-term meaningful care as opposed to the police officers attend and deal with the symptom of the mental health or substance abuse."
He noted that PACT nurses are already used elsewhere in the province by both the RCMP and municipal police forces, for example by the Saskatoon, Regina and Moose Jaw police forces and by the RCMP in North Battleford.
The PACT nurse will have an office at the Swift Current RCMP detachment and she will then go out on calls with police officers. She will be clearly identifiable as a nurse.
"She'll have access to all her Sask. Health databases and information, and in her downtime for responding to calls with our members she'll have her own work to do with referrals and her case load in that regard," he explained. "But when the call comes in that we have someone in a mental health crisis, she'll be in the detachment, ready to go, hop in with one of our police officers. And she'll be fully geared up, very identifiable who she is and that she's with us, and hopefully able to streamline and help to triage some of the mental health crisis that we come across on a daily basis. … We're excited to have her, that's for sure."
Mayor Al Bridal welcomed the appointment of a PACT nurse at the City detachment to assist police officers with mental health interventions.
"I had other mayors tell me about these PACT nurses and they've been so impressed with the help they've had, especially with mental illness and some drugs stuff too, but especially mental illness, because they say the police officers are trained as police officers," he mentioned. "They're not psych nurses, they're not social workers, and this is such a huge thing. And so I'm really glad it's happening here. I'm glad somebody at the province saw fit to put one into our detachment."
Staff Sgt. Gordon also spoke about the number of offences reported or committed in the community during the three-month period from March to May.
"As far as crime trends go for the city of Swift Current in the last three months, we've really seen a downward trend in almost all categories, which is I think is a good thing," he said. "And this includes not just crimes that are being investigated, but obviously also crimes that are being reported."
The number of impaired driving offences as well as the number of calls from the public about impaired drivers were down.
"With COVID restrictions, earlier closing hours at licensed establishments, limited gathering sizes, I think those all do play a factor in those numbers being down," he said.
The only area with an increased number of offences was for the category of provincial traffic offences. He felt the higher visibility of police officers patrolling in the community was a factor in the downward trend for many other offence categories.
"I believe that also plays a factor in not just impaired driving, but quite a few other things," he said. "That enhanced visibility in the city between members of the City detachment as well as members of the Combined Traffic Services Section, I believe that is a deterrent as well, and not just for things like impaired driving, but property crime. Police vehicles out at night, if people know that they're going to be getting stopped, they may be less likely to engage in that criminal activity."
One area of concern during this reporting period was an increase in drug overdose incidents, especially during a seven-week period when there were six overdose calls, of which two resulted in loss of life. That prompted to RCMP to issue a media release to warn the public against using illicit drugs.
These overdoses were the result of the use of illicit drugs, not prescription drugs. The RCMP locally has seen a similar trend as elsewhere in the country with poor quality substances that are used in the manufacturing of illicit drugs.
"They're actually being doctored or cut with substances that make Naloxone and Narcan less effective," he cautioned. So our goal with that media release was to warn members of the public that if they decide they're going to use these drugs or if they're using them for whichever purposes, be aware that this is substances Naloxone and Narcan may not be as effective as they're hoping, and if they find themselves in a situation to immediately contact the health authority."
As a precautionary measure it is advisable that individuals do not use those illicit drugs when they are alone to avoid being unable to call for medical assistance.
"Ultimately my goal and my preference would be that no one is in a position where they feel like they have to use those substances," he said. "However, we're not there. So if we can do what we can to educate and help, that's our goal."