Swift Current Comprehensive High School student awarded largest Canadian STEM scholarship
Posted on 18 June 2021 by Contributed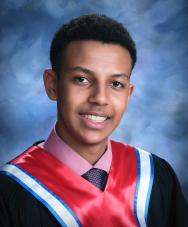 Atnabon Eticha
Atnabon Eticha has been selected to receive an $80,000 Schulich Leader Scholarship to study Computing at Queen's University.
A graduate of Swift Current Comprehensive High School in Swift Current, Eticha will be entering Queen's School of Computing this Fall. Eticha was selected by SCCHS Career Counsellor, Melanie Arntsen, for his outstanding academic and extracurricular achievements. This is the first Nominee to win a Schulich Leader Scholarship at Swift Current Comprehensive High School.
Given the unprecedented challenges we are facing this year in Canada, we are again awarding an additional 50 scholarships, for a total of 100.
"We are proud to celebrate 10 years of Schulich Leader Scholarships, the premiere STEM scholarship program in Canada and the world. This group of 100 outstanding students will represent the best and brightest Canada has to offer and will make great
contributions to society, both on a national and global scale. With their university expenses covered, they can focus their time on their
studies, research projects, extracurriculars, and entrepreneurial ventures. They are the next generation of entrepreneurial-minded,
technology innovators," says program founder Seymour Schulich.
Atnabon was incredibly excited when he received the news. "My family's decision to move here was heavily influenced by the idea of
opportunity and a better life. It now feels great knowing that I won't have to always worry about a hefty student loan or working a stressful part-time job. This scholarship will change everything during my years in university. While assisting me in having time to excel within my education, it will also aid in building connections with similar minded peers," said Atnabon, "This incredible award will allow me to effectively focus on my education and aspirations while setting me up for a successful future. I have great goals within the tech and business field and am immensely grateful for the Schulich foundation for believing in my vision."
SCCHS Teacher, Cindy Lowe was thrilled to hear Atnabon was receiving the award and stated, "Atnabon is a very hard worker, reliable, courteous, and respectful. He is honest and kind and one of those quiet kids who leads by example. He involves himself in activities that he understands will improve his skills and his life in the future. He takes an interest in work for the sake of doing it, not for the reward or the attention. He is humble and modest and very deserving of this amazing award!"
"Atnabon is a strong, quiet leader amongst his peers especially when it comes to technology," said SCCHS Teacher, Lisa Bender, "If students are having trouble with the concepts or projects, he is willing to help out and offer suggestions. Atnabon has a love for learning, he has excellent work ethic and when he sets his mind to something, he will achieve the goal with utmost dedication."
SCCHS Teacher, Laurine Breader, describes Atnabon as "Observant, ruminative, intentional. Atnabon will leave an indelible mark on the world."
Recognizing the increasing importance and impact that STEM disciplines will have on the prosperity of future generations, businessman and philanthropist Seymour Schulich established this $100+ million scholarship fund in 2012 to encourage our best and brightest students to become Schulich Leader Scholars: the next generation of entrepreneurial-minded, technology innovators.
Through The Schulich Foundation, these prestigious entrance scholarships are awarded to 100 high school graduates this year, enrolling in a science, technology, engineering or mathematics (STEM) undergraduate program at 20 partner universities in Canada. Every high school in Canada can submit one Schulich Leader Nominee per academic year based on academic excellence in STEM, entrepreneurial leadership and financial need.
Atnabon Eticha